Country: Singapore
I was ecstatic one day as I was scrutinising the labels on the ice-cream shelves of Jason's Market Place (belongs to Cold storage) and found CHUNKY MONKEY from Ben and Jerry's Ice-cream with a HALAL LOGO (IFANCA logo-is an American halal logo often be found with letter M and it can be trusted cos it is one of the biggest Halal Authority worldwide.More info: http://www.ifanca.org/index.php)
Confession: I often do the these periodic "self-imposed inspection" especially on Ice-creams (favourite section of the supermarkets) cos I know eventually more and more labels will want to go HALAL one day insya-Allah.

Soon after, more B&J's flavours are also Halal with IFANCA logo.And NTUC supermarkets also carry them.Alhamdulillah.
Don't worry…I did my usual confirmation with the original company and liaise with the local management regarding these HALAL logos.I also hope that one day,these B&J's cafes and restaurants will be certified.And surprisingly, their reply was very positive on that….Read on:
"Hi Putri, thanks for your interest in Ben & Jerry's!
Yes, there are some Ben & Jerry's Halal products out there currently. The packages you saw recently are some of the 10 Halal certified flavors (please see attached list for the full flavors). We have been working towards a Halal certificate for our factory in Vermont, USA and we received it some time ago.

Not all of our packages have the stamp on them for the following reasons:
Our flavor gurus will be changing the formulas for some of our moovelicious flavors so that it can be fully Halal and hence this will take a while for these flavors to be perfected.

Our packaging is pre manufactured and hence it takes a while for the new packaging with the Halal stamp to take effect for consumers.

Consumers can expect about 4 to 5 new Halal flavors in the market a year. We can't wait for all the flavors to be fully certified Halal either! If you have any more questions, please feel free to send them my way. …"
Ok so the 10 HALAL flavours are:
1)A Cookie Affair
2)Chocolate Fudge Brownie
3)Chocolate Chip Cookie Dough
4)Chunky Monkey
5)Half – Baked
6)New York Super Fudge Chunk
7)Phish Food
8)Strawberry Cheesecake
9)Triple Caramel Chunk
10)Vanilla
Important note: These HALAL flavours can be bought at Ben and Jerry's ice-cream scoop shops but do buy them in PINTS (already packed by the Vermont Factory with HALAL logo) or u can buy them in the supermarkets.And do note that these ICE-CREAM scoops shops are NOT-HALAL certified so the cones, and all the wafery additions are not advisable to be consumed cos there is no Halal-certification for that.And some flavours in the branches are not yet HALAL-certified (read the above email properly),so the scoops and others are kinda questionable.If confused,just purchase them from the supermarkets (ensure HALAL logo is present).
Ok, after the confirmation thru the emails, I was delighted that Ben and Jerry offered me 4 of their HALAL range to be reviewed. (thank you Benjamin, Moe Moe and the staff of B&J!) It was supposed to be delivered to me but somehow miscommunication, I had to come down and get it from the VIVO city branch itself.
Alhamdulillah, Im thankful in this way, I saw the branch and how they operate and also I can select the pints and see for myself the HALAL logo.Although the staff was solo at that moment and throngs of customers are present, she carefully packed them and add dry ice as I wanted cos I need to travel home.Well done!
And the GREAT news is that B&J is having a SALE!!!Woo-hoo!! READ on!!

The much anticipated Great Singapore Sale is upon us and this year to celebrate, Ben and Jerry's will be launching an extra, extra -special promotion for all our fans.
From 1 June 2010 to 31 July, you will be able to purchase TWO moovelicious pints at only $20.10! (Yes, even our newest flavor A Cookie Affair!).
If you are craving for flavors that are not available in grocery stories, no worries! Just drop by our Scoop Shops and we will have them lovingly hand-packed for you. This promotion is available island-wide at all grocery chains and Ben & Jerry's Scoop Shops..

So upon reaching home, ATTACK those ice-creams!!!They are meant to be ATTACKED!
I asked for the top 4 best selling ice-creams flavours……

Vanilla ice-cream is very different than the norm.It was exceptionally creamy like milk and pleasantly delicious!

I cannot wait to devour them…see my teeth? *lol

2nd flavour…. is my favourite!!It tasted like OREO's cookies crushed into delicious ice-cream…wholesome icecream congested with brittled crumbles of cookies and texture is chewy creamy..ooh lala!
Third flavour….
This is much subtle flavour- It was chewy ,yummy and there were chunks of cookies with hard bits of chocolate chips in between….COOL!
And my FAVOURITE flavour of the NOW-moment is….. *drum rolls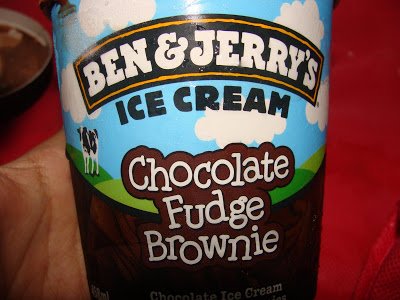 Look at the chunks of the brownies!!!

Overall verdict-FANTASTIC! Now I know why many ice-cream lovers stick to B&J.Once they tasted it,there is no going back….YUMMY! And it's quite filling…
Ok, I shall resume my "ice-cream eating". Perhaps, I shall change my career path to ice-cream taster…I wonder if there is such a permanent career position. *chuckles
p.s: Oh by the way, I don't know about you,but to me this is the best way to savour the ice-cream…

Disclaimer: Food featured are subject to my personal taste. I hold no responsibility for your body's gastronomical adventure.All food shown are either from Halal-certified or Muslim owned establishments(with no liquour/alcoholic beverages).I will try my utmost best to update and maintain the relevant information shown,insya-Allah…but your body,your responsibility.Do ensure that the Halal-certificates are up-to-date,renewed (not expired) and displayed promptly before ordering/consuming. If in doubt,always ask the staff with a smile.
Remember: Use ur senses especially your heart.But mainly, ask your iman (faith).

Don't assume: A headdress/scarf lady is not equal to HALAL. "No pork no lard" signage is not equal to HALAL. A crescent moon and star symbol is not equal to HALAL. Not all Mediterranean (e.g Turkish kebab), Malaysian, Indonesian cuisines (especially Nasi Padang food) is HALAL. Whatever franchise that is HALAL in Malaysia,Indonesia or in any muslim country does not mean it is HALAL in Singapore or anywhere else. Your body,your responsibility, check its HALAL authenticity. More on disclaimer?

Thank you for your kind attention.
(Visited 7 times, 1 visits today)