Updated Jan 2013- thru tweets @halalsg (Singapore MUIS/Halal Authority) they have confirmed that all branches of Orange Lantern are Halal-certified. i just want to clarify. Please stop bugging me about the authenticity of each and every Halal certified food shops/stalls that I have eaten N reviewed. Read my disclaimer. YOU are responsible for your own body. i am not from any Halal authority and I have only 2 legs, I cannot keep running to and fro to verify ur doubts.SELF-SERVICE PLEASE.Before you eat, be RESPONSIBLE. Open your eyes big big and look for halal cert, not convince, open your mouth big big and then ask the staff, if somehow all answers seek are not that convincing, then please angkat kaki belah (if doubtful, please leave)…
Updated: December 2012, Orange Lantern is no longer Halal certified.(thank you to a very responsible fan/reader-ZA OTHMAN for being passionate and initiative in sharing the info with us! Thank you!)
Country: Singapore
Updated:May 2010-Alhamdulillah.This food review is published in Berita Minggu Newspaper on 18.4.10.For those who missed it…erm..its no longer in their online archives…(Thks BM and esp to Sis Alijah for the opportunities given!) and if u want me to write more, do write in to BM with positive comments..*grin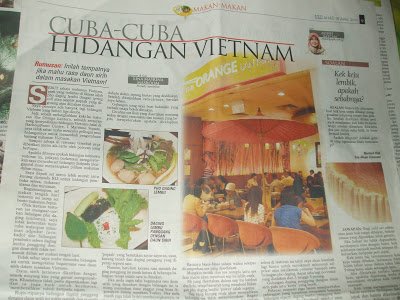 Oopss…The review is in Malay. (English version, scroll below…)
18 Apr 2010
EKSTRA!
CUBA-CUBA HIDANGAN VIETNAM
Rumusan: Inilah tempatnya jika mahu rasa daun sirih dalam masakan Vietnam!
SEBUT sahaja makanan Vietnam, pasti yang terlintas di fikiran ialah pho daging lembu dengan spring roll atau sejenis popiah yang digoreng atau dimakan mentah.Saya percaya ada banyak lagi hidangan Vietnam yang belum lagi dicuba.
Jadi, sebaik melangkahkan kaki ke restoran The Orange Lantern, sebuah restoran yang menyediakan hidangan Vietnam halal di HarbourFront Centre, 1 Maritime Square, saya tidak sabar mahu mencuba pelbagai jenis hidangannya untuk menambah pengetahuan tentang makanan Vietnam.
Sampai sahaja di restoran tersebut saya diberikan menu ala-carte oleh pelayan yang bertugas.
Apabila ditanya apakah hidangan istimewa restoran ini, pelayan berkenaan mengesyorkan saya mencuba set hidangan daripada mengambil masa menerangkan pilihan makanan dalam menu.
Saya dapati set menu lebih murah iaitu kurang daripada $12 untuk hidangan pembuka selera, makanan utama dan minuman.
Bagaimanapun, set makan tengah hari restoran ini mirip set bento makanan Jepun.
Oleh kerana restoran ini menguar-uarkan hidangan pho daging lembunya, saya tidak keberatan mencuba walaupun minuman adpokat (avokado) dan hidangan pembuka selera daging lembu panggang dengan daun sirih tidak termasuk dalam set makan tengah hari.
Tidak sabar saya mahu mencuba hidangan ini untuk mengetahui bagaimana rasa daun sirih dalam masakan Vietnam.
Daun sirih lazimnya dikaitkan dengan nenek moyang kita yang gemar mengunyahnya. Khasiatnya tidak perlu dipertikaikan lagi dan ia juga baik untuk kesihatan, 'membersihkan' tubuh daripada toksin.
Rupa-rupanya hidangan daging panggang dengan daun sirih ini mirip popiah dan ia perlu 'digulung' sendiri oleh pelanggan.
Bingung juga dibuatnya kerana saya tidak pasti bahan apa yang seharusnya diletakkan dahulu dalam tepung kertas yang disediakan. Setelah ditunjukkan cara-caranya, barulah saya faham.
Gulungan yang saya buat bukanlah yang terbaik tetapi boleh dimakan. Cecahan sos ikan yang disertakan memang sedap dengan rasa manis dan masam yang begitu menyelerakan apabila dicelupkan 'popiah' yang berintikan sayur-sayuran, suun, kacang tanah dan daging panggang yang diperap seperti sate.
Namun, hati-hati kerana rasa mentah daging panggang ini masih ketara di beberapa bahagian tetapi inilah cara ia dimakan.
Jika anda ingin tahu bagaimana rasa daun sirih yang dimakan dengan hidangan ini, ia mirip memakan daun anggur yang biasa digunakan dalam masakan Turkey. Jika anda masih juga tidak boleh membayangkannya, cuba pula makan daun pucuk ubi yang sudah direbus sehingga pahitnya hilang.
Hidangan kedua yang saya cuba ialah pho daging lembu. Rasanya biasa-biasa sahaja walau selepas dicampurkan sos yang disediakan.
Mungkin setitik dua sos nampla iaitu sos ikan masin akan membuat sup ini lebih enak.
Mi yang disertakan dalam sup itu lembut dan licin, tetapi biasanya yang membuat hidangan pho daging lembu 'power' ialah supnya.
Sup yang kurang enak akan menjadikan hidangan ini tidak menyelerakan. Bagaimanapun, bebola daging yang disertakan tetap enak sekalipun pada keseluruhannya hidangan ini masih boleh diperbaiki lagi.
Keseluruhan pengalaman saya menjamu selera di restoran ini ialah saya akan kembali lagi hanya untuk menikmati minuman adpokat atau menikmati promosi 'tempah satu hidangan pho daging, dapat satu lagi percuma' yang diadakan dari 3 hingga 5 petang.
Gulungan daging panggang dengan daun sirih pula satu 'kerja' yang leceh.
Pelayan restoran juga harus memberitahu pelanggan yang membuat tempahan bahawa hidangan seperti daging lembu panggang dengan daun sirih perlu 'digulung' sendiri atau memberi mereka pilihan dihidangkan siap digulung.
Ok,if u cannot "feel me" thru the Malay Language..then join me in the English version below!! Woo-hoo!
I've heard about this Vietnamese restaurant from facebook (thks Rafeyah!) and I have been pampered by delicious beef pho at Kembangan or the Sedap Corner at Simpang Bedok thus the need to find more vietnamese food is not urgent.I am satisfied.The truth is,its my meagre knowledge in Vietnamese cuisine that causes that.When I think of Vietnam, images of beef pho pops up alongside their luxurious spring rolls (fried/raw) and nothing else.I believe there are a different side of Vietnamese cuisine that I have not been introduced yet.Hmm…
And so hopefully,with this visit,it can further enhance my knowledge and taught me some lessons to my pampered tastebuds…
I visit the restaurant just 15minutes away from lunch hour.There were 1 or 2 tables seated with customers.The background is filled with relaxing asian music..perhaps its vietnamese.(I laughed cos I read in the reviews about this restaurant having identity crisis with its choices of songs, I guess,it has improved and I applaud its initiative in listening to its customers: http://yum.sg/?component=view_restaurant&restaurant_id=1055P )
As I was seated,the waitress try to entice with their lunch menu.Which is quite cheap than the alacarte because U can get to choose appetisers and drinks along with the main meal for less than $12.I asked her what are the best eats.But nothing much is being said other than the raving beef pho.Their lunch set looked like Japanese bento set and it looked intriguing but since the raving speciality is beef pho,I opt for that but the avocado drink and betel leaf bbq beef is not one of its set lunch menu.Thus,I have to order them separately, alacarte.
Signature dishes and drink (read in most online reviews): Bbq beef in betel leaves ,special beef pho and avocado drink. Im intrigued by the beef in betel leaves.I know how betel leaves associated with red teeth and grandmas (yeah Im referring to those days habits of chewing betel leaves and some reddish thing that leaves the whole mouth fiery red ,and its addictive like tobacco.Also that was what ladies did in the Japanese occupation for fear that they will be taken away and raped,they did that to ward off the Japanese…Hmm..)
Anyway,betel leaves do have its health benefits especially good for body cleanser too but Im intrigued on how it will taste in Vietnamese Cuisine.
Avocado drink came first.I had always love avocado but local avocado drink concoctions has always disappoint me as compared to Indonesia or California (*its a must to include avocado in daily meals,i u read my posts).I have a sip and oh WOW! I love it!Its sweet,just nice creamy (not too overwhelmingly creamy nor too diluted)And I can taste its bits of pulp in every sip with its blended ice.ooh lala..And its consistency is just nice.Not too thick.I LOVE IT!!
Next came the bbq beef in betel leaves.I know it is a spring roll but I never thought it is a DIY! I was stunned when I was served with this plate.Im at loss.What and how shall I do it?After some verbal basic instructions, and people stares behind my back (cos I flash the cameras here and there) ,I somehow did it..though the brush and the fish sauce gravy kinda creates some puzzlement in the whole sequence.The spring rolls that I did,wasnt a work of art but its good enough to be eaten.And I love the dipping sauce.
Its fish sauce has a sweet zesty flavours that binds the bland flavours of the vegetables and the vermicelli and not forgetting the bbq beef which is marinated like satay with its bits of peanuts sprinkled over it.Yum! But a word of caution,the bbq beef tasted a bit uncooked in some parts thus I unrolled it to check it out.Yeah,its semi-cooked.Im not sure whether its meant to be that way, but I dont really like that hint of rawness…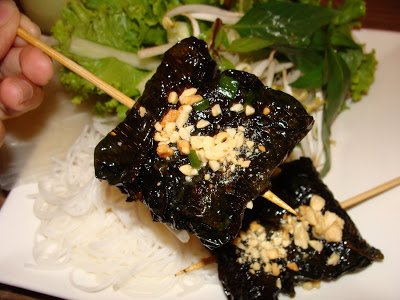 If u wonder how it tasted like to be eating bbq beef in betel leaves, I can only say the leaves tasted like grape leaves often used in Turkish cuisine… (Which I had a chance to try it out in Netherlands rendezvous ).
If u cannot imagine that,then imagine eating tapioca leaves (pucuk ubi) that has been boiled till its bitterness is removed.
First dampen the sheets with brush and water.Then add the veggies and bbq beef and arranged them a u like.Roll it neatly and dip into the fish sauce and Wa-la!A spring roll is born!I add a bird eye chilly for a hint of fieryness.
My fatty spring roll….my work of art…
Then right after I was served with the appetizers,I was then served with beef pho.The special ones.I was told this is special because it has beef meat balls and beef slices.I think this is a wrong move,because I am still struggling to roll another fat spring rolls.And I got 5 more to go.YikeS!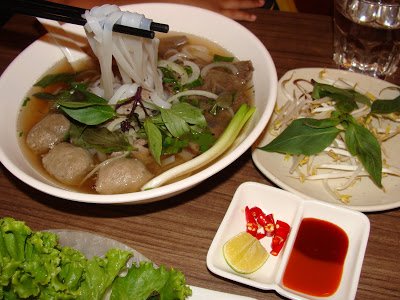 They should take note and be attentive to my needs especially since I had to declare myself as a food blogger to ask permission to take the shots of the Halal cert displayed.But luckily,they are true to themselves,I did not and wasnt given any extra services.The plates served have some stains,the questions asked are not really answered properly even when Im still puzzled as to how to do the spring rolls DIY,someone should have actually demonstrate it to me,or they should have a step by step DIY poster alongside its menu or something.When I asked what are their specialities,the staff is more willing to encourage me to save money by choosing the set lunch rather than take the time to explain to me in details about its alacarte menu (or perhaps the Supervisor should have taken the liberty to personally serve me and answer my queries)
That shows,in any business,product knowledge is of utmost important to accommodate customer service in which we are lacking greatly.And I believe I came in the right time,because lunch hour,it was packed but the distribution of staff work is not that efficient.There should be someone at the entrance to greet customers or seat the customers even when its crowded,cos the customers are like .."Are there seats, should I go away or come back later?"NO one was there to answer their doubts.
I can see the place is not that big,there are about 4-5 serving staff (kitchen staff is about 3).I believe if they know they designated positions, I bet,the customer service can be greatly improved.It seems,they kinda waver with a slight rush of mad lunch hour as I went to the counter to pay.No comments were screened in my presence.I heard and saw the chaoticness.
By right,Im supposed to wait for my bill to arrive but I waited for 15 or more minutes but everyone seems to be in a rush to take orders.Then tell me,what are the service charge for?Furthermore ,its not given to the staff directly,on the spot according to their daily performance,right?
Ok,back to the special beef pho.It was subtle and mild.Apart from its raving awards that it received,to me it taste alright.I was hoping that the sauce given will add some missing flavours.But it did not.The chilli sauces are of no use.The birds eyes chillies are so-so.A dash of nampla "saltish fish sauce" might do the trick (but the fish sauce that accompanies the spring rolls is not applicable though I tried it because it has a certain sweetness to it)
The noodles are silky smooth but again the broth is the main factor.Without the broth,beef pho is a failure.The beef balls are tasty.Its overall meal is healthy alright,but tastewise,it needs some rejuvenating flavours.Perhaps, I should have ordered their spicy beef pho as suggested by some foodies ( http://yum.sg/?component=view_restaurant&restaurant_id=1055P )

Overall verdict: Only the avocado drink can make me come back or perhaps their 1 for 1 promotion: buy 1 beef pho and get another free between 3-5pm.The bbq beef roll are kinda a hassle, staff should warn customer first when they order or perhaps, give them a choice.Roll it for them or they can DIY.
I personally feel the food are kinda costly and its not as tasty as some Vietnamese food which are much cheaper.(hawker prices).In fact the humble beef pho at Kembangan, Sedap corner (chef Bob) or even the Thaksin beef noodles fare much better even though (Im not sure of its origin-Thai or Vietnamese?).Give me Thaksin beef noodles anytime,baby!
And customer service…hopefully,in my next trip..they will show their professionalism and won't panic under the demanding lunch hours and customers.And please keep those comments to yourself.Its not wise to show ur "crumbling" teamwork or impromptu mistakes occurred in the presence of customers.Smile in whatever circumstances may help….
fyi-they do have another branch at Killiney.
Location:
HarbourFront Centre
1 Maritime Sq #01-98
HarbourFront Centre
Tel: 6274 1968
Operating Hours: 11am – 10pm daily
http://www.orange-lantern.com/

View Larger Map
Disclaimer: Food featured are subject to my personal taste. I hold no responsibility for your body's gastronomical adventure.All food shown are either from Halal-certified or Muslim owned establishments(with no liquour/alcoholic beverages).I will try my utmost best to update and maintain the relevant information shown,insya-Allah…but your body,your responsibility.Do ensure that the Halal-certificates are up-to-date,renewed (not expired) and displayed promptly before ordering/consuming. If in doubt,always ask the staff with a smile.
Remember: Use ur senses especially your heart.But mainly, ask your iman (faith).

Don't assume: A headdress/scarf lady is not equal to HALAL. "No pork no lard" signage is not equal to HALAL. A crescent moon and star symbol is not equal to HALAL. Not all Mediterranean (e.g Turkish kebab), Malaysian, Indonesian cuisines (especially Nasi Padang food) is HALAL. Whatever franchise that is HALAL in Malaysia,Indonesia or in any muslim country does not mean it is HALAL in Singapore or anywhere else. Your body,your responsibility, check its HALAL authenticity. More on disclaimer?

Thank you for your kind attention.
(Visited 2 times, 1 visits today)