Country: Malaysia
After checking my electronic gadgets, I found out that my normal camera is out of batt.WHAT?!!I just charged them…I guess i did not plug in properly.And to travel light, no adapter has been brought.So luckily,Ive always had my reserved fuji camera in my pouch.
Chee Meng chicken rice has started its business since 1965.Thus its no wonder,its so GOOD!The chicken tasted so different than Singapore chicken.Is it cos their environment is Stress-FREE? Hmm…
Amongst the display of hanging chickens, I noticed many were roasted and only 2 steamed chicken.Although steamed chicken is my favourite, I wanted to taste the restaurant's speciality-Hailam chicken rice (roasted) which is popular with the local crowd.
http://www.cheemeng.com.my/
Ive tasted my fare share of chicken rice in Singapore.Since it is regarded as one of the national dish. But again, Malaysian hainanese (its called Hailam in Malay) chicken rice never cease to create tongue "awesome:-ness everytime, it landed in my mouth.Aah…*sighs of satisfaction.
Warning:The chilli sauce is very kickin' spicy!Woo-hoo! And I love their specialty-peanut soup.Subtle yet pleasing to the senses of the tastebuds.Even the teh-tarik (hand pulled tea) is delicious!Where can u get this type of combination?Teh tarik is best done by indians/occasional malays and coffee are best brewed by the chinese.It is their individual speciality.But here in this chinese restaurant,I can have the best of both worlds under one roof.
After having a simple chicken fare,I stayed longer to let my system relax while reading my chicken soup book (What coincidence?!!Reading chicken soup in chicken rice restaurant.Hmm…)
As I was deeply engrossed in my reading, I realised Ive received many stares (which u can feel and when u looked up,u met their eyes shifting to the sides).Some tried to glance sideways at the book that Im reading and often felt puzzled.The look reminded me of "what's so interesting about this book?"look…
Ive realised that reading has not been readily embraced as part of our daily lifestyle yet …in our region.I hope that one day it is gonna be a spread out phenomenon hobby whereby everyone on the streets are reading something like in the States which I believe it is somewhat a religion.Everyone irregardless of age,has a book in hand,in backpacks,in every corner of their house,in bath tubs,in toilets…u name it, they got it!Knowledge is POWER!
Ok this is the location of Chee Meng's chicken rice:
Location: Nasi Ayam Chee Meng, Bukit Bintang
50, Jalan Bukit Bintang, 55100 Kuala Lumpur.
http://www.cheemeng.com.my/
Anyway,after an hour in this restaurant,its time to flex those leg muscles and walk!Let's walk down the Bukit Bintang streets!!
This is where I get my usual fix of yummy steamed white chicken rice to-go (below).I did notice its name but I remembered its location..perhaps it is BB hailam chicken rice.
Their chickens are so succulent yet juicy and when its to-go often with generous servings of chicken meat. http://www.linamasrina.com/2008/02/bb-hailam-chicken-rice.html Last year, I just realised that most chicken rice restaurants in Bt Bintang area (or is it the whole Malaysia?) do not serve chicken porridge in their menu .When one of the GLH wanted to have some, I ended up asking all the chicken rice here (I thought I can surprise 'em backstage later) just to be dismayed that none served them unlike in Singapore,chicken porridge is almost ever present in their chicken rice menu.
Beware!!!But I noticed that the Malaysian police are regularly monitoring this area especially at nights to reduce the crime rates….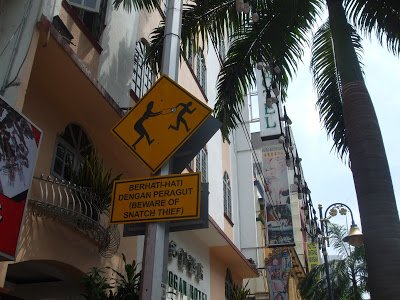 U can get any Malaysian souvenirs in this street, but bargain remains the power of the game…If you are caucasians especially or you are of the typical "tourist" race-e.g Japanese,Americans,Europeans…Be prepared to get the price exhorbitantly raised to 50% of the actual local prices.Even Singaporeans are not spared!But thankfully,this cheap student look of mine which looked almost local thus,they are quite lenient….

Strolling thru this road,u can find many reflexology and massage shops. But as i found out ,later that night,there were many raids conducted by the police and was shown in the news the next day. Because they conducted some sleazy businesses alongside their legit massage centres.So take note…

Fyi-I did a SUBWAY "rendezvous" upon arrival from KL sentral for breakfast.TOO hungry to even take a shot..hehe!So sorry…http://www.linamasrina.com/2008/10/subway-sandwich-kl-sentral.html
Travel tip/trick:The cost of food here is on par with Singapore.A subway meal (and its not even the foot long!!) cost about RM$18.And chicken rice is about RM$7.So be prepared…If u do need local food at affordable prices, u need to head to the back alleys where u might find some gems especially during breakfast e.g Nasi Lemak (MMmm…*smacking my lips) or Chow Kit, Pudu area….
Ok,time to do some serious work…ciao!
Disclaimer: Food featured are subject to my personal taste. I hold no responsibility for your body's gastronomical adventure.All food shown are either from Halal-certified or Muslim owned establishments(with no liquour/alcoholic beverages).I will try my utmost best to update and maintain the relevant information shown,insya-Allah…but your body,your responsibility.Do ensure that the Halal-certificates are up-to-date,renewed (not expired) and displayed promptly before ordering/consuming. If in doubt,always ask the staff with a smile.
Remember: Use ur senses especially your heart.But mainly, ask your iman (faith).

Don't assume: A headdress/scarf lady is not equal to HALAL. "No pork no lard" signage is not equal to HALAL. A crescent moon and star symbol is not equal to HALAL. Not all Mediterranean (e.g Turkish kebab), Malaysian, Indonesian cuisines (especially Nasi Padang food) is HALAL. Whatever franchise that is HALAL in Malaysia,Indonesia or in any muslim country does not mean it is HALAL in Singapore or anywhere else. Your body,your responsibility, check its HALAL authenticity. More on disclaimer?

Thank you for your kind attention.
(Visited 3 times, 1 visits today)