updated:This hawker centre will be shifting to a temporary area nearby while they do some renovation/uplifting works.The stall will not be participating in that (taking a break)and will be closed from 18.4.2010 for 8 months till the new refurbished hawker centre is ready.Do take note.
Country: Singapore
We often heard about beautiful sunsets but sunrise are the bestest too!And only few of us take time to witness it cos either we are rushing for work or we are too engrossed in our sleep.I am a morning,day and night person.I love early morning.The simplicity,the golden silence..like watching a baby sleeping.A bohemian city like Singapore is at peace.I love to indulge in that moment.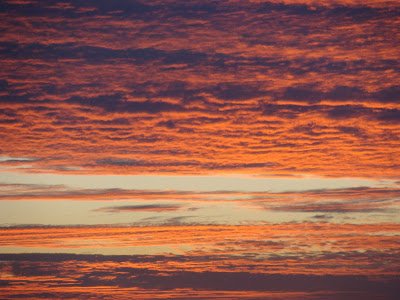 SubhanAllah…what a beautiful morning..Alhamdulillah,I have the luxury to witness awesome sun rising up and the beautiful arrays of colours emerged fusing in with the shades of blues of the sky.And it tells me a different story each morning.Can u imagine 365 different views yearly?Its like reading a new story book/watching a new short movie for every start of the day!
Best part is,I do not know what to expect.Sometimes, feel the blues,the skies might agree with you for a moment but then seconds later,it changed its mind and surprised u with a vibrant bright rays peeking out to cheer up.And sometimes, u feel so hyped up,energised but lil jittery to face ur overwhelming tasks and the view will be light,relaxing hues and the sun will shy away..kinda "massage" those aching fears away.Its soothing.Nature is at its best moments always…
Do take your time,to enjoy these special moments (and its FREE!).If we notice and be aware of our own nature's beauty,it really can uplift,motivate your mood especially empowering for the very start of the day.As u smile from ear to ear, somehow, u will rub off that happyness to a passing strangers,colleagues or whoever….without even making an effort.Isnt that great?
Ok,what's for breakfast?Today,we are heading to Kovan Hougang Market and Food centre.This is where I used to hang out when I was young watching my late grandpa aat work with the live chickens and watching my late grandma did her daily market shopping.She is my mentor in bargaining.
The malay stalls here have changed hands from different generations but of the same family.I like the part that the prices are still cheap.$2 for breakfast is considered a good deal!Even the chinese aunty,a regular customer,give me the thumbs-up!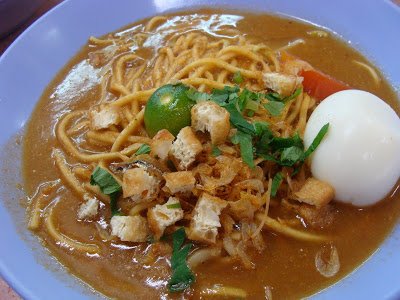 Mee Rebus- can taste the generous "udang geragau"(shrimps) in its gravy. Nice!

I like the Mee Soto.Delicious!And the meat is quite generous too for $2.They also sell nasi lemak (With fried chicken wings,egg,anchovies=$2?!)I like the homemade sambal.(sorry no photo,that was in previous visits).If u like loads of onions,order their sardine puffs.Mmmm…
They also have Mee Siam,lontong…the normal malay breakfast fare.This place is often crowded. I missed the good old days here!
Location:
Hajjah Yam Muslim Food
Kovan Hougang Market and Food Centre
Blk 209 Hougang St 21
#01-54
(Kovan MRT Station)
p.s:The keyboard is kinda cranky.The letter "U" especially is having a bad day and u might notice it is missing from many words,do pardon its lazyness….
Disclaimer: Food featured are subject to my personal taste. I hold no responsibility for your body's gastronomical adventure.All food shown are either from Halal-certified or Muslim owned establishments(with no liquour/alcoholic beverages).I will try my utmost best to update and maintain the relevant information shown,insya-Allah…but your body,your responsibility.Do ensure that the Halal-certificates are up-to-date,renewed (not expired) and displayed promptly before ordering/consuming. If in doubt,always ask the staff with a smile.
Remember: Use ur senses especially your heart.But mainly, ask your iman (faith).

Don't assume: A headdress/scarf lady is not equal to HALAL. "No pork no lard" signage is not equal to HALAL. A crescent moon and star symbol is not equal to HALAL. Not all Mediterranean (e.g Turkish kebab), Malaysian, Indonesian cuisines (especially Nasi Padang food) is HALAL. Whatever franchise that is HALAL in Malaysia,Indonesia or in any muslim country does not mean it is HALAL in Singapore or anywhere else. Your body,your responsibility, check its HALAL authenticity. More on disclaimer?

Thank you for your kind attention.
(Visited 20 times, 1 visits today)