Country: Malaysia
The next morning….
Hmm…where shall I go?
How about the famous Petronas Twin Towers?Its free admission but got to get up early to queue for the ticket. http://www.petronastwintowers.com.my/internet/pett/pettweb.nsf/frm_home_hi?OpenFrameset
YIKES!!I think I will pee in the hotel… (that reminds me of the luxurious toilet in Harrods and its FREE!)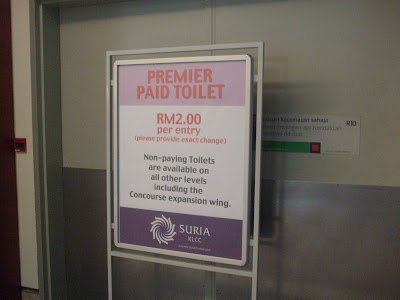 This is the area where we can roam around and took our pics…
In awe…..
After that walked around and saw this sytematic toilet…cool!
Tummy is rumbling during lunch.Since the recent discovery of Barcelos no longer halal-certified in Singapore, I decided to give Nandos a re-try.Although I tried it probably 7years back but that time, my tongue wont know the difference.To me,it all tasted the same, Kenny Rogers,Nandos…
Nandos near Bukit Bintang…
Mild Peri…-tasted tangy sourish mild spicy…Once eaten,it took some time to get the heat rise up to ur lips…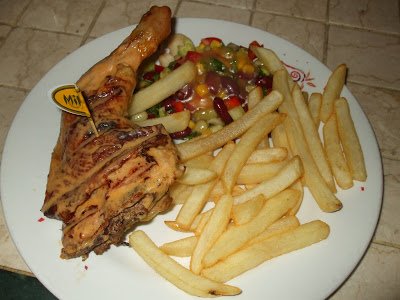 The salads are of ok size unlike Kenny Rogers humongous salad servings which I love!
They have 4 sauces.Tomato sauce is surprisingly sweet, the hottest peri sauce is indeed hothot! The garlic sauce, I like cos its garlicky sourish spicy.
The fries are alright.Although I expect it to be spicy too.I chose the mild peri flavour for this set.And I was told that I can opt for either the breast or the thighs.Well,give me thighs, baby!
I agree!!!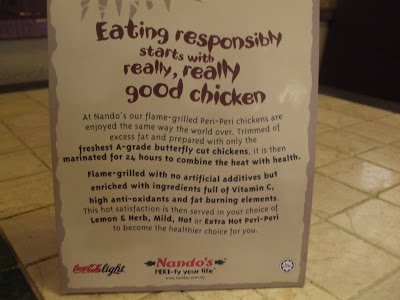 Verdict:The customer service is great!The food is delicious.Tender and succulent and well marinated (they boast that their chicken was marinated for 24hours!).Love it!Now i understand why Singaporeans want them to have a franchise there.(But I was told,there used to be Nandos in SIngapore , I think in 1999?And I heard they are making a comeback,anytime soon,hopefully,its gonna be HALAL like the Malaysian counterparts.)
Got some hours to kill…I watched Alice in the wonderland…cost about RM16 ..YIKES!! but cos the movie that I wanted to watch is not showing yet…I was procrastinating to watch it or not.Cos Alice in the wonderland is my favourite book which I carry around for years,everywhere I go.Cos I like the story.It always amazes me whenever I read it,it tends to create a new realm of powerful combustion of colourful imaginations…I fear the movie might let me down.
But being a fan of JD, I look forward to see his quirky disguise and charater as a Mad hatter,one of my favourite character in the story.Verdict: My imagination produce a better story but JD amused me… so it all balanced out!
In Pavilion,there are many restaurants and not forgetting the endless arrays of food in its food centre (similar to Singapore food centre concept, I think its the same company) and most of them are Halal-certified!Woo-hoo!But my happyness is short -lived because I am full just by looking at them.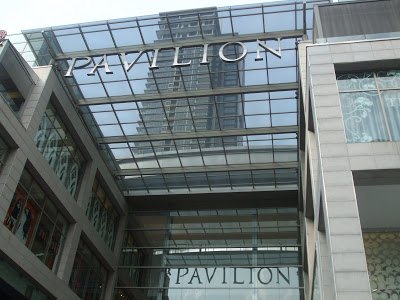 The HK roast duck hanging,the teppanyaki,the thai food,Taiwan delights and loads more…but I chose a simple snack.Youtiao-a long dough like fried fritter.I was told few years back (by someone, a reader of this blog that the youtiao is the best!)And so I tried.It was cold but yet amazingly,the youtiao is not soft but crispy in every corners!Interesting!And its not that oily.I tried the sweet potato/yam balls (cos I missed it when I went up the Cameron highlands)and it was ok.Tasteless balls.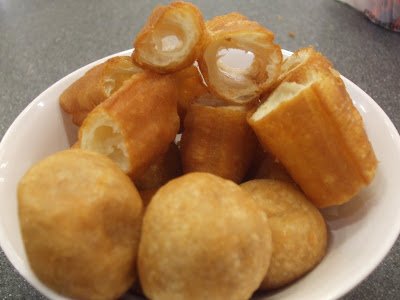 I loved to walk. I rather use my two legs than use the local transport when Im travelling.Cos time kinda slowed down when I slow down to appreciate everything in its own space and time.Appreciate them at that moment.Furthermore, I can mingle more with the local crowds and learn more about their way of living.
Another favourite place is Berjaya Times Square (above).This is the place where u can get Krispy Kreme and Wendy's under one roof and entertainment rides at the same time!
Is the heat getting to me?Am I seeing things?Are the adverts (above) getting crazy or are there shortage of good words? hmm….
Buskers….I wonder will he be overwhelmingly hot in this heat?!I think its about 35deg celsius!!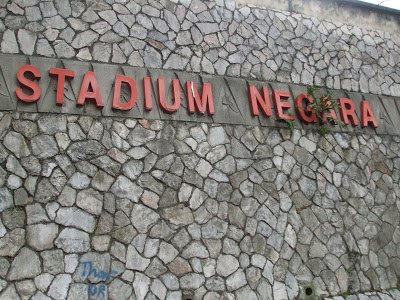 Thruout the Chinatown area,there are many cheap motels and backpacker hostels…
Chinatown
It drizzled as I left the Pudu bus station.I opt for the night coach but since my work is done, I left earlier… Goodbye KL,its been a lovely trip…gonna miss ya!
p.s:It began to rain heavily as I sat in the coach and within minutes,the Pudu bus terminal was flooded..Oh my…I heard they said previously it was till the waist..YIKES!! Its so dingy down here, I wonder what will float by…. *visualising rats
Disclaimer: Food featured are subject to my personal taste. I hold no responsibility for your body's gastronomical adventure.All food shown are either from Halal-certified or Muslim owned establishments(with no liquour/alcoholic beverages).I will try my utmost best to update and maintain the relevant information shown,insya-Allah…but your body,your responsibility.Do ensure that the Halal-certificates are up-to-date,renewed (not expired) and displayed promptly before ordering/consuming. If in doubt,always ask the staff with a smile.
Remember: Use ur senses especially your heart.But mainly, ask your iman (faith).

Don't assume: A headdress/scarf lady is not equal to HALAL. "No pork no lard" signage is not equal to HALAL. A crescent moon and star symbol is not equal to HALAL. Not all Mediterranean (e.g Turkish kebab), Malaysian, Indonesian cuisines (especially Nasi Padang food) is HALAL. Whatever franchise that is HALAL in Malaysia,Indonesia or in any muslim country does not mean it is HALAL in Singapore or anywhere else. Your body,your responsibility, check its HALAL authenticity. More on disclaimer?

Thank you for your kind attention.
(Visited 5 times, 1 visits today)