Country:
Singapore
Updated jan 2013:Charmaine no longer bakes on a large scale or in Halal-certified kitchen…She's a friend and I trust her (cos she already know the Halal dos n donts etc..) so whenever I have the cravings,I still order from her…just fyi.If doubtful,always seek halal-certified bakers or establishments.
I was given the opportunity to sample brownies and without hesitation , I said YES!Being a chocolate and a brownie lover, I seldom have the chance to splurge on my sweet tooth cos I preferred homemade ones and the ones that really took my fancy are too far away .
Baked and eaten is the brand name.Charmaine is the pretty lady behind the kitchen.Working in a Halal-certified kitchen www.whiskandfold.com ,she delicately handmade all her brownies with so much passion.And best of all her brownies are made of high quality ingredients.
First impression….U can see from the packaging that so much work has been put in.I love the simple intricate details and the cartoony icon.

Charmaine did warn me that her brownies are thick fudgey type unlike some which is more like chocolate cake,light and fluffy.Some people might like it,some people don't.I LOVE all types of brownies especially thick fudgey CHOCOLATEY ones. But,erm..do ensure a glass of iced water is nearby…

Ok, I scrutinised the mini cakes one by one.I can see her generosity in her ingredients,nothing is being spared.A whiff of it, sets me flying…Aaah…Chocolates, my love…
It was supposed to be eaten warm but I cannot wait any longer,the anticipation is killing me. I took a small bite ,followed by one mouthful,I chewed slowly and I can feel the mouth exploding in excitement as I munched on the fudgey chocolatey walnuts brownie.So SHIOK!!The chocolate has a slight bitterness and its not too sweet which I love.Just right for me…
I took another bite..Aah..this is lovely.it kinda push all your troubles away and puts u in a good mood.Mmm…I felt like Im in my own chocolatey world….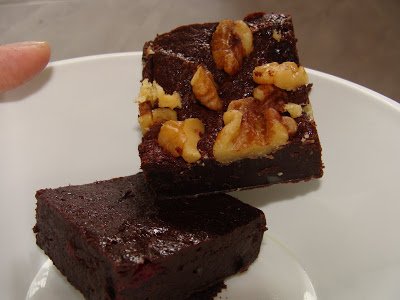 I've never eaten a brownie so good as this.And mind u this is only a third of most brownie sizes that Ive tasted but its packed with powerful awesomeness that one or two will satiate that sweet cravings.If u warmed them,it tasted even better!! Ooh…what a delight!
As i scrutinised the cranberry chocolate brownies, I failed to see the cranberries but as I break it up,it was filled with cranberries.Oh my…do u know that cranberries are costly?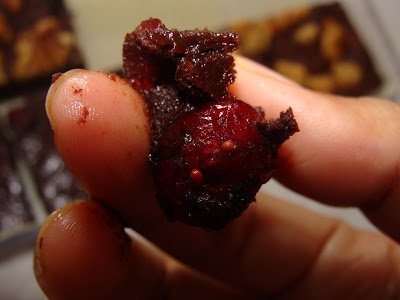 Hmm,Charmaine is indeed generous…
As I took a bite, the brownie seems to have a whiff of coffee smell somewhere.Slight bitterish sweet scent of coffee.And as I looked at the ingredients..Oh… espresso is one of its ingredients.The cranberries brownies are less sweet but its bursting with fruitful flavours of the cranberries.YUM!Its dark belgium chocolate bitterness goes well with the cranberries.I love it!
I love both brownies,its tough to choose between these two but if I must, i have a sight preference for nuts,thus walnuts will be a hot favourite.
Both brownies are not dry,densed and its really thick fudgey wholesome.Completely filled with chocolates,its like biting out of a chocolate bar.I love it!Thumbs-ups!
In fact the next day, as I woke up,the first thing that came to my mind was the brownies.The body crave for it… And I was actually munching brownies for breakfast…hehe!
A box of 8 cost only $20.Its a die-die must try.U can present it as a gift to your spouse,friends,colleagues or family members who loves chocolates.I bet they will love it!
Need more convincing?Read the list of ingredients and u will salivate…

Don't wait,call now….oops …Charmaine is away at the moment and will be back in April,but u can email her: Charmaine@bakedandeaten.com for more queries or orders….
Updated May 2010:
Someone email me her queries (thks Yaz!) :
what does it mean to have HALAL certified kitchen? You mean the utensils and whatver in the kitchen is HALAL-certified? Then how about the indidviduals baker's ingredients? Are they also inspected for its HALAL ingredients because the ingredients you use are of good quality and imported from overseas, so are your ingredients 100% halal ? Please clarify.
Baked and Eaten response:
baked.and.eaten operates under 'whisk and fold' – a licensed baking studio which has been certified by MUIS under the "Food Preparation Area Scheme" (one of the 7 types of Halal certification schemes to suit the various categories of the food and food-related industry) . This halal certificate is issued to catering establishments and central kitchen facilities. [link: http://www.muis.gov.sg/cms/services/hal.aspx?id=1702]
All equipments are new, and all ingredients are checked by the internal halal team. This team reviews the halal certification or product specifications of all ingredients, and where there are any areas of uncertainty – checks and clears with MUIS before they can be used in the kitchen. To ensure the kitchen is always within the halal requirements and regulations, the internal team also conducts regular spot checks on the kitchen.
More information can also be found at MUIS website, here is the link to the Singapore Halal Certification: http://www.muis.gov.sg/cms/services/hal.aspx?id=458
Disclaimer: Food featured are subject to my personal taste. I hold no responsibility for your body's gastronomical adventure.All food shown are either from Halal-certified or Muslim owned establishments(with no liquour/alcoholic beverages).I will try my utmost best to update and maintain the relevant information shown,insya-Allah…but your body,your responsibility.Do ensure that the Halal-certificates are up-to-date,renewed (not expired) and displayed promptly before ordering/consuming. If in doubt,always ask the staff with a smile.
Remember: Use ur senses especially your heart.But mainly, ask your iman (faith).
Don't assume: A headdress/scarf lady is not equal to HALAL. "No pork no lard" signage is not equal to HALAL. A crescent moon and star symbol is not equal to HALAL. Not all Mediterranean (e.g Turkish kebab), Malaysian, Indonesian cuisines (especially Nasi Padang food) is HALAL. Whatever franchise that is HALAL in Malaysia,Indonesia or in any muslim country does not mean it is HALAL in Singapore or anywhere else. Your body,your responsibility, check its HALAL authenticity. More on disclaimer?

Thank you for your kind attention.
(Visited 4 times, 1 visits today)