Country: Singapore


Due to overwhelming requests from fans and readers alike (thank you for the confidence in my fickle tastebuds),here I am…. bright and sunny excited for the next food assignment.
If you had joined me in our halal food forum ,we might share some inside information about latest updates locally/internationally..everyone and anyone can join in.And if you do have queries, u can just post anything in the forum,insya-Allah, out of the 900+ members (alhamdulillah,woo-hoo!),there should be someone who is able to help u out.
When I first read about MFM with its Halal certification (thks Berita Harian!) , Alhamdulillah…woo-hoo!I guess, when I informed the rest in the forumwe were all so happy…I did my jiggety jaggety dance ,did you?
Anyway,shortly after that I need to head to KL, thus the delay in sampling their famous fish and chips.Do u know that MFM got the award for being Malaysian's best fish and chips? hmm,GREAT!


Confession time: I'm often "muak" or easily "jerlak" (as chinese called it)Sorry,I don't have the exact word for it.Whenever I tried fish and chips in Singapore..I'm not sure whether its because of the batter, or the deep frying thingy or in some case,the cheese are added in their batter/fish…whatever it is, i will feel "muak" just after 2-3 bites.
But the funny thing is when I eat fish and chips in Europe, I enjoyed it thoroughly irregardless how many times, I had them. I'm not sure what is the reason.Is it cos of the batter,or the seasonings or the vinegar?Perhaps the dips?Or is it too fresh and piping hot when served,that its just melt in the mouth.Or perhaps its the environment,cos the weather seems cool about 17degrees celsius or cos I normally have it to go,meaning eat as u go…or perhaps its their thing.That is their speciality thus they are good at it.Hmm…
Take note: When travel to Europe or any part of the world,often the best fish and chips uses beer in their batter (cos beer work well with yeast to provide tantalizing delights to your tastebuds),so do check with them but best to eat at muslim-owned/halal-certified establishments.
Anyway,after my last taste at F.I.S.H by fish and co , I was satisfied (though a bit muak) cos their batter is exceptionally light and very crispy which I like so much!!
Ok, I went to City Square mall, Singapore's first eco-mall situated at Farrer Park MRT station.
Here are some interesting facts about the one and only eco-mall in Singapore: Eco-restrooms with Waterless urinal,Planters strategically placed to give a cooling & relaxing effect,Designated Parking Lots for Hybrid Cars, Twin Chute Pneumatic Refuse Collection & Disposal System separates dry and wet refuse for recycling purposes , Driveway motion sensor to control lighting level at B4 carpark,Lifts, escalators and travellators designed with auto-lighting, ventilation fans and slow-down features,Rain sensors for landscape irrigation and lots more…pretty amazing isnt it?
At about 11.30am, i arrived at MFM. I was the first customer.The poster at the entrance shows their lunch menu set but I was told that is only served at 12pm.Hmm… ok.
Then, a waiter brought me to a table with a view (below).
I have heard lots about the flaming prawns but I think I'm gonna try their fish and chips instead.If they can win me over with the simplest dish, i bet the rest of their menu must be great.
And I'm in the mood for soups.I'm craving for clam chowder soup but its not available.So the next best thing is the seafood soup.I grab that.The soup of the day is cream of mushroom.I was told to add $5.90 for the drinks and soup together as a set to accompany my fish and chips (if I choose soup of the day and drink,it will be $1 less).
I am really puzzled here.I think if I'm not wrong, by 12pm, the set that I'm ordering is cheaper-just ask for their lunch set menu.And its only minutes away.. But I guess my lips got glued when they told me that it is only available at 12pm. Cant argue with that…perhaps its a tight policy.I should have get up,go somewhere and come back later,right? *chuckled at my cheapskateness
The second person that came after me got a sort of "welcoming greeting" from the whole restaurant crew..It's like a choir singing out "Welcome" to that lady.That sets me thinking,"Eh,how come I don't get one?!"
But seriously, if I enter restaurants or posh establishments, no staff will bat me an eyelid cos I dress down…which I often called my pajamas suit. But when I start snapping pictures, everyone started going frenzy.I like that.
The same goes for this experience here.Once I started flashing my camera around,the staff started tiptoeing around me ensure that I got everything I need, often pacing to and fro and bring out their bestest smile (suddenly) and keep clearing my table…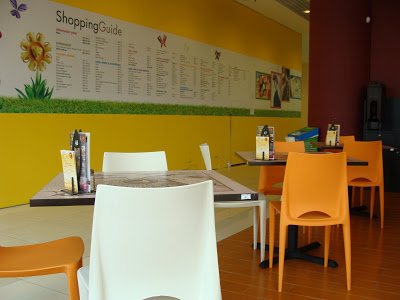 Seriously, don't judge a customer from their clothes.From my experience in retail,the richest ones that splurge are the ones normally in shorts and flipflops and I meant international branded goods.But of course that doesn't mean, u can ignore those in suits.What I meant is don't judge anyone..just serve them like they are celebrities or whatever that makes you feel motivated to serve.Imagine how you like to be serve and serve them that way.For all you know, your endless non-judgemental ways might reward u in better ways than u can imagine.
Ok,back to the MFM…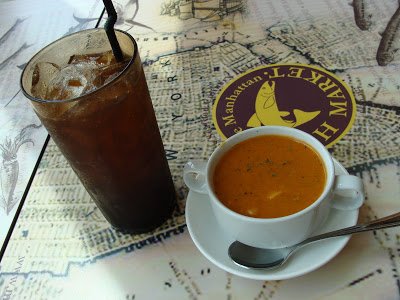 The appetiser…the seafood soup was nice.It tasted like a mixture of tomatoish kinda of pasta sauce/gravy with a hint of cheese.There were a total of 5 squid rings and 2-3 clams.It was alright.Iced peach tea was in huge glass.Sweet and nice.
Then the fish and chips came after about 15minutes.The fish was attacked immediately.It was crispy on the outside but fresh juicy white fish meat on the inside.Ate it first without any dips.It was thinner as compared to Fish and Co.But Fish and co's has bits of cheese and other stuff inside but this..is pure fish meat! I was given 3 dips-chopped raw garlic,chili sauce and mayonnaise.I like the garlic,it remove some "muak-ness".
The fish tasted fresh.Nice.The batter is alright but after 3rd bite, Im starting to feel "muak".The fries is nice and crispy ,there is a dash of seasoning on it.
Overall verdict-It was nice.




MFM as compared to FISH (by fish and co), I prefer FISH's extra crispy light batter and their healthy baked/pan grilled baby potatoes.It is indeed exceptionally light but super crispy.But in terms of servings,both are very generous and their price is about the same.Ambience is almost similar but FISH has comfy seats and posher ambience.
Well,dont take my word for it, go and try it for yourself…my tastebuds can be fickle at times.
This mall has many halal-certified establishments from Swensen's to Breeks(buffalo wings?),Old Chang Kee,McD,KFC,Korean bbq chicken,Seoul Garden…and many more….
Hey,Royals has a cafe?hmm..interesting…


Dont forget the 3Rs,people-reduce,reuse and recycle….
Location:

Manhattan Fish Market

180 Kitchener Road,

#04-12/13

Singapore 208539

Farrer Park MRT

http://www.manhattanfishmarket.com/sg/main.html
p.s: I've been hit by a bug,one of the blogger's nightmare currently-an "illness" which has no identity in the medical world,often said to have no cure.It's called- "No mood to blog"..U can sense the restlessness in my words or the blogpost seems to be jumbled up.
The symptoms are similar to a flu,feverish with slight amnesia,words got stucked and are unable to be expressed freely,appetite fluctuates,tasteless restless tastebuds,yummy foods are often ignored even if the smell is captivating,camera is often MIA/misplaced,pc/electronic gadget is often turned off, but whatever it is…hopefully it is short-term,so that I can get back on my feet with great enthusiasm to share yummy halal food with y'all.
Again,I acknowledge all those who had written thru emails and comments columns,FB,twitters …painstakingly take the time to give me lots of motivational words and positive tips and hints and dua/supplications that I get to cover the world one day and lots more….I try to answer all my letters asap but if yours did not get any reply,it might have gotten away/ended in my junk folder by mistake.Do send again.
Though we have never met, nor know each other personally,I felt that we are like close friends/family communicating to one another.Thank you very much.Terima Kasih.Xie xie ni.Dank oo well. Arigato go zai mas,Merci buku….(dont mind the spelling)
Disclaimer: Food featured are subject to my personal taste. I hold no responsibility for your body's gastronomical adventure.All food shown are either from Halal-certified or Muslim owned establishments(with no liquour/alcoholic beverages).I will try my utmost best to update and maintain the relevant information shown,insya-Allah…but your body,your responsibility.Do ensure that the Halal-certificates are up-to-date,renewed (not expired) and displayed promptly before ordering/consuming. If in doubt,always ask the staff with a smile.
Remember: Use ur senses especially your heart.But mainly, ask your iman (faith).



Don't assume: A headdress/scarf lady is not equal to HALAL. "No pork no lard" signage is not equal to HALAL. A crescent moon and star symbol is not equal to HALAL. Not all Mediterranean (e.g Turkish kebab), Malaysian, Indonesian cuisines (especially Nasi Padang food) is HALAL. Whatever franchise that is HALAL in Malaysia,Indonesia or in any muslim country does not mean it is HALAL in Singapore or anywhere else. Your body,your responsibility, check its HALAL authenticity. More on disclaimer?



Thank you for your kind attention.
(Visited 7 times, 1 visits today)