Country: Singapore
If u are craving for mutton soup?What will come to mind?BOON KENG!
I've been here since my youth.But back then,there were 2 different stalls.I always got them mixed up.Currently there are still 2 stalls,but Im not sure whether it's opened.Cos I heard that it has been bought over by the 1st stall and all that.Well, enough about politics, lets just dig in.
Upon reaching there,I noticed there were many staff crowding around.And as I bring up my camera to take shots,some come close and asked."Are u from Malaysia?" I felt amused perhaps, only tourists come and take photos.I explained my "voluntary" work and immediately they were so happy.One even surf my blog on the spot in his blackberry.And some offer me some of their recommendations like cheese prata shop near the NUS.
It was a big chirpy family! I get to snap some happy faces.And then I sat down and put on a serious front.Hmm, unsure what to order.Actually I heard there is Torpedo soup (mutton/bull's balls) and i asked them,whispered in their ears and was tickled silly at my own antics.They said they dont sell that and look at me,wondering..I guess they were amused too.(MB008, u tricked me!!Im gonna get u for this!! *lol)
The food came in a jiffy.It was delicious.The soup is smooth and delicious.Fyi,we ordered the mutton meat and innards soup.Erm,the innards was so-so.Im not so into mutton innards but the mutton meat soup was good!No need to add additional pepper or soyasauce given.It was good as it is!
Soft mutton meat…dip those baguette and let it soak the mutton goodness.YUM!

The tripe was soft but dont really like the innards…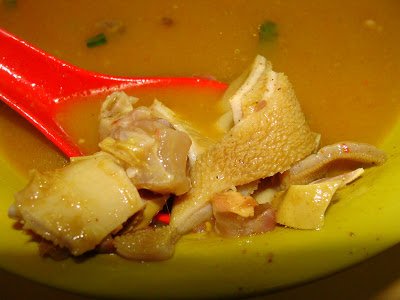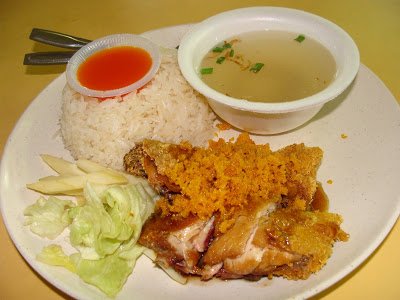 Then we also ordered the chicken rice next door.It was surprisingly good!The chicken is very crispy and it was yum!Then my eyes wandered and fell upon an indian stall.
Ordered beef steak.It was ok.Some parts are overburnt thus there are some charred bitter parts.Teh tarik was good too.
It was a pleasant experience with great food and good laugh with the friendly staff.Weekends,often the soup will finish early.They will close when their soup are sold out.Often weekdays will be about 11pm-12am.Weekends perhaps from 8pm onwards?
Location:
Haji M. Abdul Rajak Stall
Blk 17 Upper Boon Keng Road
#01-03 Upper Boon Keng Market and Food Centre
S380017
(nearest MRT is Kallang MRT station)
Disclaimer: Food featured are subject to my personal taste. I hold no responsibility for your body's gastronomical adventure.All food shown are either from Halal-certified or Muslim owned establishments(with no liquour/alcoholic beverages).I will try my utmost best to update and maintain the relevant information shown,insya-Allah…but your body,your responsibility.Do ensure that the Halal-certificates are up-to-date,renewed (not expired) and displayed promptly before ordering/consuming. If in doubt,always ask the staff with a smile.
Remember: Use ur senses especially your heart.But mainly, ask your iman (faith).

Don't assume: A headdress/scarf lady is not equal to HALAL. "No pork no lard" signage is not equal to HALAL. A crescent moon and star symbol is not equal to HALAL. Not all Mediterranean (e.g Turkish kebab), Malaysian, Indonesian cuisines (especially Nasi Padang food) is HALAL. Whatever franchise that is HALAL in Malaysia,Indonesia or in any muslim country does not mean it is HALAL in Singapore or anywhere else. Your body,your responsibility, check its HALAL authenticity. More on disclaimer?

Thank you for your kind attention.
(Visited 67 times, 1 visits today)