Country: Singapore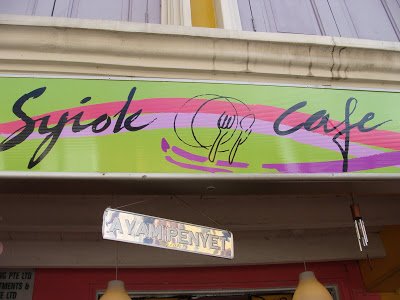 This is said to be one of the most popular ayam penyet in Arab Street.Previously,it was from Beach Road.
As we get to chat with the owner.We found out that she is very particular about the quality of her food.She ensures that every single ayam penyet is up to standard and is freshly fried.Thus the waiting time is about 10-15mins per order.
Her customers often come back for more from local celebrities to neighboring countries e.g Malaysia's celebrities like Nasir Wahab…and many more.Some even wanted her to open another branch in KL because it was too far for them to travel all the way here to savour her delightful ayam penyet.
Wow!Hearing all those stories and her pictures with the celebrities and many accolades decorating her entrance.My eyes twinkle with excitement,anticipating my drooling moments are about to arrive but we chat for awhile and I need to leave.I came back another day to try it anonymously.
Like I said in my previous posts,when I announced my arrival,people tend to over dress,over decorate their food thus to do without those unnecessities, I just appear invisibly.Lucky me, my facial attributes are easily forgotten.
I came at 11am.The cafe is open from 11am till late night.Owner said that if her customers wishes to stay longer especially during weekends,she will open it as long as they want to linger.Cos she said customers are important.Without them,she won't be where she is now.Wow,talking about gratitude,not many owners have that humbleness in them especially when they have make it big.
Her staff served me well.The food came piping hot 15minutes later. I love the tall glass that they poured my chilled green tea in.Very tall,majestic.


The ayam penyet looked simple.The crackers add some playfulness.
The food came separately as above but its easier for me to eat,and so I just placed them in one plate.

Verdict: The ayam penyet is crispy but tender on the inside.U can feel the freshness of the chicken .The sambal is spicy.I like the whole package.The cracker is nice.The soup is a delight too!
I can safely say,this ayam penyet has been tweaked to suit local taste.Because the indonesian ayam penyet is different. I prefer the Ayam Penyet Ria but this one is nice too (if I am in the vicinity) and the price is affordable.
previous posts:
Location:
Syiok cafe (muslim-owned)
No.6 Jalan Kledek
Singapore 199528
tel:84043395/84514350
Disclaimer: Food featured are subject to my personal taste. I hold no responsibility for your body's gastronomical adventure.All food shown are either from Halal-certified or Muslim owned establishments(with no liquour/alcoholic beverages).I will try my utmost best to update and maintain the relevant information shown,insya-Allah…but your body,your responsibility.Do ensure that the Halal-certificates are up-to-date,renewed (not expired) and displayed promptly before ordering/consuming. If in doubt,always ask the staff with a smile.
Remember: Use ur senses especially your heart.But mainly, ask your iman (faith).

Don't assume: A headdress/scarf lady is not equal to HALAL. "No pork no lard" signage is not equal to HALAL. A crescent moon and star symbol is not equal to HALAL. Not all Mediterranean (e.g Turkish kebab), Malaysian, Indonesian cuisines (especially Nasi Padang food) is HALAL. Whatever franchise that is HALAL in Malaysia,Indonesia or in any muslim country does not mean it is HALAL in Singapore or anywhere else. Your body,your responsibility, check its HALAL authenticity. More on disclaimer?

Thank you for your kind attention.
(Visited 10 times, 1 visits today)