Country: Singapore
While waiting endless months for Manhattan fish Market to be Halal certified,another entry came into view and delight our tastebuds…
I went to Tampines 1 mall to check them out.I was here at 11.30am.It was huge ,clean premise with a double storey area that can house many customers.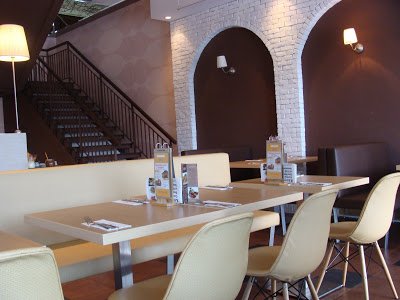 The staff were friendly and greeted you upon arriving.
I saw the delightful array of salads at the salad bar with a staff busy mixing their proportions.I giggled as I noticed that the staff involved in food preparation has to wear a white hairnet.Its cool, imagine they are the CSIs…ehehe!


Unsure what to order, I asked for the recommendations.I was told their popular hits are Mediterranean Fish (fish and chip)and Mozambique Chicken. I chose both of them.If I cannot travel to Mozambique,at least I can safely say that-Hey!I've tasted Mozambique flavours here,right? *wink
If I add another $5+,I can get the meal with salad buffet.Im not ready for that.My tummy is currently only FOR main course.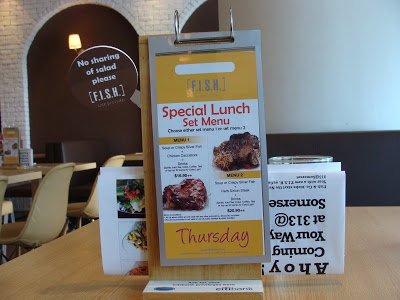 And as I look thru their menus,they have different promotions daily.Do check them out…
http://www.fish-co.com/fish/promo.html
The wait was about 20mins.That is why,if u are impatiently hungry,do opt for their yummy looking salad.I brought a book along thus that keeps me company. And also my ears are pressed to the wall to listen to the only customers on scene (beside me)-an excited malay couple as they devour the meals in sweet caressing words,mainly… compliments to the waiter.I eagerly listen to their shout-outs while waiting for my "pleasure" food to arrive.


The food was of generous servings and looked YUM! But will it taste as good as it looked? INDEED! The light skin batter was exceptionally crunchy.

This is the REAL fish and chips.Although,Ive tasted many fish and chips, this creates a new meaning to the actual word.Its batter is the BEST that I've ever tasted locally.Mmm…. *wiping the crust of my mouth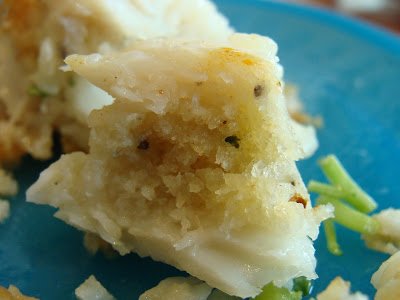 One thing though, I noticed that the flesh of the white fish are mixed with cheese in betweens and green garnishes.I have a weak stomach for cheese.I got easily "muak"/nausea if I found cheese in my food unexpectedly. I prefer my fish and chips plain, no added cheese or whatever….but since the batter was exceptionally good, it is pardonable.
I love the grilled mini potatoes and vege…its the same for both Mozambique chicken and Mediterranean Fish.


The Mozambique chicken is alright.The grilled half chicken was added dollops of red gravy which tasted somewhat like Ayam masak merah (Malay spicy tomato red chicken) ,slightly mild.The chicken is tender and moist.
Overall verdict: I love the fish and chips its fresh and batter is oohh…so light yet crispy!!This is what FISH and chips should taste like!!! No need to travel to UK or Australia…this is sufficient to satiate those hardcore cravings.
Price tag:


Do you think Manhattan Fish Market can do better? Hmm…
Location:
Tampines One Mall
10 Tampines Central 1
#04-11 & #05-13
Singapore 529536
Tel: 6260 0183
Fax: 6783 2733
11.30am to 10pm daily
Halal-certified
http://www.fish-co.com/fish
Disclaimer: Food featured are subject to my personal taste. I hold no responsibility for your body's gastronomical adventure.All food shown are either from Halal-certified or Muslim owned establishments(with no liquour/alcoholic beverages).I will try my utmost best to update and maintain the relevant information shown,insya-Allah…but your body,your responsibility.Do ensure that the Halal-certificates are up-to-date,renewed (not expired) and displayed promptly before ordering/consuming. If in doubt,always ask the staff with a smile.
Remember: Use ur senses especially your heart.But mainly, ask your iman (faith).

Don't assume: A headdress/scarf lady is not equal to HALAL. "No pork no lard" signage is not equal to HALAL. A crescent moon and star symbol is not equal to HALAL. Not all Mediterranean (e.g Turkish kebab), Malaysian, Indonesian cuisines (especially Nasi Padang food) is HALAL. Whatever franchise that is HALAL in Malaysia,Indonesia or in any muslim country does not mean it is HALAL in Singapore or anywhere else. Your body,your responsibility, check its HALAL authenticity. More on disclaimer?

Thank you for your kind attention.
(Visited 10 times, 1 visits today)