Im here on official business…after that is done.
I took a look at my watch.Hmm, nearing lunch hour… I went to the canteen for a look.
I miss those canteen moments when I was working in secular school. Cheap and good food,canteen bustling with chitter chattering of kids and them monkeying around…and occasional chorus greetings from favourite students… *sigh I miss those moments…
Anyway, went to stall no.1 and the food look amazingly yummy (or is it cos Im hungry?!) There is nasi briyani, mee rebus and mee soto.
And I was attracted by the reddish chicken gravy that I decided to have my lunch here.
Accompanied by my colleague.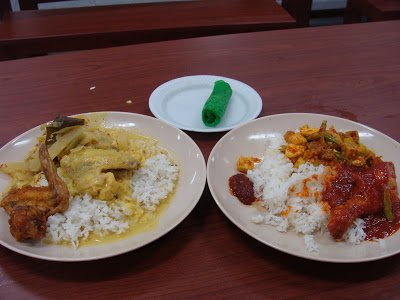 We had some yummy treats here.
The price is cheap and it tasted so homecooked with love.
Even the pale lemak cili padi is awesome!
And we tried this Malay green kueh filled with sweet dessicated coconut and dadih which is a milk custard. The kueh is sweet.The milk custard a bit diluted in taste but its alright.Its for the students, we wouldnt want them to be filled with too much sugary goodness that they become too active right?Overall verdict-thumbs up for stall no.1!
fyi-I dont think its open for public…so sorry…
If u want to donate to the school funds cos they need them especially for the current new school:
http://irsyad2.logomagix.com/wp-content/uploads/2009/12/derma.jpg
Anyway,this is one of my favourite song by the students of this school feat. Malaysian singer.Well-done Irsyadee!…
(Visited 29 times, 1 visits today)