Country: Singapore
If u need to have a gathering (school reunion,wedding..) this is one HALAL place to look out for. It has a nice ambience overlooking the swimming pool and their prices are reasonable.The setting is like a posh restaurant but the prices are affordable.And they do have individual rooms for private functions.Do email them for quotations.(Very efficient and fast response!)
I heard that their menus are award winnings and they have been featured many times in the local newspapers.

And if you need to host a Chinese Reunion dinner or Yusheng (lo-hei),they also have suitable packages for that:
http://www.sunasianbistro.com.sg/promotion/prosperitymenu.pdf
http://www.sunasianbistro.com.sg/promotion/fortunemenu.pdf

We kinda got lost on our way here.The University is so huge, and it was around 8pm Saturday…it was kinda quiet..isolated and not a single soul to be found…

But then,in the dark,we saw a small building with "STAFF club" signage, thus we park there.It looked kinda closed,dimly litted and so we called them up to check.Oh,they are still open. After 7pm,the parking is free.U need to go to the basement to enter the restaurant.The restaurant is open to public.Sunday is closed.


Not knowing what to expect and with meagre $50 dollar notes stashed in our pockets…and flipflops protecting our soles.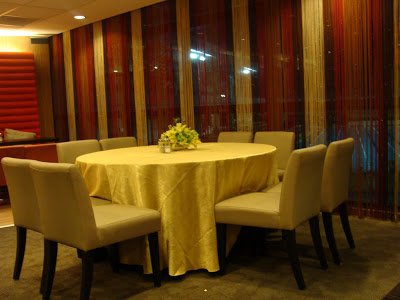 We like the grand settings…felt like Im in a hotel or some sort…although we dont seem to be appropriately dressed for posh restaurants,the students that patronise the restaurant make us felt so at home.Cos we dressed in similar attires..casual dressing.Like going to the beach…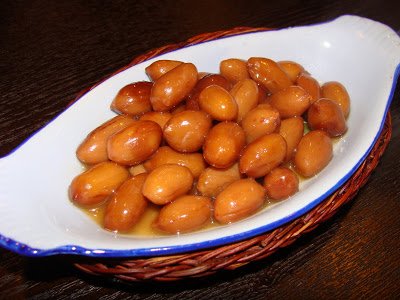 They have both western and asian cuisines…After ordering,we were served with warmed braised nuts.(U can get these for $0.50 cents in can at supermarkets but the peanuts served are bigger than norm)

MB ordered fried seafood rice.Tasty with fresh generous fresh seafood like squids and prawns…YUM!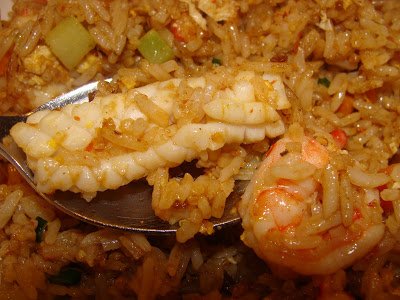 I ordered the crayfish pasta cos I saw the signature chef icon beside it and so it must be good!
I like! The noodles are sweet sourish filled with seafood goodness.I like that their ingredients are of good quality and fresh.Mild in taste, u can ask for additional sauces or chilli flakes or parmesan cheese…

The fried seafood platter is good too.I like the fruit salad.The fish is nice, crispy outside and tender inside and I like the scallops..

The best is the dessert-homemade mud pie with vanilla ice-cream and chocolate fudgey sauce. The warm sweet cake has some nuts on it.It was DELICIOUS!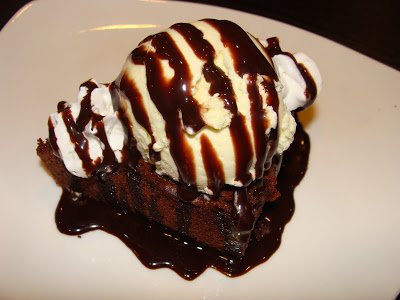 Mmmm….YUM!


Overall verdict: The food on the menu is comparable to many hawker food and tex-mex/western stalls/restaurant but the taste is of good quality and fresher ingredients,what u might expect from 5 star restaurant.Most of the food are mild in taste ,so for fiery tongues like mine,u might need to tweak it a bit.
And to come all the way here to eat them, probably once in a blue moon unless u are living in the western side of Singapore or u are NUS students/staff(there are discounts available).But perhaps, next trip, I might taste their steaks, who knows it might be of superior grades than Swensens or Eatzi?
But I like the ambience, for gatherings,it will be great..and conducive..I guess..
fyi-ice water is free..Eversince we were charged MYR$0.50 per person,we make it a point to ask wherever and whenever we dine.Cos we still bring out favourite canteen/water bottles thus if we can save every penny, we will…try our bestest.
Location:
National University Singapore Staff Club
30 Lower Kent Ridge Road
Halal-certified http://www.sunasianbistro.com.sg/
(Website has menu and halal-certificate expiry date displayed)
Disclaimer: Food featured are subject to my personal taste. I hold no responsibility for your body's gastronomical adventure.All food shown are either from Halal-certified or Muslim owned establishments(with no liquour/alcoholic beverages).I will try my utmost best to update and maintain the relevant information shown,insya-Allah…but your body,your responsibility.Do ensure that the Halal-certificates are up-to-date,renewed (not expired) and displayed promptly before ordering/consuming. If in doubt,always ask the staff with a smile.
Remember: Use ur senses especially your heart.But mainly, ask your iman (faith).

Don't assume: A headdress/scarf lady is not equal to HALAL. "No pork no lard" signage is not equal to HALAL. A crescent moon and star symbol is not equal to HALAL. Not all Mediterranean (e.g Turkish kebab), Malaysian, Indonesian cuisines (especially Nasi Padang food) is HALAL. Whatever franchise that is HALAL in Malaysia,Indonesia or in any muslim country does not mean it is HALAL in Singapore or anywhere else. Your body,your responsibility, check its HALAL authenticity. More on disclaimer?

Thank you for your kind attention.
(Visited 18 times, 1 visits today)