When I first moved in this vicinity, I discovered one of Little India's gem-a lil quaint shop selling yummy nasi lemak, malay nasi padang (tasted like kampung food) and delicious savoury malay kuehs.And their operating hours are 3pm till 3am (but now it has changed to 7am till 3am).
Even the chinese media had checked them out and featured them on tv.And the funny thing is that I found out the owner is kinda affiliated to a friend's colleague so its kinda a weird coincidence.hee!
Ok, its been ages since I walk the memory lane.I think perhaps 2 years ago…
Went there at 7.30am…
With a beautiful array of kuehs staring at u, my sleepy eyes are immediately jolted from sleep and look with intense hungryness in them….

Oh there is a new addition..now they are selling prata and chicken rice (perhaps lunch hour)?! I saw an indian staff doing the prata and wondered whether Sheikh Najib is renting out the premise during breakfast..but then I saw a familiar face..a malay staff and my leapt with joy.As he scoop hot and piping fragrant nasi lemak ordered by customers, I know right then that nothing has changed..perhaps lil tweaks here and there and some menu changes…but the nasi lemak is still…as good…*sniffing that fragrance…Mmmm
We ordered their egg prata…it as alright.I felt the prata is a lil different.Felt like the prata is mixed with chappati flour or something,it felt kinda healthier almost wholemeal..Hmm…

As soon as we sat down, many joined us for early breakfast..mostly men going to work..
I eyed what their order was, it seems that the mutton curry or some sort seems yummy but my tummy is set for the nasi lemak which seems kinda generous early morning….
And ur visit to Sheikh Najis is never complete if u never taste their Malay kuehs which has been spread far and wide all over Singapore in major coffeeshops and eateries….and dont forget to ask for their iced teh tarek limau (iced tea with calamansi) and teh tarek ais (iced tea with milk)It tasted so good whenver I crave for malaysia street stalls, I just head here for that Malaysian flavour in these icey drinks….
As I finished up my meal, I saw many trays of food are coming out…noodles and lots….Wow!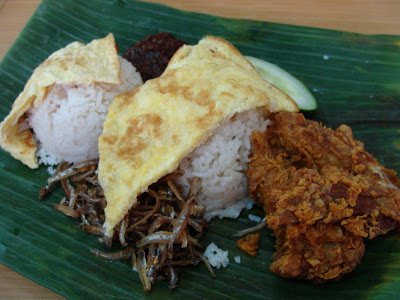 Overall verdict: Still same generous shiok nasi lemak as before…with crunchy fried chicken wings,anchovies, and 2 eggs…and dollops of sweet homemade sambal….the malay kuehs, yummy as usual…I love it!As for the nasi padang, I have not tried it after 1-2 years…but just in case u wonder …check out my old posts on them (Im a fan of sheikh Najib's food when I was staying near)
Sheikh Najib Nasi Lemak
18 rowell rd,
Singapore 207976
tel: 62457134
Operating hours: 7am-3am
Ok as I proceed on with my "street shopping" at little India (I just love to wander off aimlessly in Little India cos u never know what u gonna see) …..I saw this restaurant …its not HALAL but its fascinating..to dine in with ur bare feet twiggling as u sat down…especially if its soggy after the rain and flash floods,puddles and after working 8-9 hours in them without any airing out, just imagine…the smell …hehe!By the way, what are the bottles for?Air fresheners? Hmm…
2nd trip in Mid March 2010,I scrutinised the sambal and re-taste it.I found it to be…. watch the video below to find out!
(thanks CT for that query!)
(Visited 12 times, 1 visits today)