Country: Singapore
Everytime before I fly off, i will come here to have my farewell lunch. I want to remind myself of the bustling flavours of Singapore before I seek out to find other amazing international flavours.This stall has been here since….I dunno when and without fail,everytime I visit them, I will exit smiling,happily rubbing my tummy…

To beat the lunch crowd, I often come here at 10am, when the dishes are hot and piping,fresh from the oven and I can eat in peace with lots of empty chairs and tables.But after 10am, slowly the crowd started filling in…
Too bad, their fruity rojak (with thick black sauce) which I love is only available during lunch.That is a MUST-try!
Small busy stall….

Bawean signature dish-Celok fish
Asam Pedas fish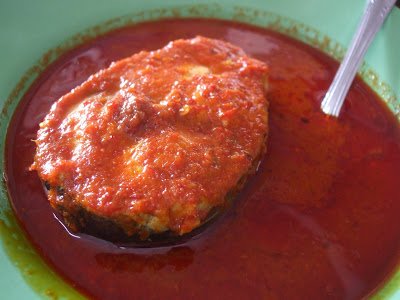 Fried tofu and tempeh..
Ta-DA!Eat like the cats do….
Today I did not order the fried chicken thigh.I like its tender chicken.But I cannot say the same for chicken wings.And often, I indulge myself with one big fish head either in celok (yellow pineapple sourish spicy gravy) or asam pedas (red assam gravy) kinda like a lil treat for myself.And often, these are taken home,cos I cannot savour "tricky" meal (anything that needs me to use all fingers to wrestle the meat out is tricky to me).
The bones and messy splattered of the gravy and my fingers moving here and there seeking flesy pleasures e.g cheeks,lips,eyes….I bet if anyone see me, they will be terrified.or should I say GORYfied!!hehe!
Verdict: For me this stall has its top notch hi-5s from me ……always…
Location:
Nasi Bawean
62 Desker Road
Open:as early as 8am for breakfast but yummy food comes from 10am onwards till 2-3pm (when it runs out)
Sunday is closed.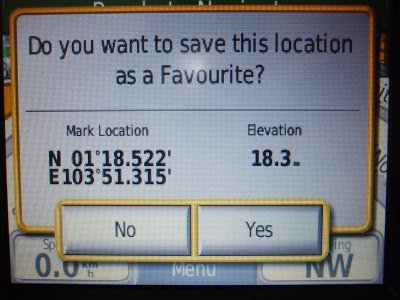 Disclaimer: Food featured are subject to my personal taste. I hold no responsibility for your body's gastronomical adventure.All food shown are either from Halal-certified or Muslim owned establishments(with no liquour/alcoholic beverages).I will try my utmost best to update and maintain the relevant information shown,insya-Allah…but your body,your responsibility.Do ensure that the Halal-certificates are up-to-date,renewed (not expired) and displayed promptly before ordering/consuming. If in doubt,always ask the staff with a smile.
Remember: Use ur senses especially your heart.But mainly, ask your iman (faith).

Don't assume: A headdress/scarf lady is not equal to HALAL. "No pork no lard" signage is not equal to HALAL. A crescent moon and star symbol is not equal to HALAL. Not all Mediterranean (e.g Turkish kebab), Malaysian, Indonesian cuisines (especially Nasi Padang food) is HALAL. Whatever franchise that is HALAL in Malaysia,Indonesia or in any muslim country does not mean it is HALAL in Singapore or anywhere else. Your body,your responsibility, check its HALAL authenticity. More on disclaimer?

Thank you for your kind attention.
(Visited 81 times, 1 visits today)