Country: Singapore
I heard someone shout out in twitter few weeks back that KFC is gonna serve some YUMMY egg tarts.And its not the typical egg tarts but the Portugese egg tart type. And Im a fan-ATIC of Portuguese egg tarts.Often I will cross over the border just to have my fill-ups of creamy eggy fillings embodied in lightly wafer crust that just melts as u bite into its mouthful goodness.

This is where I get my favourite dose of portuguese egg tarts:
http://www.putriberendam.com/city-square/portuguese-egg-tart/
And so after torturous moments of drools (hehe!) and their raving reviews of the tarts by people in FB (thanks!), I decided to have a go at it…U see, Im not that fond of fast food (but I do give in to occasional "once-in-a-blue-moon" cravings).To me, my mind automatically visualise "fast food" with card board.Thus I fear that I might just sink my teeth into cardboards…but since the fans were happy about it, I guess, I can trust them,right? *winks
I was one of the first few to queue up early morning of Chinese New Year's eve.I had to wait for 20 minutes because many were buying in boxes.I guess everyone is bringing this to the reunion table…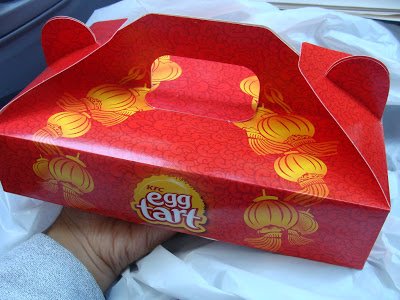 Nicely wrapped to commemorate the current festive season-Chinese New Year.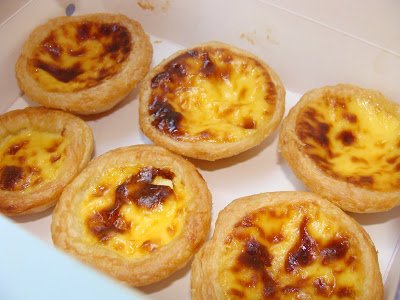 $1.30 each piece.1 box=$7.50 for 6 (save 30cents)
Smell those eggy tarts..fresh from the oven…..Mmm..

Verdict: I ate them as soon as I get my hands on them.It was piping hot.It was YUM!4 stars..The fillings are not that thick/deep as my favourite Robin's portuguese egg tarts and not as yummy creamy but sufficient enough to make me drool for more.I like its light layered crust.Overall,its good enough to prevent me from crossing the border…But u got to eat them when its warm…
Oh well, now for a stroll to Chinatown…
More info, head to their website…
http://www.kfc.com.sg/whats-new.php?id=44
FYI-only certain branches have it…
Admiralty Place • Ang Mo Kio • Bedok • Bukit Merah • Bugis Village • Bukit Panjang Plaza • Causeway Point • Clementi • Compass Point • Downtown East • Eastpoint • Funan • HarbourFront • Heartland Mall • Hougang Mall • Jurong Point • Kallang Stadium • Lot One Shoppers' Mall • Marina Square • North Point • Novena Square • Parkway Parade • People's Park • Plaza Singapura • Potong Pasir • Punggol Plaza • Singapore Polytechnic • Singapore Post Centre • Sengkang • Sun Plaza • Suntec City • Tampines CPF Bldg • Tampines Mart • Tanjong Katong • Tiong Bahru Plaza • Toa Payoh • Thomson Plaza • Towner • West Mall • White Sands • Woodlands • Woodlands 888 • Yew Tee Point • Yishun • Yung Ho
If you want the recipe,this is one of my favourite site.:
http://rasamalaysia.com/portuguese-egg-tarts/
Hey..they got some in California too…no not the KFC ones,the real MACAU egg tarts..I heard..the queue is longer than the wall of China (really??!)But Im not sure about its Halal-ness though(check out the above site-it has address of Californian's restaurants serving them)
Disclaimer: Food featured are subject to my personal taste. I hold no responsibility for your body's gastronomical adventure.All food shown are either from Halal-certified or Muslim owned establishments(with no liquour/alcoholic beverages).I will try my utmost best to update and maintain the relevant information shown,insya-Allah…but your body,your responsibility.Do ensure that the Halal-certificates are up-to-date,renewed (not expired) and displayed promptly before ordering/consuming. If in doubt,always ask the staff with a smile.
Remember: Use ur senses especially your heart.But mainly, ask your iman (faith).

Don't assume: A headdress/scarf lady is not equal to HALAL. "No pork no lard" signage is not equal to HALAL. A crescent moon and star symbol is not equal to HALAL. Not all Mediterranean (e.g Turkish kebab), Malaysian, Indonesian cuisines (especially Nasi Padang food) is HALAL. Whatever franchise that is HALAL in Malaysia,Indonesia or in any muslim country does not mean it is HALAL in Singapore or anywhere else. Your body,your responsibility, check its HALAL authenticity. More on disclaimer?

Thank you for your kind attention.
(Visited 120 times, 1 visits today)