Country: Singapore

Thank you y'all for participating in my recent ramblings in facebook regarding uncle Tony's – www.tinyurl.com/putrifacebook ..
Now I know that pictures do speaks a thousand words and at times LOUDER than words.In my case here,it is essential on how I project the images of the food in my blog.
First impression…I saw the poster that boasts that the Chef is from a 5 star hotel.Thus the expectations immediately went to its peak.
As I enter, I applaud their simplicity in their decorations.I love the untouched flooring…love the "Raw"ness…and simple colours of black and white.

I went on one eve of public holiday and it was packed with jolly laughters from many Chinese families.Feeling out of place (not because of race but mainly coz I came alone)but was immediately embraced by the charms of good customer service from the staff, I felt at home.
As I was seated, I glanced around at what they were ordering.I saw some pastas and piles of chicken wings that looked like the ones sold in IKEA (reddish brown colour) The waitress answered my queries in good note,explained to me that their specialities are chicken chop and rib eyes (but its sold out!).
I was informed that I need to select my order and write in in the paper form and head to the cashier for payment.So its kinda like semi-self service.After pondering,I decided to go against what was suggested cos I had eaten many chicken chops recently and another one might turn me blue in the face (if u read my chicken chop wars)and so I select their steak instead.Cost is $12.90 with no additional surcharge.


It came about 15minutes later.Their sky juice (plain water) is free flow and self service but mine are again taken well care of by their staff.


The palate of steak that came blew my mind.The display adds an air of "highclass-ness" in this humble restaurant located in the heartland.Immediately, I felt like Im in a posh restaurant.The angle that I took,makes the steak look smaller than it seems.Its actually the size of my palm (closed).The rest of the vegetables of broccoli and potatoes are grilled to perfection. I love the sweetness that oozes out of these vegetables.And there is another beside the potatoes which i suspected is the white carrot.It was delicious!


And now is the time for the steak.I ordered medium well because people tend to over-do it thus I was often served with well done steak instead of medium well and when I asked for well-done, its often TOO WELL done..almost too charred and tough…so its best to stick to medium well,Im easily satisfied.
Ok,the whole package is satisfying but the steak its a lil disappointing.Perhaps, I should try out their rib eye steak.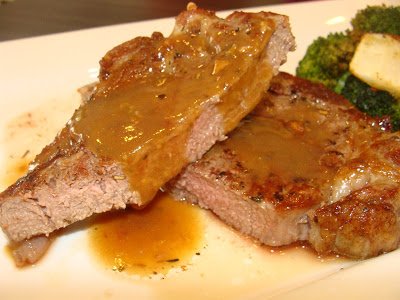 Cos I felt that this steak did not do justice to their quality service and "Vavavoom" food display.
I felt the steak tasted like low quality…the texture.Its semi-tough rough.Either, I have too high expectations or perhaps,with this heartlander price of $12.90,that is justifiable.Either way, Im not that impressed though i love their subtle steak gravy which has a tinge of "classic-ness".
Overall, i will give this restaurant another try insya-Allah… Do try their chicken chops and ask for their current specialities.If Im not wrong their menu do change daily.
Location:
21 Hougang St 51
Hougang Green
Singapore 530212
tel:63860049
11am-10pm daily (9.30pm last order)
Halal-certified
uncle_tonys@yahoo.com
http://www.uncletonysgroup.blogspot.com/
Disclaimer: Food featured are subject to my personal taste. I hold no responsibility for your body's gastronomical adventure.All food shown are either from Halal-certified or Muslim owned establishments(with no liquour/alcoholic beverages).I will try my utmost best to update and maintain the relevant information shown,insya-Allah…but your body,your responsibility.Do ensure that the Halal-certificates are up-to-date,renewed (not expired) and displayed promptly before ordering/consuming. If in doubt,always ask the staff with a smile.
Remember: Use ur senses especially your heart.But mainly, ask your iman (faith).

Don't assume: A headdress/scarf lady is not equal to HALAL. "No pork no lard" signage is not equal to HALAL. A crescent moon and star symbol is not equal to HALAL. Not all Mediterranean (e.g Turkish kebab), Malaysian, Indonesian cuisines (especially Nasi Padang food) is HALAL. Whatever franchise that is HALAL in Malaysia,Indonesia or in any muslim country does not mean it is HALAL in Singapore or anywhere else. Your body,your responsibility, check its HALAL authenticity. More on disclaimer?

Thank you for your kind attention.
(Visited 32 times, 2 visits today)