Country: Singapore
Previously I had ordered Arnold's fried chicken delivery from Hougang Green Branch,the food came 1.5hours later as promised because it was a Sunday night where last minute binge on a week-"END" started to multiply..
But I had always prefered dining in.If u ask me to compare between Arnolds and KFC, I gladly chose Arnolds.Cos this has been my favourite haunt since I was young.Do u know that Arnolds is the first restaurant to receive HALAL certification?And because it was so popular amongst the malay community,they were actually encouraged to take up HALAL certification.And they did..alhamdulillah…
Why do I love Arnold's chicken? Because it was only fried upon ordering and not like many where the chicken are already deep fried and they fry again to heat it up when ordered.Thus double endorsements of thick oil coatings…and sometimes,the chicken has been in the warmer for hours and its meat became dry.And I do not know what type of chicken they use-A young chicken, probably from two to ten months old thus..the yummy tender meat
Unlike Arnold's,they fry FRESH when u order thus I love eating it hot and piping from the fryer.But then when u have the cravings for fresh hot piping fried chicken, who cares about the cholestrol level or those fatty moments,right? Just practise moderation…
Ok, like I said I had been eating Arnold's since it was HALAL everytime, if I get the top prize or succeed in any projects or I get excellent results, this is where my favourite aunty will pamper each of us kids with a whole spring chicken.A WHOLE chicken EACH, Im not kidding you….And amongst us cousins, I am the only girl.I grew up in a male cousin groupie thus that says a lot about my tomboyish personality…Anyway, I do not know how each of us can finish up the chicken.Seriously…still wondering now…hmm,and then whoever finish up the chicken first will be awarded the King and Queen of chicken…hehe! As Im the only Queen, I took my time but for sure, it will be clean…within an hour or two.
Now as I look back at my childhood days, for sure, it brought back happy memories of family gatherings and dining together,make us closer and tighten those bond…
Ok back to Arnold's ….we head to the newest branch at Hougang Green and also to take a look at Jimmy Yummy, http://www.putriberendam.com/singapore/east/jimmy-yummy-revisited/ sad to say that it has been replaced by a new restaurant -Uncle Tony's by a 5 star hotel chef selling pastas and sorts.It looked nice…and interesting.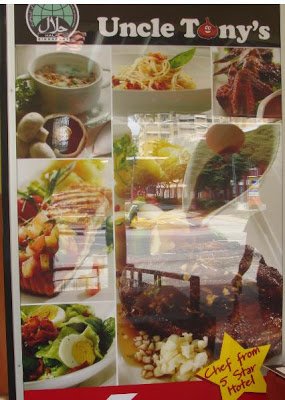 It was 11.30am,around this time in City Plaza,normally the crowd started to form as lunch hour drew near especially during weekends.But here,it was exceptionally quiet…And I noticed there is a 24hour indian muslim coffeeshop just next door, perhaps that adds to the competition.
The new restaurant looked clean and spacious….As I wanted to order, they told me that I need to wait for 15-20minutes. I dont mind…

The staff was exceptionally friendly and even offered to cut the chicken into quarters seeing that there were 4 of us.We are really trying to stretch our dollars here…(hehe!) I began to treasure those moments when my aunty often treat us with a whole spring chicken…hehe!Too luxurious, I guess..as compared to now..too stingy…what to do.Ive got to learn to be thrifty if I want to showcase more Halal food here..gotta learn…
Anyway,thru out the years, Arnolds' chicken has changed in taste.If u noticed,now the taste is more of garlicky spicy than the previous original flavour..some kids might not able to take it…but adults love it! I can eat them without any chilli sauce, savour their crispyness in its original garlicky spicy flavour…The tender meat is juicy…finger licking! The skin is always a battle…everyone wants the crispy skins. Of course the healthy conscious ones will put it aside in one corner, and some hands will start to snatch it away..ASAP..hehe! And dont forget…Got to eat them with your bare hands!! (washing basin is available)

Price is the same as City Plaza branch.I think in Pasir Ris park is a bit cheaper (if Im not wrong) .I like their bandung drink and ice-kacang dessert (with ice-cream).Some of my family members love their potato platters with crisscut chips, french fries ,wedges eaten with melted nacho cheese. And mashed potatoes are a must.For me, a typical spring chicken (come with small servings of coleslaw,fries) and bandung drink is sufficient for my fussy tastebuds. My visits to Arnold's fried chicken has always been good…so hi-5!
Just in case, u dont feel like cooking during the Chinese New Year period,dont fret..they are OPEN!!! Refer to the notice below…
ENJOY!

Location:
Hougang Green Mall
21 hougang st 51
#01-49
tel:63869015
11am-10pm
http://www.arnoldsfriedchicken.com/
Disclaimer: Food featured are subject to my personal taste. I hold no responsibility for your body's gastronomical adventure.All food shown are either from Halal-certified or Muslim owned establishments(with no liquour/alcoholic beverages).I will try my utmost best to update and maintain the relevant information shown,insya-Allah…but your body,your responsibility.Do ensure that the Halal-certificates are up-to-date,renewed (not expired) and displayed promptly before ordering/consuming. If in doubt,always ask the staff with a smile.
Remember: Use ur senses especially your heart.But mainly, ask your iman (faith).

Don't assume: A headdress/scarf lady is not equal to HALAL. "No pork no lard" signage is not equal to HALAL. A crescent moon and star symbol is not equal to HALAL. Not all Mediterranean (e.g Turkish kebab), Malaysian, Indonesian cuisines (especially Nasi Padang food) is HALAL. Whatever franchise that is HALAL in Malaysia,Indonesia or in any muslim country does not mean it is HALAL in Singapore or anywhere else. Your body,your responsibility, check its HALAL authenticity. More on disclaimer?

Thank you for your kind attention.
(Visited 46 times, 1 visits today)