I've long heard about Kluang's chicken chop few years back.But when I went to the original branch in Kluang,they do not have it.I was told they only have it in certain branches and KL is one of them. Recently,not too recent, I think last year or the year before ,they opened up a branch in Kota Raya Shopping Mall.
I wanted to taste Daud's Torpedo soup at the night food market near City Square Mall, but it was closed.
My previous post on this night food market:
Thus I head straight here to perk myself up with their aromatic coffee (famous homemade coffee) and roti kahwin (famous toast bread with homemade kaya)
Read my previous post on Kluang:
As I was waiting for MBs to do their prayers, I wanted to go to my favourite bookshop to do my favourite browsing of books…but its no longer there (what?!!) Double disappointment.And so I did not wait for MBs but instead I entered this eatery alone.Hoping that its less illuminated eatery (as compared to the other brightly litted areas of the shopping mall) will perk me up…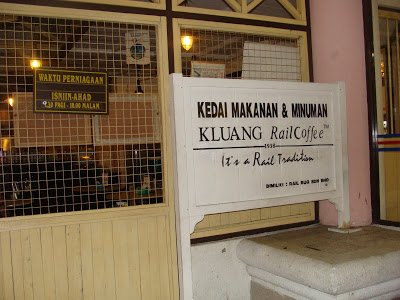 It is seriously dimly lit thus when the ordered beverage and bread came, I had to use my flashes to shoot the food photos.And so the whole eatery is surprised by the sudden "lightning" flashes from my camera.Suddenly, all eyes are on me…. Yikes!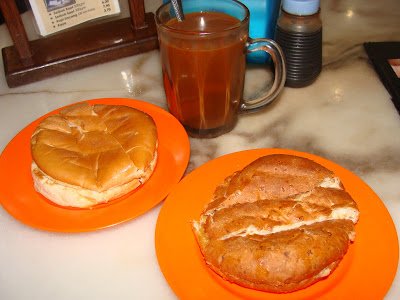 Ordered-Chiam drink (combination of coffee and tea), normal roti bun and wholemeal (steamed) and add dollops of melted butter and generous kaya
The coffee and roti kahwin-was good as usual but I prefer the ones at original Kluang branch…
Luckily my back was facing them, I did noticed occasional interest in the kitchen and spreading of whispers between staff…Nursing my disappointment again, I ignored them. I scanned thru the menu and wonder what shall I order? Hmm…
What can perk me up? I need a good food cook from the heart…one that makes me remember and relish the deliciousness whenever its name pop up in the mind…
I decided to order their Chicken chop. After I ordered,there were sudden busyness.And I heard the kitchen staff shouted in malay something about the size and the counter staff shouted back-"paling besar" (the BIGGEST).
Ok, I dont mind.the bigger it is the better.Hopefully it will drive my disappointment away furthermore, Im famished anyway…
The food came 10-15 minutes later…
It looked unlike the chicken chops Im subjected to at home…it looked more like a chicken cutlet.It look so sinfully deep fried! And its HUGE?!!! I was like stunned….for a moment and as I was about to gleefully charged at the sinfully deep fried chicken chop, MBs came and was shocked that I wanted to savour the food alone without them..heheh! They were frantically searching for me and here I am ,relaxing tucking myself into a nice spot and nearly enjoying my first bite….
Ok, Makan buddies…watch me as I bite into this…Kriak Kriuk..Kriek….the crispy batter has its own melody…
It was piping hot,fresh from the fryer…it was a WINNER! Ive never tasted chicken chop (or as we called it chicken cutlet back in Singapore) so deliciously good though it is as sinful as it look.Its not so oily….lI guess it has been dabbed dry…and the flesh is juicy yet thoroughly cooked thruout the whole chicken chop.As I realised the meat comes from the thigh! My favourite chicken part…
It felt like I went to the kitchen and fry it myself..seriously…YUMMY!
Overall verdict: hi-4.8!!
And Im cured from my disappointment…thanks to Kluang's chicken chop!
Location:
Kota Raya shopping mall
Bandar Johor Bahru,
Johor, Malaysia
(Visited 4 times, 1 visits today)