This stall was featured in Manja and Malay Newspaper-Berita Minggu. When i read their slogan-"where oldies are goodies" …I have no idea what it meant.
And so after tasting their food, I understood every single letter of it.
When I first read its review from BM, I commented, oh another western food…the name itself aint that vibrant to attract me.
That is me, Im kinda passive when it comes to Western food.To me, Western food is subtle and its simple.Perhaps, I had not tasted western food that WOW me with that extra VAVAVOOM factor yet…not until I tasted Western Chow's chicken chop.
First visit, they have not open yet..I was there in a rush ,doing some errands.I was there at 11.15am and did ask them if they can rush it up,just for me (Sometimes, I like to exercise some flogger's "authorityness" but its not working hee!)But they said they need to warm up and some of the kitchen stuff not ready and if they cook,it will take another 15-20mins even if they open the stall at 11.30am *sigh…

Anyway,I came back for the second trip.. I was there on a weekend during lunch time.It wasnt as packed as expected but cheery.
The food came about 15mins as told.The soup and dessert was served.
The soup was a delight! I love it!U can taste the fresh mushroom bits and its freshness as compared to those from a can.
The dessert is a tiny cup of chilled peach slices with sugary syrup (like those we buy from cans).Its really a "pencuci mulut" cos its little and just enough to give ur mouth a sugary rush, a sweet ending to a delicious meal.
Ok, the chicken chop looked APPETIZINGly YUMMY!Will it taste as GOOD as it look? Well, as I cut it, it was soft, tender and juicy….and as I pop it into my mouth..Oh my….I closed my eyes and for a moment, I felt like Im in a chicken chop haven….Mmmm…so shiok,so delicious…so MAMAMIA!
I like the grilledness in the chicken,the flavour…the robustness,the tingling sensation of a good food…not spicy although its black pepper…The mashed potatoes are YUM! Everything about it tasted so good, that if u closed ur eyes, ur mind will be duped thinking that it is from a 5 star restaurant or hotel. I LOVE IT!
And if u remember its words-"Where oldies are goodies". They were definitely right…this is what chicken chop used to be, used to taste..it kinda bring back those rolling good times where food used to be exceptionally good…especially from street hawkers.This is the moment,they brought it back in just one taste…and more keep on rolling as u put more and more mouthfuls of chicken chop goodness.It was REAL GOOD!
And to make the best use of my trip here…I tried their ROSEMARY rack of ribs…
The lamb is fragrant and tender with rosemary flavours everywhere.It was abundant…It was GOOD too…The veggies are crunchy and fresh.The natural sweetness in it shout out-"oohlala….The garlic toast is good too…
Indeed Western Chow served good food with affordable price tags…where common people can enjoy and relaxed in a coffeeshop setting with friends and families without worrying about etiquettes of fork and spoon or making too much noise as we normally would in posh restaurants.
Overall verdict: Hi-5! Quality food from the heart…. the prices are quite reasonable and their servings are quite generous. For sure,Western Chow changed my passive mind on Western Food.It gives that sandy tongue a good rub and jolted my senses to reality,to cast more appreciatives reviews and a round of applause when its duly deserved.Well-done Western Chow!
For more menu options:
Location:
Blk 134, Lorong Ah Soo
#01-454, Singapore 530134
Halal-certified
From the first visit which I failed to get a taste of Western Chow, I head to the nearby prata shop.It was good! (below).the curry was thick.They make the pratas fresh only when order.So wait patiently….it was worth it! Read on about my "flogger guru" and his adventure..
http://ieatishootipost.sg/2010/02/prime-prata-my-idea-of-perfect.html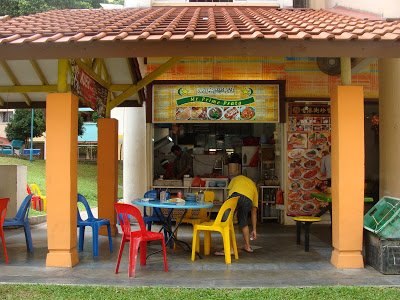 Do try their prata kosong and coffee….
(Visited 5 times, 1 visits today)