One of the MBs told me that the western food in fork and Spoon (Toa Payoh branch) sells yummy chicken chop and has been featured in many newspapers.And so I decided to investigate.Arm with an empty tummy and sensitive nose, I went there early to beat the lunch crowd.I want them to serve me their bestest and not allowing the crowd to meddle into my food affairs.
As u can see,Im not a Western food fan unless, I crave for it.And so I waited till the very moment my body was starving for some Western meal affection thus I head down to check them out.
Psst..the truth is i had tasted a spoonful of chicken chop before from a colleague's plate and it was good but I didnt really pay attention to it.Ya know, like I said, unless I am in the Western food mood, then the senses will wake itself up if not, i just let it pass me by..undetected.Im a kampung girl, I love the messyness and spicyness of asian food more *confession.
Ok as promised, Im gonna revealed the top chicken chops in my list (my own personal tastebuds,u can opt to differ).If u have read my previous posts, or u are one of many that is waiting for the names and locations to be revealed, well, hopefully u enjoy them as much as I enjoy eating them!
If u have no idea what am i babbling about…read the previous post..
As I ordered, my eyes scanned its counter.There were newspaper cuttings of its food being featured in Chinese newspaper.The wait for the food was about 15minutes .
If u see the pics (below), I have not woken up yet.U see,when I mention western food, my mind is kinda lazy knowing that their flavours are more subtle,it fails to jolt me up (unlike indian breakfast rich with swirling mantras of colourful flavours).
Anyway, I like the way it was presented.Very pleasing to the eyes.Like there is an unspoken design layout which is a norm in 5 stars restaurant.But this is a foodcourt.Thus I became alert,the food was a message that the chef took his work seriously.He wanted the customers to love it in any angle from its presentation to its flavours, I guess.It comes in a whole package.It speaks out from his heart.
Hmm….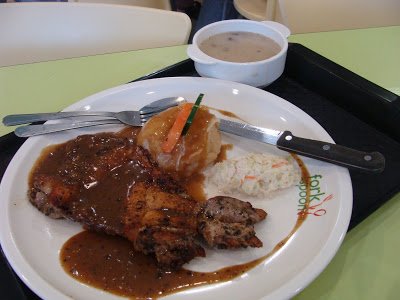 The chicken chop came with mushroom soup. The thick creamy mushroom hit my senses in the right direction.Mmm…the mind murmured softly as it continues to savour it slowly.Its not the best but its one of those better than average mushrooms soup u can get at a hawker centre price.Coleslaw was alright.The mashed potatoes is kinda curdy semi thick, tasted a bit like the unusual flavours of real potatoes.I dont really like it…but its alright.
Now for the real thing..the real deal…the real chicken….meat…
I like the blackpeppery sauce with broken bits of real black pepper seeds decorating the meat.It wasnt that overpowering yet,it fuses well with the tender juicy chicken that is dancing in my mouth as I was enjoying it.It was really tender and juicy.Every part and corner of the chicken chop was GOOD! It's worth every kilojules that I've burnt while coming here…hi-4.3s!
Location:
Western Cuisine
Blk 470
Toa Payoh Lor 6
02-470
S(310470)
MBs ordered her favourite chow-the steamed white chicken rice.The skin was springy juicy.Yum!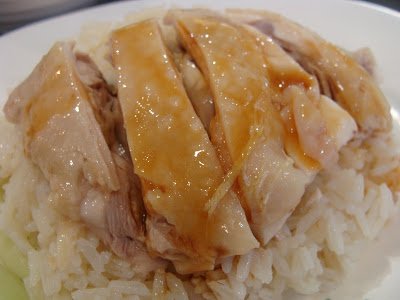 And dont forget to eat some desserts while u are there!
p.s: The vegetarian food is good too…cos I ate them previous years but this time when I was there, the whole row of stalls (vegetarian,beef noodles..) do not have their HALAL cert displayed,it could be being renewed or whatever…(did ask the staff,they said their food is still halal) so take note…
(Visited 6 times, 1 visits today)