Country: Singapore
One saturday morning…
We are not sure where to head for breakfast.We are early birds.As we cracked our heads for places that serves early breakfast,someone shouted-Let's go to Changi beach!"
So here we are….in the breezy lazy morning in our flip flops….with grumbling tummy,we went to Changi Village.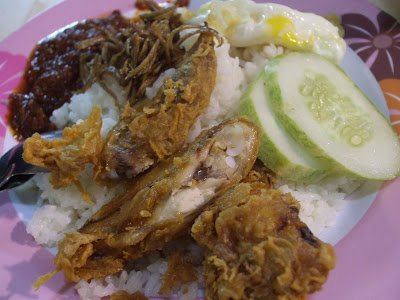 MB already had nasi lemak in mind and since international nasi lemak is not yet opened, we tried Mizzy's corner. For $3 ,u can get the above set.


Looking at his happy smiles as he devoured the hot piping nasi lemak and crunchy chicken wings, I too want to find my HAPPY meal….I noticed a queue has been formed since we sat down at this stall (below)…I wonder what are they ordering?
Another MB ordered the Nasi Lemak @$2.50 only and me ordered the sambal goreng rice (below)..which I think is $3.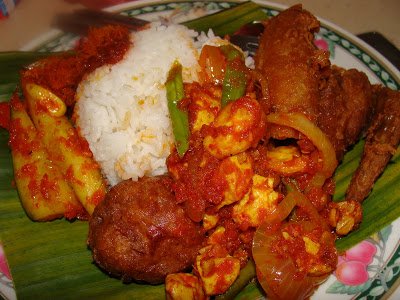 Delicious!! Both are equally good!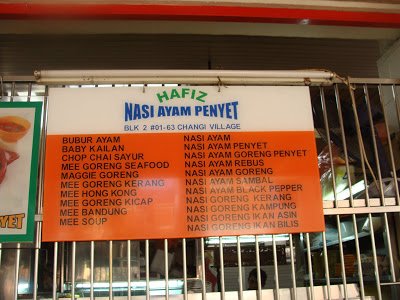 Then I saw plates of chicken rice came out from this stall….Im full but I wanna taste…
Fried chicken gizzard and liver with a dash of soya sauce.Yummy!! But I think I rushed the owner that he gave me some uncooked gizzard…weird taste of rawness…but the chicken rice look yummy from afar….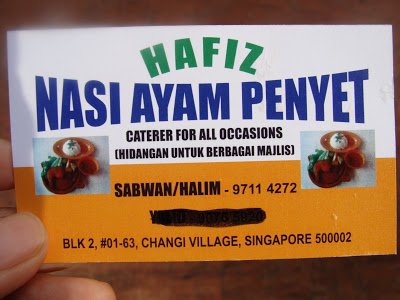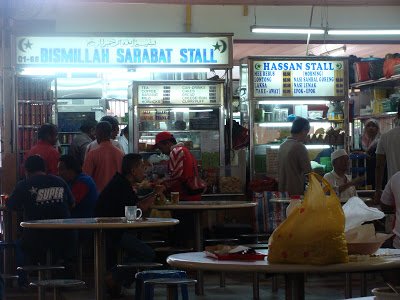 The above stalls sell some good beverages,roti prata and yummy mee rebus!
*We had this Indonesian satay during the lunch hour.It's kinda disappointing,some parts are not well-done, more like medium rare…tastewise, nothing unsual.
We were expecting different flavours..cos its Indonesian,its supposed to be EXCELLENT! If u never try Indonesian satay, do try..in INDONESIA, u will be blown away. Anyway the verdict for this stall:Its edible (if u really need ur dosage of satay at that place,at that moment..)
Ramiza Briyani is good too!The briyani is like those yummy briyani in big pots in weddings slowly cooked in charcoaled fire ….and their suji ran out when I wanted to order..so it must be good!
Aww…tummy filled with yummy breakfast, I felt like the cat below…..
Need to find a spot to Zzzz…….
Windy, beautiful weather and scenery……. *Zzzzzz
previous posts on changi beach:
http://www.putriberendam.com/singapore/east/ah-nam-bbq-seafood-ubin-kelong/
Location:
Changi Village Food Centre and Market
Blk 2 Changi Village Road
Disclaimer: Food featured are subject to my personal taste. I hold no responsibility for your body's gastronomical adventure.All food shown are either from Halal-certified or Muslim owned establishments(with no liquour/alcoholic beverages).I will try my utmost best to update and maintain the relevant information shown,insya-Allah…but your body,your responsibility.Do ensure that the Halal-certificates are up-to-date,renewed (not expired) and displayed promptly before ordering/consuming. If in doubt,always ask the staff with a smile.
Remember: Use ur senses especially your heart.But mainly, ask your iman (faith).

Don't assume: A headdress/scarf lady is not equal to HALAL. "No pork no lard" signage is not equal to HALAL. A crescent moon and star symbol is not equal to HALAL. Not all Mediterranean (e.g Turkish kebab), Malaysian, Indonesian cuisines (especially Nasi Padang food) is HALAL. Whatever franchise that is HALAL in Malaysia,Indonesia or in any muslim country does not mean it is HALAL in Singapore or anywhere else. Your body,your responsibility, check its HALAL authenticity. More on disclaimer?

Thank you for your kind attention.
(Visited 135 times, 1 visits today)