Country: Singapore
The last time, I visit this food stall was 2 years back.It was featured in one of the food Tv programs on Channel 5.They are famous for its Mee Rebus with a difference.They served Mee rebus with generous chunks of chicken meat and spoonfuls of satay peanut gravy.It was delicious back then.They also used to have a set whereby u can get few sticks of satay with the Mee Rebus but now they dont have it, U got to order them separately.
As usual, ordered their Mee Rebus@ $3.50 with chunks of chicken meat and dollops of gravy and satay gravy is added.
As I tasted it, it was good but I sense something missing.Im not sure whether my previous visit was cos I was there as early as 11.30am and waited for their first servings thus FRESH from the pot and it was really YUMMY!Or is it cos I forgot how it tasted like..anyway..I was still looking around for some satisfaction till I saw this man ordered a bowl of Soto.And I said, WOW! I saw many heaps of chicken feet and meat (yeah I scanned from afar) and I wondered is that specially for him or …..

and without hesitation I proceed to order another bowl but this time, its MEE SOTO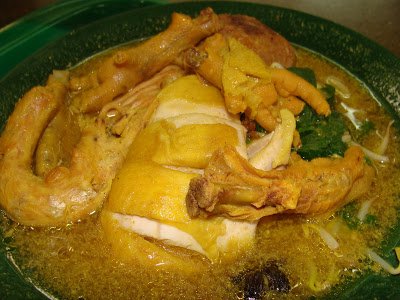 And Wow!!ITs the same servings as that man!! WOo-HOO! It looked so YUMMY! And as I indulged in the tasty rich broth of chicken flavour , it is indeed YUMMY!!Its packed with tender chicken meat,big potato cutlet(begedil) and the chilli paste (soya sauce+bird eyes chillies) work hand in hand to fuse in all the flavours in one bowl.
And that additional chicken feet is my favourite.Its soft and tender.It is said that chicken feet has lots of collagen (Ch 5 & 8 Tv personality-Michelle Chia loves it!)Hmm, I can proceed home now that my face is beaming with lots of youthful collagen…heheh!!
This is how it supposed to look liked after u clean the flesh of the bones of the chicken feet…
Location:
Ah Seah Eating House
Kovan Centre
9 Yio Chu Kang Road
11.30am-8.30pm
(friday closed-I think)
p.s:An elderly lady approached me as I was busy taking shots of the shop and food.She asked me why I took many shots, and after I explained to her,she said no needlah, we just got our interview with major newspapers… hmm..
*I'm puzzled perhaps, people are not aware the power of internet yet.Newspapers articles are normally thrown after that particular day,but on the net,it can lasts as long-years probably and can be easily googled/search for (even if the owner stops blogging,it will still be on the net unless deleted).Doesnt more coverage=more publicity=more customers=more $$$.Felt kinda disappointed that Im providing some kind of service but people "reject" the hand that I extended.This is one of many incidents that I faced frequently in my food escapades.I was often misunderstood…it's ok, my heart cooled down as I read the below quote…
"To be GREAT is to be misunderstood"-Ralph Waldo Emerson.
Hmm.. I shall look forward to more positive food journeys,insya-Allah..
Disclaimer: Food featured are subject to my personal taste. I hold no responsibility for your body's gastronomical adventure.All food shown are either from Halal-certified or Muslim owned establishments(with no liquour/alcoholic beverages).I will try my utmost best to update and maintain the relevant information shown,insya-Allah…but your body,your responsibility.Do ensure that the Halal-certificates are up-to-date,renewed (not expired) and displayed promptly before ordering/consuming. If in doubt,always ask the staff with a smile.
Remember: Use ur senses especially your heart.But mainly, ask your iman (faith).

Don't assume: A headdress/scarf lady is not equal to HALAL. "No pork no lard" signage is not equal to HALAL. A crescent moon and star symbol is not equal to HALAL. Not all Mediterranean (e.g Turkish kebab), Malaysian, Indonesian cuisines (especially Nasi Padang food) is HALAL. Whatever franchise that is HALAL in Malaysia,Indonesia or in any muslim country does not mean it is HALAL in Singapore or anywhere else. Your body,your responsibility, check its HALAL authenticity. More on disclaimer?

Thank you for your kind attention.
(Visited 68 times, 1 visits today)