As I was briskly walking to double check whether the Downtown east steamboat is still operational, I saw this shop…at the corner of my eye…
And after double checking that downtown east steamboat is no longer around (replaced by NTUC club), I sped to the shop (that I saw just now) since I can hear the tummy playing its melodious orchestra during the stipulated lunch time.
What warms my heart is this DIY poster-Awww…

I was warmly greeted by its friendly staff -Mr Lee.not knowing what to order cos everything look delicious yet healthy.Mr Lee explain to me about the shop and its healthy concept.
The owner has established a noodles factory for 14 years and this is the first time they are bringing out the flavour of its noodles thru its cooking to the consumers.This shop has been operational since 1.5 years ago.In fact Manja Magazine has featured them in July 2009 issue.(Way to go Manja!)
The menu..
After hearing his list of recommendation, I seek my own curiousity. Hmm, I saw a cold noodle dish. I wonder how will it taste like? Im at war between favourite Ban Mian noodles, mushroom noodles and cold noodles…But because I did not have a satisfactory cold noodles meal at on eof my favourite handmade noodle stall, I decided to give this a try.Who knows it might be rewarding? Hmm…
My drink- Roselle drink (with health benefits) and some veggie crisp…
Anyway,this is my previous cold noodles attempt:
Mr Lee suggested that I did not mixed all together but instead enjoy adelicate spoonful of each ingredients and dip in the appropriate sauce given to savour its delicious moments.Mmm…
As u can see the ice cubes are laid beneath the vegetarian noodles.There are imitation crab meat(crab sticks),omelette slices,cucmber slices ,carrot slices, seaweed shreds,1 fish cake and 1 steamed dumpling.The fish cake tasted different than those found in supermarket,nice.
Its different….than the typical hot noodles we are accustomed to.It felt mild cold not the Brrr..zzzing…type of freezing coldness.It was alright to eat them in this aircon shop.
There are 2 dips/sauces.One is a spicy chilli sauce and the other is saltish sourish soya sauce with ginger slices. Both are nice.
And I like the accompanied soup.While chow down this food, i felt like Im eating Japanese food…Hmm..
Ok,next…Mr Lee suggested that I tried both steamed and fried dumplings .And so I did.It was YUM!
Steamed (green) and fried dumplings (brown)….
Let's get a closer look what is inside? I have no idea…what the fillings were…tasted like fish paste with veggies…in fact some part felt like its chicken?
The price is quite affordable….
Hey what's these?They have a shelf full of dry noodles for you to buy and bring home..YIPEE!!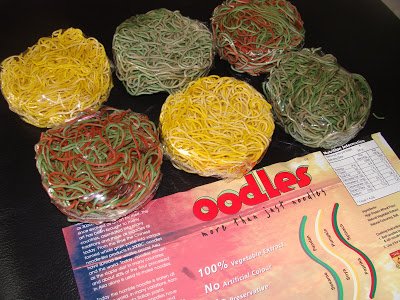 As I read the labels.This is what it says-"100% Vegetable Extract,no artifical colour,no preservative…Oodles is a brand new concept in noodle making.Two flavours in one is what Ooodles is all about.This futurustic 2-ply noodles is made of 100% natural ingredients and actually incorporates 2 great tasting flavours in one.Its been certified the Healthier Choice noodles by the Health Promotion Board.Oodles comes in 3 delicious flavours-sesame and pandan,soya and pumpkin ,spinach and paprika…"
Hey,dont worry if it looked like rubber bands with its green and red colour,I can assure u that it doesnt taste like one !And if u have kids/adults (yeah u too..mummies and daddies) who dont fancy eating veggies, then this is a great alternative! I was told by Mr Lee that they also sell mushroom noodles which are quite tasty!
More noodles with collaboration from local school-Singapore Polytechnic ….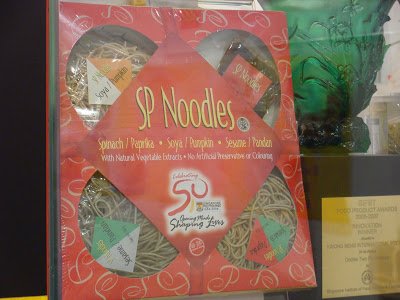 Overall verdict..it was a feel good meal! I like and insya-Allah I might be back for more..Ban Mian noodles,perhaps? *smacking my lips and rubbing my tummy (thks Mr Lee for showing me and explaining to me about the stall and its concept!)
Location:
(Visited 22 times, 1 visits today)