One morning, I was feeling adventurous to start the new year with a vibrant healthy food.Unsure where to look for.I had promised that I wont ignore Vegan food thus Im fulfilling those promise now,insya-Allah. (for now..hee *wink)
I know somewhere near in Lau Pa Sat area/CBD,there is a Halal certified Vegetarian stall.But first stop is macRitchie Reservoir to get that fresh breath of air and tranquility.And perhaps some morning exercise first…and so in my hurry, I forget to bring my Halal digest thus the address is unclear in my memory…but Im gonna give it a try anyway.
Ok let's head to Macritchie Reservoir…for nature's awesomeness moments..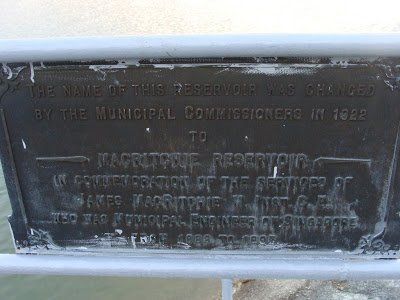 These are not sparrows…look closely…
I'll scratch ur back, u'll do mine, next…
Look at the dew…it is said if u collect all the dews and put it in ur hair, ur hair will be vibrantly shiny and healthy (is it true?).Hmm…
Peaceful moments….aah… *lying down enjoying the view…
After a rejuvenating experience in the local reservoir park-MacRitchie, I proceed on to my quest and head to CBD area.
Ive been procrastinating to go there for months.The parking charges is exorbitantly high..(about $4 per hour?) and not forgetting the ERP charges on the highway and the traffic jams.I know I can take public transport but erm, sometimes Princesses need to be pampered..and so I drove today.
Unsure where to start looking, I remember the address is something like Telok Ayer street or something.. I wish there is a HALAL call centre or something whereby I can call up the operator and ask for directions and check whether the eatery is HALAL (press 1 to check if stall ABC is halal or sms eatery name to 98765 and u will get a response immediately whether it is Halal certified…*just an idea)
This vegetarian stall is interesting.If u are alert enough, u can see there are some interesting words at its sides "Eat what u like,Give as u feel,We believe you, We trust you.."-I dont really get what they are saying.Do they mean that I can pay anything accordingly to what I feel the meal costs? hmm? But whatever it is, I like those words…about believe and trust=POSITIVE vibes.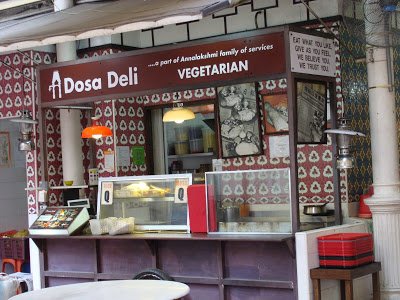 As I circled upteen times till I even nearly knocked into a column (yikes!),there isnt much choices for Halal food in the morning…. *sigh
I saw a new entry which I had not seen before Blue marine seafood…but no one at the counter indicating probably not awaken yet to serve the customers…
More HALAL stalls but they are closed…
Ok,this one, my makan buddy point out to me "Shalom" and Halal…does that mean the owner is Jew or something?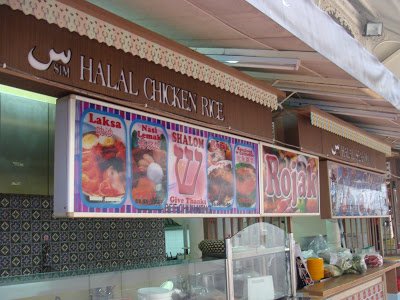 I smell something in the air…someone is barbecuing chunks of pork nearby….
Aah..Wendy Burgers, a new entry in town.Ive tasted Wendy's in Malaysia.Its squarish beef burger patties are quite chunky and moist.It tasted alright.That used to be the taste of McDonalds when it first got its HALAL cert in Singapore.(but now the standard kinda drop a notch or two..How do I know?Cos I was working there thus I know how it tasted like back then and how it evolve till now…from my many FREE staff meals of fast food…erm…)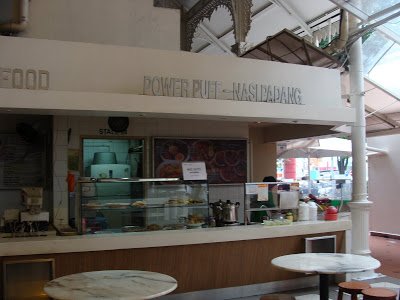 Mee Soto not ready yet… *damper
Ok,the curry puffs not hot and piping…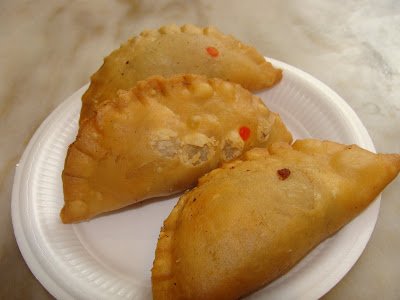 Sardines puff (red dot)
Potatoes puff and Malay doughnut (made of sweet potatoes)
Both are ok.The doughnut is very soft ,kinda oily.But its difficult to find a 100% sweet potato doughnut nowadays,mostly they are mixed with lots of flour.
Nasi Padang-MB (Makan buddy) ate fried chicken thigh+sambal goreng (fried tofu+tempeh) and egg in soya sauce(kicap).I tasted it,it was ok.Sambal belacan was nice.(chilli paste was fiery)
Ok,this is interesting, I've always wanted to taste Indonesian Murtabak (their Murtabak/Martabak is like our Penang apam balik-if u check wiki, –http://en.wikipedia.org/wiki/Murtabak )And Hey I found one stall selling it but its not HALAL,sorry…wanted to ask if they are vegetarian and all that but they sell chicken fillings too…so forget it…
Look at the array of chinese rice dishes…and they got many more choices…porridge,noodles…
Ok,next stop is the Golden shoe food centre….
I went up and check out the stall choices.My favourite nasi lemak used to be here.An indian nasi lemak where u can get fried chicken thigh+otah+other oily stuff with dollops of sambal and rice for $2.Now no more…
Many malay,indian stalls….
The air is yummy with all those fried chicken smell from this stall….but I got full just by looking at it….
Then we head out to Clifford Centre….by feet..
Look at those tall skyscrapers…I felt intimidated…Are the stress levels working here as skyrocketing as the buildings? Hmm…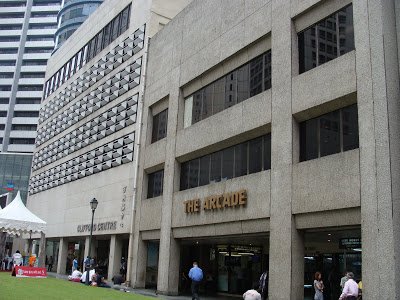 Ok…I toured around the big foodcourt.I like this foodcourt.It has so many interesting menus.As I peek at the corner, I saw a word-NATURAL …from afar..and my heart leapt with joy.Is it what Ive been searching for?
Alhamdulillah…..
Im struck by the many menus and being an organic beginner/newbie ,Im dazed..Unsure what to order I seek the staff's help.The staff were friendly although they are busily preparing for the lunch crowd.One of the staff let me taste the brown rice specialty.It was YUMMY! But Im kinda filled up with loads of air and previous curry puffs thus I thought I ordered something light…
Wanted to order their signature dishes but not ready yet..I came at 10.30am.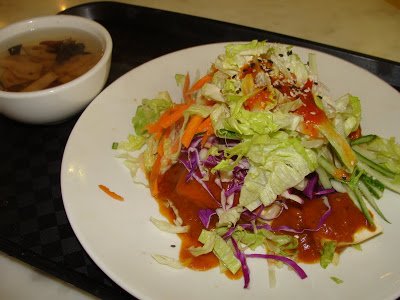 This is tofu salad.Its consist of steamed beancurd/tofu with loads of organic veggies and dollops of semi sweet sauce (tasted like indian rojak sauce but not as thick or sweet) with a hint of fragrant Thai leaves (or is it laksa/kesum leaves?)I like the combination of it all.Love it! Its like a healthier version of Malay Tahu Goreng.The accompanied soup is lotus red date mild sweet clear broth (almost similar to 6 scents soup stall below).
MB ordered spaghetti in pumpkin sauce with loads of veggies and unknown fillings in a tofu skin kinda like pocket.I wanted to ask but I keep forgetting once I was actively engaged in conversations with the staff.I love the tomato soup!There are tiny bits of pulp or something that is kinda chewy.Love it! The pocket thingy, I dont really fancy-tasted like sourish tuna or something and it has a slight fermented taste…I like the mild savoury pumpkin gravy.
Overall the food is not that wild in taste and as rich as the indian spices…but it was good.I felt good after consuming it…This is my FEEL-GOOD brunch…And their servings are quite huge.
They even have their own newsletter….Hmm..
Fyi, this stall has been here for 1.5 years.
Let me share some of their menu (which changes daily). . . . .
1. Wholesome Organic Brown Rice Set! $6.00- Organic Brown Rice- All Time Favourite!
2.Baked Veg Croquette topped with Homemade Sauce!- Eat Comfy Go Lightly Mixed Vegetables, Garden Salad & Daily Soup
3. Thai Pineapple Organic Brown Rice Set
4. New Dish! Wholegrain Tortilla Wrap (brand new fillings recipe!) topped with Garden Salad and Freshly Prepared Soup of the Day (No cream! Blended from Fresh Vege!) $6.00
5. Brand new recipe! OrangeThai Pumpkin Curry Spaghetti $6.00
(This Thai Pumpkin Curry Recipe offers the bright colours of autumn – orange, yellow,and red – together in a curry infused with citrus accents. You'll love the unique taste of this dish, as well as its healthy combination of vegetables, including pumpkin (or squash), yam/sweet potato, carrots,yellow bell pepper, and cherry tomatoes. You can add chickpeas as a proteinsource, then finish the dish with a sprinkling of pumpkin seeds and nasturium flowers for a gourmet Thai treat that's as beautiful as it is delicious!)
6. Brand new! Golden Baked Tofu in Szechuan Sauce + Salad + Daily Soup $6.00 (thks Li Hyan!)
Tempting right?So what are you waiting for?Rush down to….
>
Taste of natural (stall 17)
24 Raffles Place
Banquet Food court
Clifford Centre
Basement level
I've checked out their page but the website is no longer around thus I give an alternative one:
There are also many other favourite stalls: Teochew Porridge,6 scent soup (chinese tonic/health herbal) and another vegetarian stall….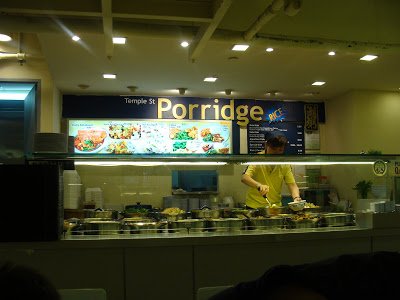 My previous visit post:
http://www.putriberendam.com/2007/clifford-centre-banquet/
Now,Im full and recharged with positive vibes from the wholesome organic food, Im late for my paint job…off to work…in this gondola… *chuckles
(Visited 5 times, 1 visits today)