There are 2 favourite markets that I love to go to in Singapore.They are Geylang Serai Market in the eastern side and Tekka Market in the southern side.
(pic showing Deepavali street lightings and decorations)
I can spend endless hours here provided its not crowded.And how to beat the crowd? By being there as early as the market vendors.Hee!

Aside from the cheap bargains of groceries ,poultry,meat and bountiful local/regional produce veggies and fruits,they housed some incredible food haunts under one roof.Ive been thru these market decades and I have not covered all the stalls yet.Its endless, and my bottomless pits cannot cover them all?
That speaks of its wide varieties of food sold here.And best of them all, either they are muslim-owned stalls or HALAL-certified stalls.So if u are a tourist and u are looking forward to some YUMMY HALAL food, just head straight to these markets, for sure u wont be disappointed,insya-Allah.


Both markets had been under renovations for better cleanliness and major spruce up…to make it more chic….
Ok….
Let's have breakfast at Tekka Market…
travel tip/trick: If u want to visit a market and u are on a shoestring budget,ensure that u have ur breakfast too.Cos when u visit markets on empty tummy, u will buy anything and everything that caught ur fancy and when u reached home, u realised that many will be wasted and $$ will be depleted….
Ok,what shall I have? Hmm…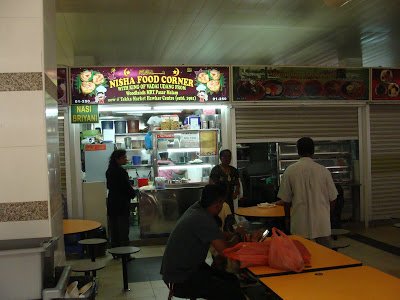 I love their dosai….with soft springy appam eaten with red sugar…YUM!
This is another favourite spot.When the market is busy, I will go to this row and enjoy egg pratas and teh tarik next door…
Ya know what? I have no idea where did this chappati comes from? I think its near the the famous Allaudin Briyani. But Chappati is one healthy meal.Normally eaten with mutton keema. Indians don't normally served beef meat.YUM!
The dosai shop below has large crowds who came early for breakfast…and not forgetting its neighbour-FAMOUS ALLAUDIN briyani…
This egg prata is alright…
This is another place for appam,dosai and vadai!Its cool that the man actually dump them in one plate, thus eliminate wastage.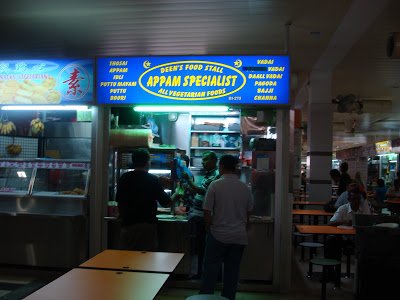 The shop above has not open yet….they have 2 shops adjacent to one another thus they were transporting some fried chickens and I realised my nose is running after it..thus bought it…yum!
I like the prata below…as u can see from the pic, it looks yummy!
Here, u can even find Briyani rice as early as 7.30am…
It's good with lots of mutton meat for only $4.And the rice heap is not overwhelmingly huge as normal briyani vendor will give.
This egg prata is alright…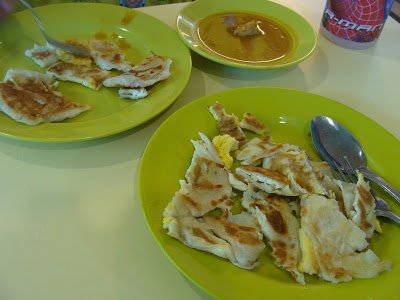 Ok,when I want to feel good or when Im down or blue, u can find me here.Irregardless who is in the vicinity (even Christian Bale or Tatum Channing), I will not notice cos Im in my own world savouring my favourite semi-thick asam pedas stingray fish (and occasional fried chicken thigh)and my sweet treats…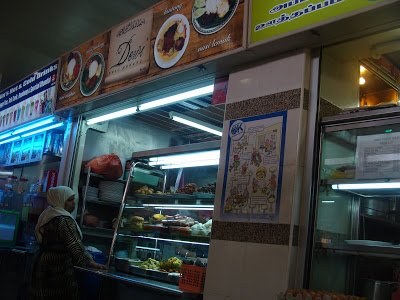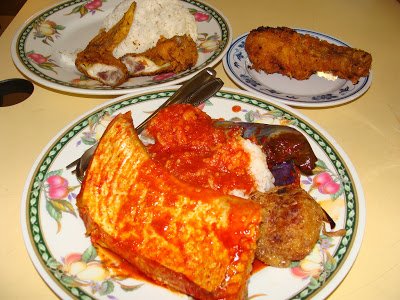 Favourite green bean porridge.This is very different.Its not that sweet and its savoury.I guess the cook must have put in a pinch or salt to make it that way.I love the home-cooked greenbean porridge.Unlike some green bean porridge,it contains thick coconut milk and sugar.But for this, u can have it everyday and u wont feel guilty about it.Its light and I love it!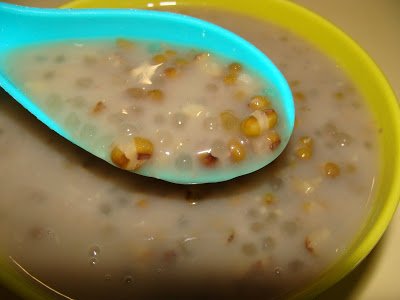 Im not really a Malay kueh fan.But this shop make me one….Whenever Im in the vicinity, I will walk all the way just to have this "talam ubi" (brown and white) kueh.The white is saltish and the brown is sweet.It is steamed to perfection.Even the rest of the kuehs tasted so good….

I saw many have those hot and piping vegetarian popiahs (springrolls) for work.Best eaten when its hot and dip in those chilli sauce!Curry puff is alright…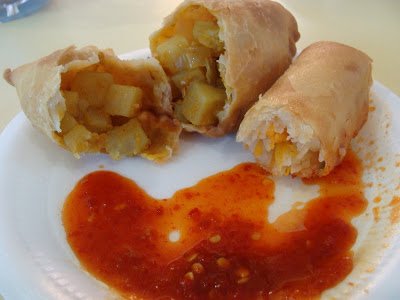 If Noor Asian is open,normally during lunch hour onwards, I will have my favourite fritters.Im not sure whether they are plantains or bananas…but anyway, I like the fried pisang raja and adores the fried pisang nangka….and not forgetting the fried cempedak balls! Best eaten with the teh halia (teh sarbat -ginger tea) from MAYA Mohan next door.
More stalls…..
This prata shop serves prata with sweet sambal (homemade chilli sauce) just like the Malaysians.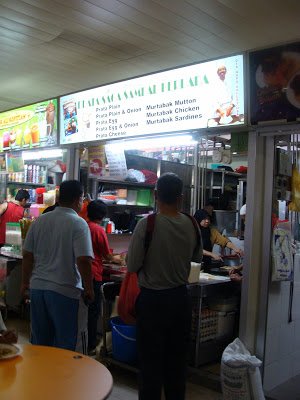 Once we finished up our meals, its SHOPPING TIME!!
Oh look at those colourful assortment of fruits.Below are just perfect shapes of nature's treasures-MANGOES!!!I love juicy sweet MANGOES!!
This grocery stall sells curry powders and assortments of spices.Below is the blended chilli paste (red),garlic+ginger (yellow) and plain yoghurt (white)-$1 each.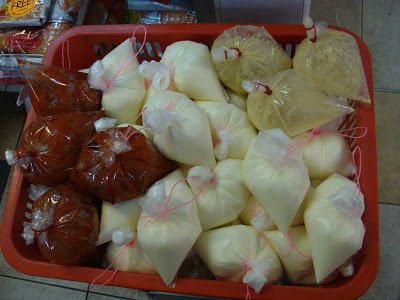 U can find almost anything here from Chicken feet, to black chicken to duck to bishop's noses…and chicken innards…and not forgetting whole chicken,chicken fillets and processed food like nuggets,hotdogs….
Fishes and seafood sold here is slightly higher than Geylang serai market but if u are looking for CRABS, this is the place unless, u can wake up at 2.30-2am and head to Jurong Fishery Port.(I went there in 2005-just to feed my curiousity,just need to pay for carpark,sorry digicam has not been born yet-for me…so no pics.)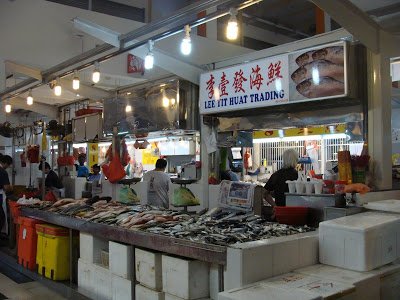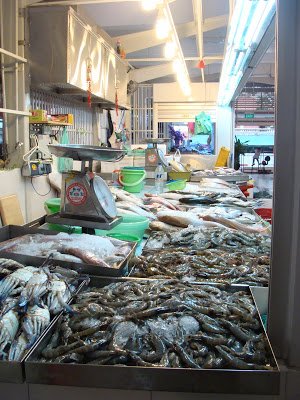 There are many stall selling mutton meat and its price is not that competitive.Standard price for all unless,ur regular vendor can give u "inside discount".Bones are sold about $3.50 per kg.Fresh mutton meat about $20.I did try to buy minced mutton meat for $2.And guess what?This stall below,allowed me to buy that meagre amount.YIPEE!Cannot say the same for all,some just say its not possible… Im just trying to be thrifty… hehe!
Ok,time to head to little india for some daylight walk,to move those tired muscles and walk off those food that I just ate….Mmm…..
Its kinda drizzly today…..I love the rain!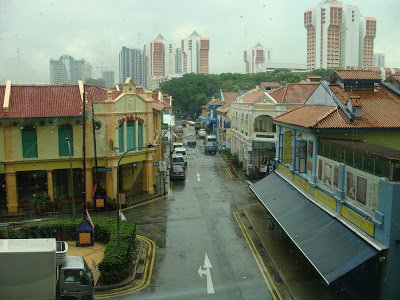 Previous post on Geylang Serai Market:
Tekka Market:
http://www.putriberendam.com/food-network/my-favourite-spot/
http://www.putriberendam.com/food-network/tekka-temporary-market-on-1st-may-for-16-months-only/
(Visited 9 times, 1 visits today)