Oh WOW! Its Sunday already? Time sure fly by fast…..
Sunday is a holiday for most indian foreign workers in Singapore thus they will come to Little India for weekly gathering to catch up with friends and their community updates.Often,locals will try to avoid Little India on Sundays because it is congested but sometimes, I love to go with their flow and check up what's happening…..
In one of the back alleys opposite Mustafa Centre…..@ muslim owned restaurant-Aliyah..
I have found a JULMURI SELLER.WOO-hoo!

He used a bucket for all the ingredients, add a spoonful of this and that and dash of liquid and hey PRESTO! Julmuri….fyi-The white thingy (below) are puffed rice which is one of the main ingredients..in this julmuri…
As I checked the Julmuri,it has nuts, chillies,rice pops,something crunchy like those fried four bits with spices….we love to buy in Indian shops/Mustafa…Sorry the name has escaped me…*5 mins later-Ah-ha!I know the fried flour bits are called "MURUKKU".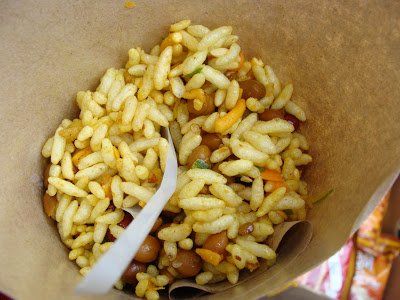 All wrapped up and ready to go!Cost -$1 only.Can feed 2 persons.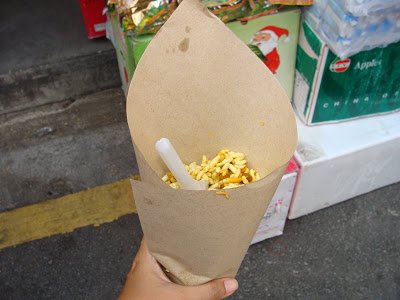 As I taste a spoonful.It was fiery u can feel the spicyness only after some time.Wow…roar…*dragon breath .I think this will be a good snack for cinema goers…something like those "kacang putih".All these snacks should be brought back and popularised….again!! Popcorns and corn chips with nacho cheese can never beat these retro kacang putih and julmuri…Sorry..
Previous post on Julmuri-
http://www.putriberendam.com/tag/julmuri/
Nearing night fall, we head where the crowd is heading….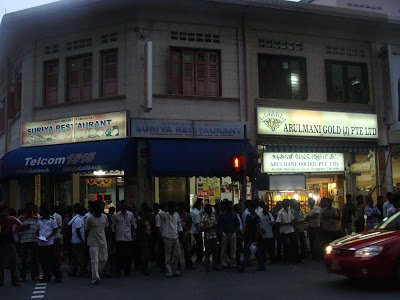 Located somewhere near Sungei Road…u can see some white tents were set up.Come let's take a closer look…
Clothes,shoes are sold at cheaper prices….There are food stalls too!!
The food aint HALAL/cooked by muslims but its all vegetarian.There are lemon rice and assortments of rice…and they are CHEAP!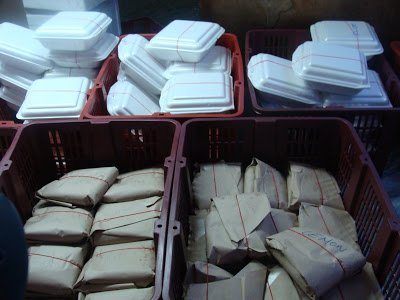 The teh tarek sold here is not bad!!
Only on Sunday, this place is open for cinema..open air.So when it rains, I wouldnt want to imagine…. But I think, I dont mind watching open air cinema drenched in rain.I love the rain! But going back will be a problem….hehhe!!
Do u see that white screen?That is the FREE CINEMA which normally start at 8pm.I heard there will be FREE food?Hmm….
Oh well, we did not wait for the cinema to start….
But in case, u prefer an indoor cinema….REX CINEMA has been refurbished?!!
But erm, no food allowed….even the cinema snack corner that sells Old Chang Kee fried fritters are not allowed in… But it's ok, I prefer to enjoy my movies with no snacks…I want to focus…and I have habit of chewing very loud in quiet places…heheh!
As my eyes scanned thru the tiny shops that recently mushroomed at MacKenzie Road, I noticed the word HALAL in one of the poster….
OLE OLE satay selling Javanese Satay? I wonder how will it taste like?Hmm…
Previous posts:
http://www.putriberendam.com/2007/little-indias-treasures-1-briyani-rice/
http://www.putriberendam.com/2007/little-indias-treasures-2-what-is-julmuri/
(Visited 5 times, 1 visits today)