Updated: July 2010 -This restaurant is no longer around.

As I read thru the lyrics of this song…
"…..There's a restaurant on Race Course Road
where the curry makes you cry…." –Scienceforgirls
Is it referring to our little india?
How many times, have u walked by race course road and smell that rich spicy curry flavour that roams that street especially in the evening? And how manty times, u have wished and hope that at least one of those FISH HEAD CURRY restaurant is either muslim-owned or HALAL-certified? Raise ur hands and legs…. *mine are all raised.
Alhamdulillah…..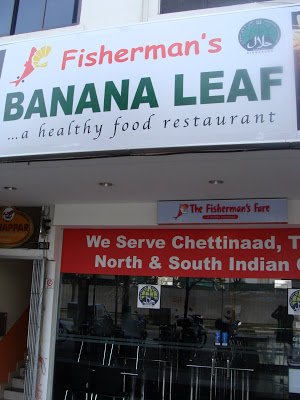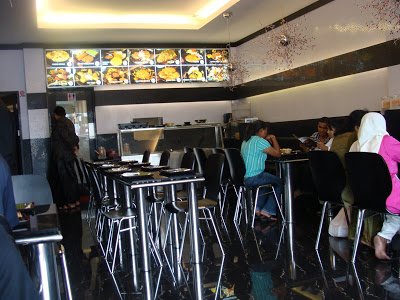 Nice,cosy and chic interior deco….
Free papadam crackers served

I was told their briyani sets are one of the speciality but today my tummy growl for a different set….FISH HEAD CURRY!!!Ordered for 3 person. Smallest fish head cost about $17.Rice is $2 per person.So if u are a big eater, ask them to scoop as many rice on ur tray cos the next additional scoops will cost u another $2…hehe! Fyi-the food came 10mins after we ordered.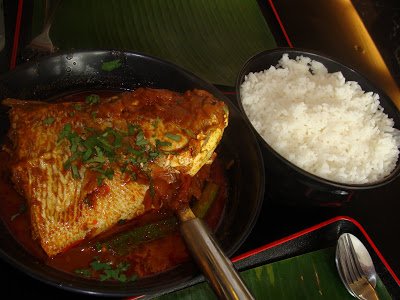 Mmmm…semi-thick fish head curry.It wasnt that spicy. Love the fresh fish and ladies fingers.It was nice. MBs said it was GOOD.
Location:

They do have 10% service charge but cos I received the pamphlet,it has a 10% discount stamped in it(alhamdulillah.woo-hoo!).Floggers like me need to collect coupons to scrimp and save as much as we can…hee!
P.s: Thinking back, I guess the papadam crackers is not that FREE after all since it has 10% service charge,hmm….
(Visited 3 times, 1 visits today)