Note: This promotion is valid for a limited period. Do contact them for more info.
Coffeebean have this promotion during WEEKDAYS only in CITY SQUARE mall branch ONLY.That u can purchase 2 breakfast for the price of one.And it doesnt even have to be the same!How cool is that? I had always wanted to eat their breakfast but glancing at the price tag that came with it, often I just push those cravings away.Hey, I got to learn to be a budget flogger(food+blogger) if I want to sustain this blog, right? hee!
Ok, so we are here at 8.30am.It was quiet@City Square Mall.Only occasional customers that come and go to have their favourite beverages to go or their breakfast in doggy bag.


We were greeted by a Filipino supervisor and that adds a dash of cheeriness to the sombre,lazy morning.Unsure what to eat, we chose according to the yummy factor from its breakfast menu posters. We ordered brek o' day and Salmon egg muffin.


The beverages come within 5 minutes but we got to wait for our food to be cooked.I love the FUSION tea!Its a pomegranate and blueberry tea.Its fragrant and bustling with sourish sweet berries.Love it! The coffee was alright.Didnt ask what beans though…
The staff did suggest to us to order their cakes since there is another promotion-HALF price for all cakes.WHAT?!Having cakes in the morning?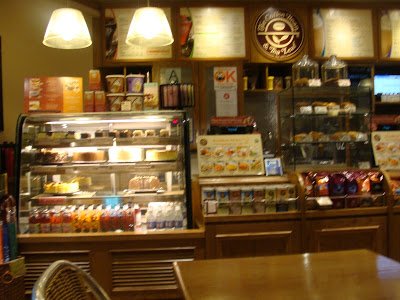 As I glanced over to their counter,Yeah they have a good variety of cakes for breakfast.We chose the carrot cake since I had a bad one in one of my food escapades in one of the American theme cafe (I forgot which one,lucky for them)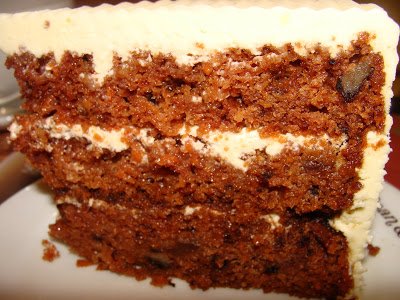 The cake was soft and spongy.Kinda sweet with some nuts here and there.Not bad, I like it! Dont worry there is not a single visible taste of carrots.So I believe kids might like it!
We waited and waited…and soon, MB was impatience cos if this is to be a workday,we cannot be waiting 15-20minutes for a breakfast can we? I doubt Singaporeans have the time to have a lazy slow breakfast on working day.And so we queried and found out that the kitchen staff did not get our orders due to malfunction of computer…but again, customer service is utmost IMPORTANT.Although,the world is blazing well with the modern and high technology, HUMAN intrusion is essential.I believe since there are not many customers, the staff would have seen that our tables are EMPTY and that we kept glancing over our shoulders at the counter just in case we have to pick up the breakfast ourselves.
Alright,put those aside…the breakfast came 35minutes later with the Filipino supervisor profusely apologising and topping up the coffee.(How about my tea?Hmm..)
Ok…chow down time!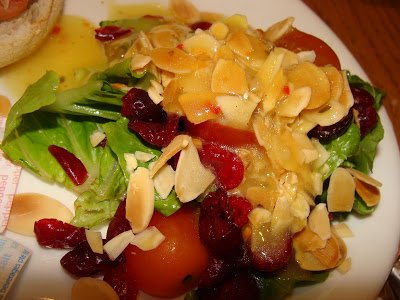 I am stoked that…they used lots of cranberries in both our salad..cos if u have been scrutinising the price tags in and around for cranberries, u would have known that a handful of cranberries will cost a whopping $9?! Thus this estimates about a third, Im satisfied.And the salad feels fresh and crisp with sourish sweet tangy honey lemon mustardy type of dressing. Thumbs up to its salad!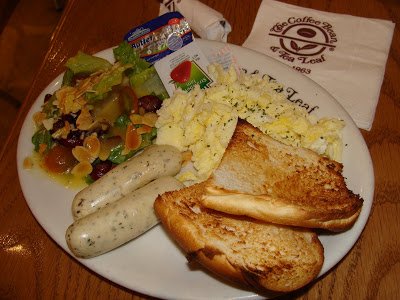 Next as I look from all corners of my breakfast.Where shall I start? The chicken sausage looked yum..I started with the toast fearing that any time wasted might turn the toast soft.And add the butter and jam.It was a delight.The sausage was alright.The scrambled eggs are just nice,not watery…I prefer mine dry,thank you.Although sometimes, I have the urge to ask for moist watery type of eggs in McD (just a way to test their skills,cos I know I got many weird requests when I was working there in my teens…)
Overall,my breakfast was alright with that sparkling dash of salad which I adore!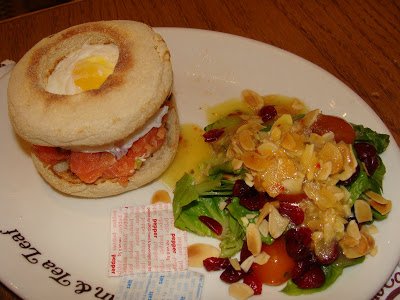 Next is MB's breakfast.It looked much more interesting than mine.I tasted it and was elated! It is yummy!The just nice saltishness salmon reminded me of my European trip.Mmmm…so good.The whole package with the lightly toasted muffin and the eggs are awesome.I love it! At least I had a healthy dosage of fish oils early morning and all that Omega goodness.
Overall verdict: I feel that the breakfast are feel good healthy breakfast that anyone can take,or shall I say SHOULD take to start their day vibrantly with loads of positivity.But erm, the time taken for the order to be served….is a problem….perhaps its just a one time problem..hopefully.My fav-Salmon+ egg muffin and its salad…

fyi-they have 24hours outlets at Changi Airports and Holland Village.
Location: City Square Mall
180 Kitchener Road,
#B1 , Singapore 208539
For more info:
http://www.coffeebean.com.sg/coffeebean/store.cfm?loc=1
(Visited 3 times, 1 visits today)