Oh..oh…look at the looming weather welcoming us back in KL….
Twin towers…covered by the clouds…
Feeling satisfied,we head back to KL.This time, the heart is open to taste the TORPEDO soup there. Parked the car in a nearby shopping centre and walked around…the makeshift stalls of the evening bazaar/market…
Anywhere in Malaysia,there will always be a musollah/mosque..Alhamdulillah.
More stalls…
Yong Tahu stall…

Erm..look at the squirmish puddles of water….in the middle of the bazaar..Eee…

Hey did I see Avocado juice in the menu?
Hey malay steamed …dumplings?


We went back to the same stall near Chow Kit,right in front of Brisdale hotel.In the evening,there will be a night bazaar with loads of food and cheap products.If you dont mind eating at street stalls (just close ur eyes on the cleanliness and read some Surah Quraish on the food before eating for precaution and tawakal)
anyway,the previous post on it: http://www.putriberendam.com/brisdale-hotel/excuse-me-what-is-torpedo-soup/
Ok, actually Im not gonna explain what is Torpedo soup,but I guess I have to say it out sooner or later..ok pardon my language…Torpedo is the bull's male organ ,to know more ,click here:
http://www.sixthseal.com/2009/05/sup-torpedo-bulls-penis-soup.html
This stall is open from 12pm till 12am. If u discard the surroundings cleanliness, the food is actually good and better than some 5 star restaurants.U can find many types of food from Malaysian, to Indian to Indonesian Padang Satay too! And if u are adventurous enough, walk around this area and u can find some evening market that sell local produce and fruits.
Previously,Chow Kit area is quite "notorious" and well known for its petty thefts and crimes.Im not sure about now.So far, we are ok, nothing fancy has happened.Furthermore,the fire station that is standing opposite Brisdale Hotel gives me some form of temporary assurance of security because "friends" are near.
Ok, it was drizzling on and off as we entered KL.
Location….

View Larger Map
Look at those parts mutton parts….I wonder what are they? I asked for permission from the owner gladly…allowed me too take closeup shots…thinking Im some lost tourist that ventures to his stall by mistake…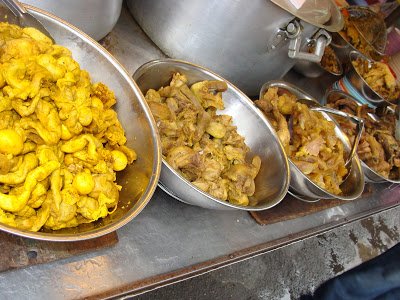 Chicken innards and guts and premature eggs…
I think these are tongues!!! Eh,actually I like the tongues too…these can be found in Singapore.Mutton tongues soup…chewy soft…
As I sat down, the male MBs left me for the toilet….and the waiter waited patiently by my side and so I need to order.I muttered "Torpedo soup" as softly as I can but the waiter kinda surprised by my order repeated my order out loud thus, faces turned to look at me as my face turned pink slowly….still acting cool, humming a tune looking elsewhere… like its no biggie…. but deep down was like nervousness creeping up wondering, will it taste any good?
What have I got myself into?And where are the makan buddies (MB) when u need them? I bet they are busy cracking more torpedo jokes in my absence in the loo…Hmm….
Look,its nothing to be worried about…it look harmlessly meaty…just like normal red meat….
Travel tip/trick: I was taught that if u consumed lots of mutton meat and if u fear that u might get dizzy or headache, drink hot water-hot teh tarik (hand pulled milk tea) or coffee (they got all kinds of fancy coffee especially for men *wink)
Ok the moment of truth is here…aside from the many males jokes surrounding the table.Little fear did crept in but I muster all courage and show a brave front.I can do it!!
And so I took one bite and think.-"Eh,not bad.."… and took more spoonfuls of meat and as soon as MBs watched me eating deliciously,they start to salivate and asked me for some.Sorry MBs,no starchy or any weird aftertaste…. it was like a normal mutton soup.Just like my favourite tendon mutton soup aka Sup Urat.Chewy with some meaty bits.No weird smell.The spices are just nice.Not that chilly spicy but delicious.I like!
Ok,chicken innards,guts and premature eggs…soup.I had been wanting to taste these eggs since I was young cos my late grandma always forbd me saying that these eggs are not good for children.She will keep a big bowl of these eggs at one corner out of my reach.Thus decades later, I get to taste it… YIPEE!
How does it taste like? The soup is delicious…not as spicy as normal indian mutton soup but deliciously mild.I bet kids will love it! The premature eggs are not yolky powedery like those in hardboiled eggs.Its a bit chewy…Nice.But I cannot say the same for the other gut wrenching items in the soup …the innards are much chewier, I think it could be their intestines…
If u are interested in how the chicken lay their eggs,check this out:
http://www.afn.org/~poultry/egghen.htm
After a tummy full of delicious soups, we walked it off by checking out the other stalls in the evening bazaar ….
Hah…fried fritters stall..
Oh my..fried fritters fresh from the wok. From fried bananas/plantains to tempeh, tofu till flour and doughnuts…Ate the fried beancurd (tofu) remind me of those street snack vendors in Indonesia.
http://www.putriberendam.com/bakso/batam-street-food-part-2/
Travel tip/trick: When u travel,leave ur healthy diet behind.Dont come all the way here and refrain urself from tasting the street food, it will be GREAT loss!!u can always practise moderation and bring lots of Makan buddies along so that, u can SHARE!
U can request for green/bird eye chillies to be eaten with the fried fritters.
Oh wow…did I see SATAY PADANG? Alhamdulillah…we wanted to go to a famous PAdang Satay but cannot find them but somehow this stall makes my day.It gives u the vibes that their food is special and good…thus we sat down just in time, when the pouring rain washes the street…while everyone is running around,we sat relaxed watching the rain with the distinct smell of fresh satay being grilled in the corner…. Mmm…
They sell chicken, beef and tripe satay….at 60 cents per stick….
Look at those juicy satay…so YUMMY!!The rice cakes are so soft…
Ok, the padang satay gravy (light brown) tasted like Mee Rebus gravy diluted by spoonfuls of Soto broth.(hee!But that is what I feel it tasted like…) A slight spicy taste with birds eye chillies.I was told it can be very spicy in Indonesia.I guess they tone it down to suite local's taste.I see many Indonesians savouring the Padang Satay here.
Verdict: I prefer their normal satay gravy with peanuts (darker brown colour with lots of oil hanging at the surface) and all that.It is so GOOD! The meat are so deliciously skewered,marinated and charcoaled grilled to perfection. I love all the meat ..especially the red meat satay! (they have these tiny bits of fats in the middle of the chunks of meat that will melt and oozes out the yummy factor in your mouth as u pounced on them) YUMMY!
Travel tip/trick: Do shout out loud that u want "SATAY PADANG" cos we just ordered satay and they automatically give us the normal Malay satay gravy (peanuts gravy) but I noticed my Malaysian Neighbour has some funky light brown gravy poured on his satay (my eyes are very alert when it comes to food) and wonder why our satay gravy are different.Thus I went to the kitchen corner and queried.I was told that if I want satay padang, I need to tell them specifically cos they sell 2 types of Satay here.And u can let the satay soaked into the goodness of the Padang gravy or u can have it separate (in case u have kids ,cos its a lil bit spicy).
Look at those tropical fruits..YUM!
Wow!Big fishes hanging ..I think they are salted fish left to dry…

These look like the weird looking jering+petai combination seeds (below)….that can be found abundantly in Northern Malaysia….
YIKES?!What are these lil creatures moving up and down this box?eh, I think I know…these are the snails …..actually they are quite delicious when cooked in lemak (coconut gravy):
MB wanted to taste red Prawn durian and we were like anticipating some reddish brown fleshy durian but none came.It was typical yellow flesh.Lil sweet n slight bitter.It was nice.Cost about SGD$10 per fruit.(they weigh by kilograms)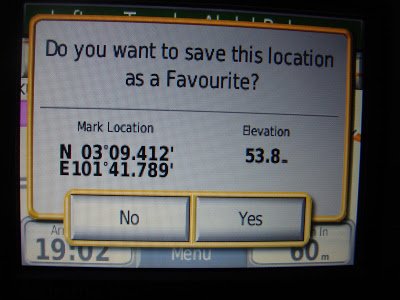 Hey, while stuck in traffic jam….we found more night bazaars this Saturday nite.YIPEE!!
If u need a hotel that is less than SGD$50 per nite…head to TUNE hotels (by AIRASIA,the budget airlines) If u are efficient,book early and u can save lots.It can be as cheap as $9.90 per nite!! http://tunehotels.com/
So where else did Putri go to in search of yummy HALAL treats? Check this blog often for updates….
(Visited 55 times, 1 visits today)