In the recent end of the year,the body suddenly opens up and is craving for some exotic meat.Having eaten horse Shoe Crab(belangkas) It kinda whet my appetite and make me crave for more unique cuisines.
And so this time, while researching, I chanced upon Porcupine meat.If u follow up on my discussion on www.facebook.com/worldhalalquest ,u would have anticipate that I will follow it up,insya-Allah.There's a reason as to why I introduce it in the fanpage.
Anyway, Malaysia is actively promoting Porcupine as an alternative meat.
http://pemancingikan.fotopages.com/?entry=1509391 (in malay language,so use google translate)
And these are some sites that I got my info from (in Malay,use google translate):
http://duakupang.wordpress.com/2009/05/11/selera-rimba-sajian-ala-jawa-banjar/
And now I shall present it to u,right here right now…
Travel tip/Trick: When U eat exotic meat, try to isolate ur mind from visualising the actual animal.Concentrate on the plate in front of you.Take a whiff of that appetisizing smell if u must to ward off any last minute backouts…
The journey to this place is about 2hours after KL.Driving to it, is quite a breeze when it goes thru the expressways/highways but after KL, u need to go to another highway where u got a chance to see the beautiful nature at its best.
Beautiful paddy fields, mountains standing straight welcoming you and beautiful skies and trees swaying to the musical breeze of the wind.I love this type of highways where u can cut across villages, charmed by its beautiful nature but mainly, u get to see the interesting local produce e.g corns, seafood,vegetables and fruits.
And when wheezing thru the night, u get to see an amazing display of stars twinkling smiling at you from a distance wishing that u can just reach up and grab some.
Im a Knight rider..erm, I meant NIGHT DRIVER… I often volunteer to drive at night.In the day, I am mostly busy snapping pics along the way and also busy configuring the GPS and thinking what is next if this fail, what is the backup plans?And I need to ensure that we reach on time as according to plan.
And when I drive, everyone sleeps like a baby. Cos they know I keep myself awake singing myself silly to the songs like in a karaoke session.Either my voice is like a lullaby or perhaps, its too boring that they fell asleep almost immediately. *sigh no chance of getting a standing ovation or applause …hee!
This quest aint as easy as the previous horse shoe crabs.We were tired,dehydrated almost giving up.My crew nearly splitted into two.Because first attempt was a let down.Im a leader with gut feeling.I follow my instincts and Im willing to bank on that fact.
First attempt in searching for Porcupine meat was in Seremban…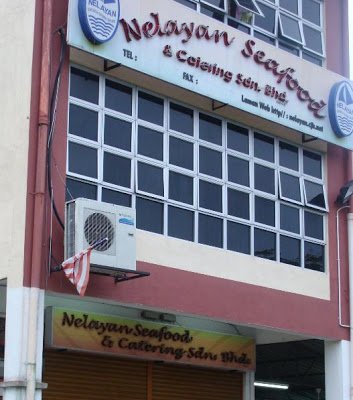 Eh, is that the kingfisher? Beautiful!

We reached about 7.30am too early.The restaurant wasnt open yet but the owner was there.He explained to us that normally porcupine meat is only available during its season-May till November.And if it is available,its only during lunch time from 11am onwards.Hmm, such a disappointment.(Innalillahiwainnalillahirojiuun,Dear God replace this disappointment with something much,much better.amin.)
Thus my crew was feeling down and wasnt motivated to pursue the next destination-Sungei Besi in Selangor. 2hours ride after KL.
Citing some motivations and positive thoughts to each other,we pull ourselves together and I gain their trust again.So far things had been right according to my judgement thus why do they need to doubt me now?I wondered feeling dampened but Im positive, I feel that it shall be rewarded insya-Allah.Perhaps,their exhaustion is clouding the judgement.
We head on,slow but moving forward.It was kinda silent thru out the way.I was busy muttering to myself.."Dear God,let this be one of the best discoveries..I do not want to disappoint them…"


Along the way,i noticed many Mentarang stalls.A kind of seafood like cockles but its long and kinda ovallike.I posted it before in my Perlis Roadtrip last year.
http://www.putriberendam.com/gua-kelam/road-trip-day-2-perliswang-kelian2-bazaars-part-2/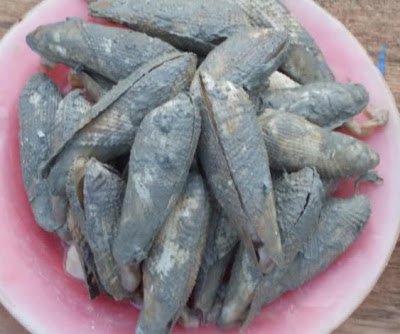 The journey to Sungei Besi is like driving to Ipoh.The total is about 5-6hrs.
We drove on till we reach an isolated road, we proceed endlessly wondering whether this is the right co-ords.InsyaAllah tawakal.No one insight,no motorists…
Then as we neared a signboard indicating that we are reaching the restaurant in 300metres,we heaved a sigh of relief.Alhamdulillah.It was 11.30am.

It was a restaurant in a middle of nowhere.Luckily they closes early at 5pm daily or else,it will be eerie to get lost….
Erm,is that a lost porcupine?(the answer is right below)

There were 1-2 customers,the rest are staff,i reckon judging from the orangey tee they don.
Upon arriving,my crew without hesitation asked "Any porcupine meat??".The reply was-Yes but u need to order beforehand"-That send mixed reactions and endless scratching heads amongst us.
I further queried" u mean we need to call up days ahead to book/order?"
The staff slightly amused at our crestfallen faces.."No if u are willing to wait 15-20minutes,we can get them cooked for you"
Immediately our faces lit up.And suddenly the almost mute crew was liven up!Its as though a dash of wildful spirits has entered our body…
Whatever they have at that moment,we ordered them all.Cos I do not want to leave this place regretting since we almost never made it up here due to "mutiny" 🙂
They have burung wak-wak (certain species of wild bird),ayam hutan (free range wild chickens),landak (porcupine),deer, lobster (fresh from nearby river), kampung chicken (I didnt know there is a difference between village chicken and wild chickens.To me both are wild and allowed to roam freely and so they are called wild chickens in my "dictionary").
Those not available at that moment (only in May till november)are: Kancil (mousedeer),Pelanduk (slightly bigger than mousedeer),Nam Puh (what is that?!?),Mengkunung (what?!),Kijang (another deer species maybe BAMBI haha!)
Note: Burung Wak-wak can be caught only by the experts cos if u call out wrongly to them (using bird sounds all that)U might catch the wrong type of bird,mystically scary!!Something like the genie family and all that horror stuff.. (im not sure how true this is)
Anyway, my buddy has been "psychoing" me to find burung wak-wak for a very long time but only this year, I am REALLY,really interested (sorry bud) thus I did a thorough research and found it! Main idea,if u want me to eat those unique or exotic meat, u got to win me over and then the rest is simple, I will do it myself…but if Im half-hearted, I will still follow up but not as determined..hee!Anyway,read more on this unique wild bird..
http://www.worldhalalquest.com/2008/09/have-u-eaten-burung-wak-wak.html
The Porcupines are bought from a nearby farm.Wanted to check it out but after a satisfying meal, I realised that we are behind time?! Thus gotta rush back to KL.If u wanna check out the farm, its just ahead from the restaurant..do get the instructions from the staff.Anyone can visit.
We did asked how did they slaughter the porcupine.They used high quality thick rubber gloves but these sometimes can still be pierced by their thorny spines.So gotta be careful.Hold them by their head and slaughter.Something like that.I did visualised many times how did they actually catch the porcupine.I wouldnt want chasing the porcupine around and then without u realising, CHA-KA!They released those thorns at you…
As compared to Seremban owner, this owner said that porcupine has no season.So all year round, u can enjoy Porcupine meat(but do check with them of its availability before u head down).Other animals have their own season :May till November.I think the government is trying to limit the consumption until the farming and rearing has extended and popularised by many.
There were many unique fishes that were caught at the nearby river but we were not that interested.Our minds are fixated at the exotic meat.I think the table is full with our orders…
And not forgetting the "ulam"-herbal veggies/plants that are eaten raw with some spicy chilli paste and tempoyak (fermented durian)…
The owner was a nice friendly chap who fuelled our curiousity minds with reasons and answers.He had been in this food industry for 9 years and had been selling exotic meat since 2 years back to boost his restaurant patronage.He originates fron Banjarmasin,Indonesia and his wife is from Java,Indonesia.Thus that explains why their culinary recipes are of Java and Banjar taste.(No they do not serve the famous Banjar soto)
To sell these exotic meat,u need to apply for license and not many have it. The owner further expands our discovery with a walk to his backyard-sabak Bernam River.
Wow!huge Aloe Vera Plant…all those goodness is good for facial ,hair and health!Imagining the cool jelly aloevera down my throat..Mmm…

If u get to row across the river, u have reached PERAK!!!(Nasi Ganja in Ipoh?!But who is gonna row me across?Hmm..)This is said to be one of the deepest river in Malaysia.This is where they catch their fresh lobsters and fishes.Have u heard of ikan baung and ikan tapah (tapah and Baung fish)?NO right? Me too! And they sell it here…freshwater fishes) Too bad,when we got there,it was low tide.So we only caught sight of murky surface of the river…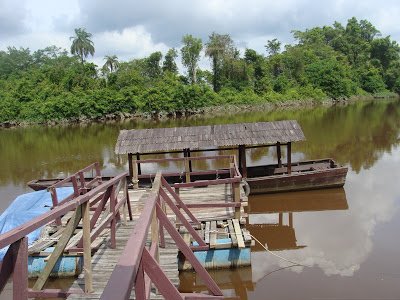 travel tip/trick: if u wonder how those Mentarang tasted like.Buy them at the roadside stall and then bring it to the restaurant for them to cook or call this restaurant to book ur order so that they can buy for u and cook for you upon ur arrival.
The food arrived in 15 minutes..


Porcupine meat cooked in coconut milk and spices(rendang) is very savoury and fragrant with garnishes such as sliced turmeric leaves.

It tasted like chicken but more savoury (lemak) and soft.No unpleasant smell detected.
Travel tip/trick: When u travel/musafir, please dua/wish and pray loads cos U'll never know when it might get lucky and be fulfilled.Cos when I travel to Kg Temenin…I was introduced to horse shoe crabs and porcupine meat.And while hearing these tales, my heart was wishing that hopefully I get to taste those meats though I know that its a slim chance.Cos where am I gonna find porcupines unless in the Zoo,right? Alhamdulillah my wishes are granted.It could be my prayers are answered,most probably it is God's generosity ,it could be anyone guess,but no harm trying right?Anything is possible,believe and have faith.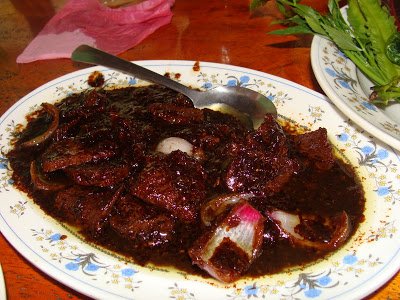 Deer meat is exceptionally sweet,tender and it soaked up the thick sweet soya sauce gravy and its delicious!Its one of my favourite!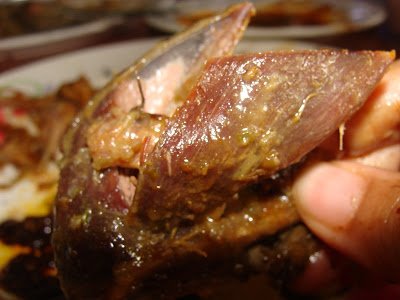 Burung wak-wak is red meat but tasted like quail bird slightly gamely.Its cooked in balado-bird eyes chillies…DELICIOUS!

These lil birds have tiny veins (urat) that is like bones in fishes that u cannot chew nor swallow.
The ayam hutan is yummy cooked in goreng berempah (fried in spices/seasoning).Those curry leaves add a dash of spicyness and exhilarate that tastebuds even further.A bit tough but yummy!


The ayam kampung is fried and its delicious!Not as tough as the wild forested chicken but its good!
The lobsters are sweet and fresh!Cooked in mild spicy curry…
The ulam(raw herbal plants/veggies) are quite exquisite. Most are kelat (bitterish) and have a slight aftertaste.Most common that I knew of is steamed bittergourd,steamed stinky beans and raw ones too (petai), steamed jantung pisang(banana's heart? hehe!)…Most of these plants have some benefits to the health.Prevent diabetes,high blood pressure,cleanse the blood or something…
Overall verdict:Smackingly deliciously awesome! 5 hi-fives! (I think this is the first time I gave a restaurant,a 5!) The food are cooked in rendang (coconut and spices stew),kicap (soya sauce),balado (green chilies paste) and some are marinated in rich spices and fried.It tasted authenticly malaysian and indonesian culinary fusion. A must try!Its Worth-it!Even if u have to take public transport, go for it!U will not regret it,insya-Allah.
FYI: Benefits of eating Porcupine meat, it is said that it has Omega 6 goodness and that those who have asthma or breathing related problem, can heal by eating.One of my "eating buddy" (makan kaki)felt that he felt a bit heaty inside and it somehow helps to purge out those nasal congestion.Hmm…For me, I have no comment, to me if u eat certain food for recovery and dua,insya-Allah..But check with ur physician/doctor if in doubt..
Will try other meat insya-Allah next year.Im quite interested in the mousedeer and the other names such as Mengkunung and NamPuh (cos I have no idea what they are?)
Being a City bred person, the LIVE animals that I see are normally in the zoo.The chickens that I see are normally those feathersless and already lifeless/frozen in the markets.No more live slaughtering (I miss my late grandpa…cos he used to slaughter live chickens in Wet Market and I used to watch him..)
Total cost is about RM$133.So each of us have have to fork out about SGD10.Its CHEAP!But compared to Malaysian local food, it is slightly pricey but HEY,its not everyday that u are indulging in Porcupine and wild birds,right?
As I looked at the beaming faces of my crew and their endless chirpy reviews of it in the car,I know it was a success,another great discovery.Alhamdulillah.Thank u,God..I muttered silently.


Fyi-They have another branch but cooked by the owner's sister.Previously,this restaurant was cooked by the owner's assistant but cos many asked why the change in taste, thus the owner and wife cooked the food themselves.The owner said that his favourite is Kijang meat. Wait isnt that deer meat? Im confused.He introduced us to many more of mousedeer,pelanduk,and other deer species which I had never thought of.

(psst..dont mind the owner's facial expression…the sun is shining directly on him… hehe!!What a "good" photographer I am! hehe!)
Thank you Selera Rimba for your generosity and warmth display of affection,knowledge and delicious culinary skills and for opening up a different world of gastronomical cuisines-exotic for us, the food dummies.(hey that's a good name for a blog,isnt it?Hmm…)
travel tip/trick:Remember to call them up first to check whether the exotic meats are available before heading there…
SELERA RIMBA
REMINDER -opening hours:11am-5pm daily
Friday CLOSED.
tel:016-3160344 (Mr Hamka)

So what's next? Putri is heading straight at another queer, weird food in KL, before she heads home.What is that?Anyone care to guess?
(Keep on checking this blog for more updates…)
The answer to the above question is…(beginning of this post) .SORRY,..Its not porcupine….that is just a coconut husk.hehe!!U were fooled arent u? So did we… *chuckles
(Visited 60 times, 1 visits today)