Ok….who says I turn to the right and head to the Penjara (jail)? And who say I went to the left to the waterfalls….raised ur hands… *I can see many raised their hands…. (from previous post question)
http://www.putriberendam.com/international/road-trip-part-5-at-last-ipoh/
Bravo! *claps. I know my readers are intelligent people..hehe! You are definitely right…I cannot live without immersing myself in the nature's element…WATER!!
And so the journey continues…we head to Lata Iskandar Waterfalls….
If it rains, please stay clear…it could be slippery and accidents may occur….
Woo-hoo!Look at those gushing water !!I cannot wait to get in *twinkling eyes
Yah-be-dah-be-doo!!Im joining all the ladies in the house…..Woo-hoo! *jumps in fully clothed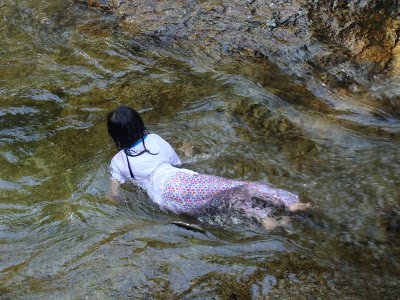 The water is great!I love waterfalls! They have loads of positive recharges…that even by standing near, u can feel it.But if u soaked in its positve currents, U will feel great!U felt recharged and rejuvenated! Try it!!
This waterfall felt cosy and its not that congested as the others…although we went on a weekend.I like the coy-ness.It felt like its embracing us in its family….
More waterfalls?
Its weird that everytime,we swam or soaked in natural spa e.g waterfalls,seas,hot springs…we will get tired and hungry after that….Is that nature instincts?
After a refreshing swim or soaking and people watching (my hobby since young)…We checked out the stalls nearby….
Seriously you wouldnt believe what we found. I thought by travelling around, we have seen it all..U might THINK u have seen it all but in fact, in Malaysia alone,it never cease to surprise us with its wondrous discoveries..SubhanAllah…
We asked what is this?And he gave us a name that we immediately forget but he said it tasted like mangosteen and gave us to try.To me it tasted like bitterish sour like BUAH SALAK.Yeah,that armadillo skin fruit…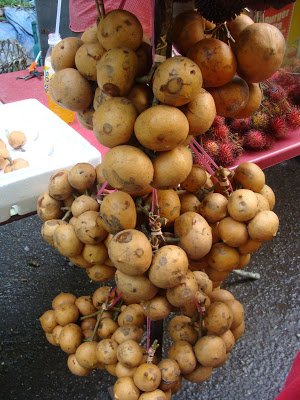 Sweet pulasan fruit…U got to turn it to open it unlike rambutans….or u can use ur mouth..
Ah..fried cempedak!!So good…and fragrant….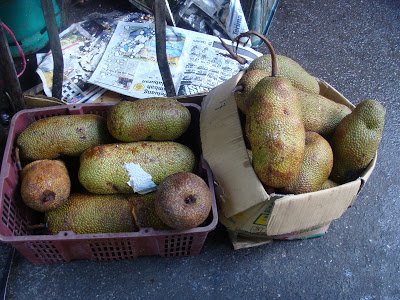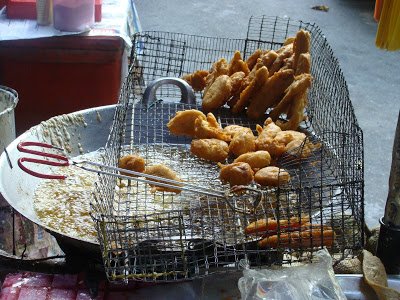 Eh tongkat Ali, and more herbal roots….ubat periuk? (Malay traditional herbal brew for health..mainly roots, leaves,barks…from the wild)
These cowboy hats ar made of real leather…..and its only RM$18 *the salesperson try to convinced us..
Hello…what are those?
I was intrigued since way back (months ago) when one of our friends went this route but too shy to asked the locals and so he came back telling us-
"I saw something FURRY,golden brown, hairy animal being sold at the roadside make shift stalls…but I dunno what it was?"
He actually googled "hairy,furry,brown hairs,weird animal,Cameron highlands" and received ZERO results…feeling disappointed and frustrated,who is the first person he called?
Us!!The WEIRDO makan buddies team…Our motto is-
As long as it is HALAL, we will eat it.As long as it is within our means, we will investigate it….insya-Allah
(well the official slogan/catchy phrase is still undergoing some "renovation" so stay tune…)
The way he describe to us,we were expecting Gorilla or Big Foot (orang Mawas?) or even GREMLINS type of critter looking animals…heheh…But we give in to our curiousity and decided to investigate…Armed with nothing personal ..just long fingernails, sharpened and flossed teeth, we head on with our false bravehood…hehhe!
And its nothing to be worried about.Its a PLANT.It feels like cheap carpet…like dishwasher sponge or scrub…Its hairs are easily plucked out.
And NO! ITs not meant to be eaten.Its for those open cut wounds.Just placed it on the wounds and it will heal soon….
I looked at my MBs and wonder who is gonna sacrifice himself for us to try out?Just a tiny slice of knife in the arm or something…just a teenie weenie bit… As soon as they saw my serious look,they catch my drift and POOF!All gone within seconds…*chuckles
Along the road, u can see the Orang Asli selling their fruits e.g durians, petai (stinky beans) and Halia emas/Ayam Emas (Above picture).What are orang asli? Check this out…
http://www.cameron-highlands.com/main-attractions/main-category/orang-asli-village.html
For more pictures on Orang asli and their culture/homes: http://www.asiaexplorers.com/malaysia/cameron_highlands_orang_asli_village.htm
I like to see the orang asli,they are tanned, healthy fit physique and their to-die-for curls.(I have this thing with curly hair)almost like Afro-kinda of natural curlz…
Don't expect them to don their traditional "Cawat" thingy.They wore t-shirts and pants..
Get a load of this!Orang asli with their baskets at the back…collecting herbal plants and shoots..
The buildings here is kinda like english theme-cottages and all that…
Free admission to Bee Farm….YIPEE!!
I wonder how can anyone plant anything in that inclined angle..which is almost vertical?
There are many Bharat tea house/plantations.The first one is really full to the brim with tourists, thus we chose the second one….almost 3 quarter full….I had not seen BOH tea plantations yet….
The first Bharat tea plantation that we stop by….to have a look..
Woo-hoo!Tea shop..Care to join me for some English tea,my lady? I absolutely adore anyone who called their girl/friends "My lady".Its kinda chic yet repectable…Hmm…
Second tea plantation…..
Oh my, having tea in a cool atmosphere (natural aircon) with this type of scenery…Ok guys, please propose ur future fiance here…please ..she cannot turn u down, how can she say no at a scenery like this? Forget Eiffel tower…come to Malaysia… hehe!
Look at the menu…. and this place is packed and echoed with cheery chirpyness!!
Look at the reddish colour….vibrant isnt it?I wonder how it tasted like?
I take lil sips (without sugar) and savour its mild bitterish taste and fragrance smell that it emits gently thru the tastebuds….
Cardamom tea which is popular amongst customers tasted like masala tea without the milk.It's simple.Just brew some tea and add some cardomom to it or if u prefer more spices like cinnamon and all that.I prefer masala tea (with the milk please).I noticed many malays enjoyed their tea with milk-teh tarik version…
The scones were alright…but Ive tasted better…
The strawberry cheesecake…not bad…
SubhanAllah I'm speechless… *in awe
Scenery is soothing for the eyes..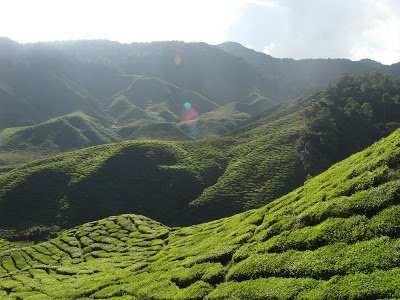 Come let's get down, upclose and personal with the tea leaves….
If you/any of your family members work as Civil Servants, u can book a cheap lodging at CLUNY LODGE…
Travel tip/trick:
Book online, they do not entertain walk-ins and if u do not have a car..U can take bus to Cameron highlands and it will stop at Tanah Rata.To go to Cluny Lodge, u need to hire a cab-about RM$10-15 per single trip to and fro is about RM$30.Keep those cabbies number…
To book:
http://www.aloharesorts.com.sg/index.php?option=com_content&task=view&id=352&Itemid=0
To see more about Cluny Lodge (and I heard the caretaker's cooking skills are superb!) :
Do u know that Cluny Lodge used to be where MM Lee stayed when he was visiting…?Interesting…
Ok,let head to the (Saturday only) evening market/bazaar….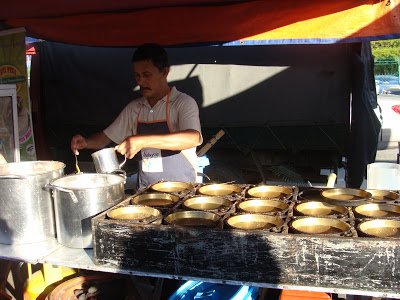 Mediterranean grilled kebab?
Fried fritters….
Fried Chicken parts….
Fresh Corns…being grilled…..YUM!
Fried Crabs,anyone?
Many teas can be found here…since Cameron Highlands has many tea plantations…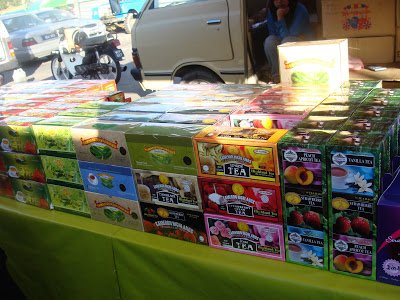 Steamed chicken with spicy fried chicken…
There are many strawberries products to be found here…Strawberry ice-cream,sauce,shakes, syrup,coated with chocolates/honey sauce….
This man sells fresh honeycomb honey from farm ….I like!Ive tasted authentic honey before,it has a slight sourish taste…and if u have more time, do visit the bees farm in Cameron Highlands…its cool!
Seafood fried in batter….
Putu Bamboo-steamed kueh with palm sugar as fillings…
Dry strawberries?
My evening bazaar/market trip won't be complete without my FAVOURITE juicy charcoaled grilled chickens!!!
We ordered one whole roasted chicken for RM16 without the rice and immediately taste it…A definite hi-5 for the yumminess!!Pheewit!!*cat whistles…
Many "pirated" branded sporty wear and jackets….
Its cold at the top in the evening but its not that freezing till I need this coat…. *thanks MBs for the thought or is it satire/sarcasm remark? Hmm…
Shoes,anyone?
Cheap bargains of fresh produce…WOW!
Flowers for me, Aww….so sweet…
Greenies….
Aiks?Where did this Mexican chillies come from?Hmm…
Dont these strawberries LOOK GOOD?? Its farm fresh….Sweet but if u can go to its farm and cut the ripe strawberries yourself, that is even better cos its MUCH,MUCH SWEETER without any chocolate fondue, u can enjoy urself…bountiful of strawberries. Alhamdulillah….some of nature's best…
Cameron apple? So different…
What are these?Maggots,worms?Eee…..eh,its not…It is Ginseng….
OMG!These fresh farmer produce vegetables are so yummy…Dont believe me? Try their steamed corns?U will be blown to the moon… *chuckles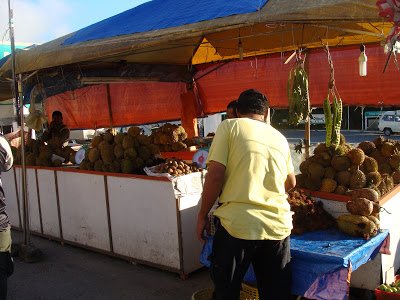 Fruits!! YIpee..Pulasan and Chiku…
We tried one normal durian -kinda milky sweet…and one from the orang asli village….its different.Kinda kelat (bitterish after taste) and it has a lil sourish taste admist the mild sweet bitterness.Its really different…..The durians here are much costly.Perhaps,buying straight from the orang asli might be cheaper…..
Ah-hah! We found them here….kinda expensive as compared to the ones at the waterfall but its good to see it here….
I tried to find out more about Halia Emas (Golden Ginger)or Ayam Emas (Golden chicken) cos its freakingly good for wounds!!That's what everyone told me…I wanted to test how good it was but..to actually slice myself or wound myself aint that practical…so we did not try.I even thought of buying it home but I fear the customs/immigration might think Im trying to smuggle some golden haired monkeys or something…hehe!
Anyway,this site has many herbal plants (but none about Golden ginger or chicken..sigh) and its benefits are listed:
http://fazlisyam.com/2009/10/24/halia-merah/
This fire station is under renovation or expansion …..
The total journey is 5hours of driving -2.5 driving up and 2.5 hrs driving down….
travel tip/trick: Try to drive down before the night falls cos once its dark,those winding nauseating turns is quite dangerous….Dont expect street lightings….Singaporeans are fortunate…to have lighted streets and roads thruout the night,everywhere…Alhamdulillah
(Visited 43 times, 1 visits today)