If u follow closely to my blog updates, u might have lost tracked where is my real destination actually? Cos I seriously have no idea…cos there are so many pit stops in between this time,we just go with the flow….
But as promised…after many sidetracked places that thwart us from the real route, Alhamdulillah…we reached IPOH!!! YIPEE..WOO-hoo! (doing some jiggetty jaggety dance) But wait….oops..we missed the exit..YIKES?!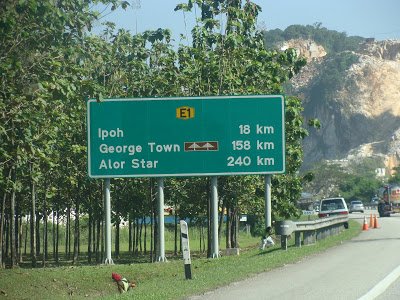 I love to see the surroundings thruout the journey to Perak…beautiful huge mountains from afar and those limestone granite….SubhanAllah.. *in awe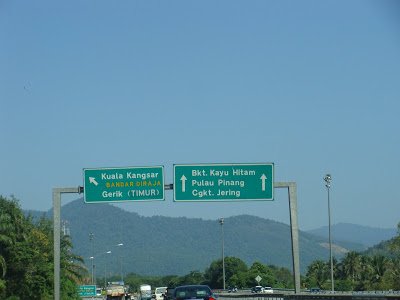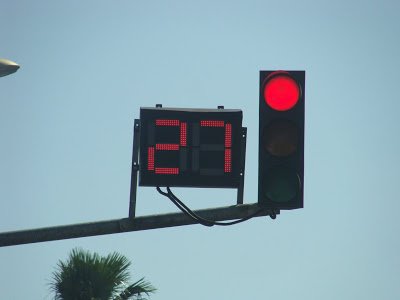 Ok,we got lost, we accidentally head to the new highway that just opened recently (to Penang) and its endless….As soon as we found the exit, we immediately scoot off but alhamdulillah.
There is a reason for everything…. We get to see the Majestic Ubudiah Mosque….

In awe…..

I think there is some kinda of wedding solemnization going on cos I see many don their beautiful Hari Raya clothes….


Alhamdulillah!Woo-hoo…IPOH,here we come!!! Do u know that IPOH-its name is derived from a tree in which its poisonous sap are used by the Orang Asli ? http://en.wikipedia.org/wiki/Ipoh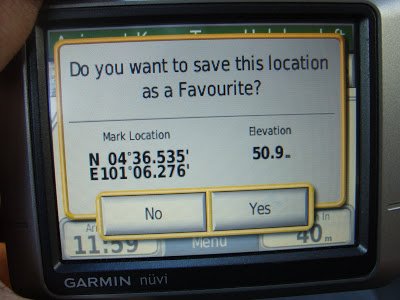 This Medan Selera Stadium is located just opposite the Fire Station and beside the stadium
Lunch hour seems bustling…and the weather is super HOT…. *wiping the sweat from the forehead…
In previous post: I was told about one of the popular stalls cooked by Chinese muslims.
Their hot favourites are the Char Kway Teow….but I see many stalls closed and none is Chinese Muslim…and so we walked from one end to another..so many stalls selling from nasi padang, to indian fare on banana leaves to Char Kway teow.We heard the busy-ness of this stall's wok and endless orders from customers.Thus we decided to try it out…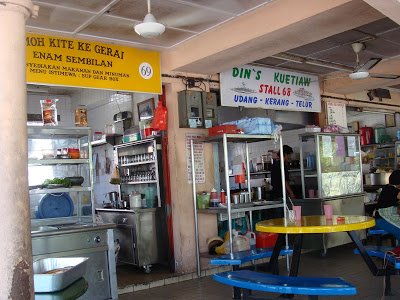 It was DELICIOUSLY good! I ordered cockles kway teow but they gave me the prawns kway teow…its alright, the food sure is tasty that I forgot about what I ordered! It was DELICIOUS! Best eaten when its PIPING hot from their wok!
With fresh prawns and bustling seafood flavour and not forgetting the "char" ness in the noodles.For that spicyness, add the dollops of cilli sauce given.YUMMY! Now I know why Ipoh is famous for this….
Ok,we are heading to Nasi Vanggey-another branch of the famous Nasi Ganja….
http://www.linamasrina.com/2008/11/real-addictive-stuff-nasi-vanggey-aka.html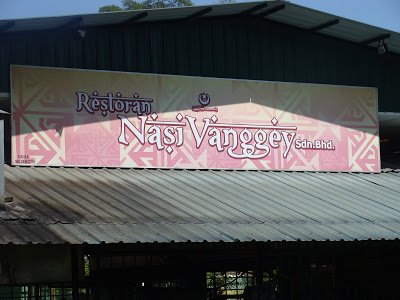 Ordered briyani rice with thick omelette slice(chillies and onions),honey chicken (yeah it tasted like Singapore ayam merah,very sweet) and mutton curry….
These thighs are grilled I think.I taste its spicy sweet soya sauce ….
It states that it serve prata,but its not selling during lunch time, perhaps in the evening….?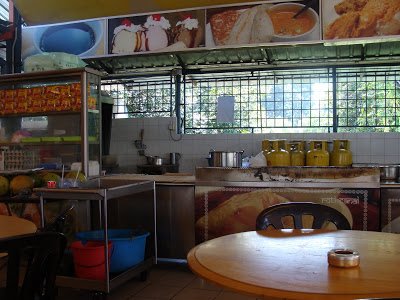 MBs wallop their rice with gusto cos it was delicious but its not that YUMMY as compared to NASI GANJA its original branch. The drumsticks were alright but I prefer the ones at Pelita Nasi Kandar near KLCC and they lacked something….erm….what is it? *thinking…
Ah-ha! I know they lack the moisture factor….cos nasi kandar need the appropriate curries and mixture of the right gravies…and often,the staff will served for us in DOLLOPS of gravies all MIXED up…but this one,we need to predict them ourselves..so we like hum and hawed and choose whatever delicious colours were flashing at that right moment in their trays…
Furthermore ,they do not have the famous ayam merah so Im kinda dampened by that….its ok, we can head to the original branch and check it out,insya-Allah!
More HALAL food in Perak ..
and if u are adventurous enough to try out their caves :
Gua Tempurung …
fyi-Do u know that there are many food bloggers in Malaysia and they are mostly non-HALAL food bloggers?And their pictures are amazingly good.Sometimes, I refer my research thru them cos they do consume tons of food and that includes HALAL food too…So where are the HALAL food bloggers? I believe there are many…Show yourself,dont be shy…its never too late to start taking pictures of your food….its ok,if it doesnt turn out as good as these bloggers.Cos I started small too and if u look at my old photo shots (I hope I had improved,insya-Allah) u will chuckle.So dont wait,try today!
I cannot find any HALAL Tauge Ayam-which mainly meant steamed chicken rice with juice white chicken (often steamed too) and the specialty is their bean sprouts…
I mean,what is so special about bean sprouts,right? I used to hate it cos I have to plucked out its ends when I was young…And its endless when u see the large pile of it given to u when the adults have to do their cooking…but now, I ate the ends….I thought the roots are where the nutrients are? *chuckles
Anyway, I did not find any….thru internet or thru cruising….Perhaps, the Ipoh people whould know, I did ask around but no one can tell us…cos it is said to be Chinese food…
Oh well, I guess some Halal chinese chicken rice stall in Singapore do serve beansprouts along with their chicken rice, I guess that will suffice for now….
Hmm,this Curry chicken bread sounds YUMMY….
Ok,we have reached its destination to one of the famous landmark in IPOH…..Nasi GANJA!!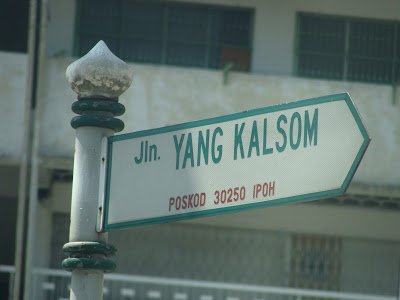 Recent news last year,Singapore and Malaysia ministers have a good chow down here:
http://www.straitstimes.com/Breaking%2BNews/Singapore/Story/STIStory_389839.html
Just a short excerpt (in case the link expired) ..
Joining Menteri Besar Zambry Abdul Kadir for lunch were Finance Minister Tharman Shanmugaratnam, Education Minister Ng Eng Hen, Acting Minister for Information, Communications and the Arts Lui Tuck Yew, and Senior Parliamentary Secretary Masagos Zulkifli. Also at the table was Singapore's High Commissioner to Malaysia T. Jasudasen.
Datuk Seri Zambry had earlier told reporters that he wanted to treat his guests to the best nasi kandar in town. They ate curried prawns, kampung chicken, fish, salted eggs and mounds of steaming rice.
Asked later how he found the food, Mr Tharman showed a thumbs up.

Indeed, Putri give all thumbs and toes up!! Cos its one of my favourite and addictive Nasi Kandar thus its appropriate to be called Nasi Ganja aka Cannabis/Marijuana rice (dont worry,none of them are being used…)
My previous post on it…
Its really a let down that this shop is closed on this Saturday morning..we were going cold turkeys!!! Hee…I have yet to taste their famous AYAM MERAH….The other time, we were late and it was SOLD OUT!Hmm….
Seriously this is a MUST-TRY!! aside from my favourite NASI KANDAR BERATUR @Kapitan Keling Mosque …..in Penang…
Ok,le's cruise around town…
More food centre…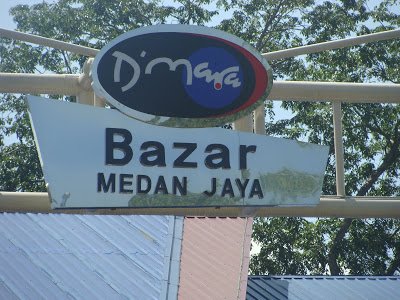 My faithful companion…
We wanted to take alook at the beautiful old train station in Ipoh but changed our minds….but this site has great shots of the railway station…
http://www.keretapi.com/ipoh.html
This St John Hq or something,I see students don their uniforms and doing marching…hee those high school days…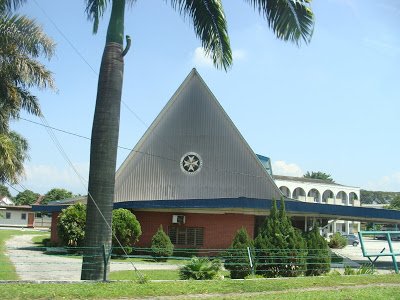 I love roadside food stalls!!
This water theme park has a hot spring inside…We wanted to check it out but knowing that we need a day to have some REAL fun,we forego it….time is an essence here.If u want to check it out…
http://www.sunway.com.my/lostworldoftambun/
Enjoy!
Ok where next? Penjara Tapah (right) or Lata Iskandar (left) ? If u know what Putri Berendam means, u will have the definite answer ..hmm,turn left or right…(the answer insya-Allah will be on the next post..)
(Visited 73 times, 1 visits today)