Previously in my recent kampung trip, I was listening intently to the elders discussing and comparing cendul stalls in Malaysia and desserts. And then I realised that I had not tasted any good chendul stalls in JB.And so the quest continues..
Furthermore I wanted to treat my lovely crew to some yummy chendul.
Travel tip/trick: Got to "bribe"/treat ur travel crew once in a while so that they will be happy and wont leave u at the roadside cos roadtrips can be tiresome and might bring out the worse in you sometimes.Best bet is to give them a sudden sugar surge in the blood (such as this dessert) so that they wont be lethargic.Hee..
Actually I side tracked, I wanted to treat them to a lovely Ice-kachang dessert near the fire station but I changed my mind.I wanted a different dessert…fyi-this is my favourite ice-kacang(with peanuts and ice-cream)

http://www.putriberendam.com/food-network/favourite-ice-kacang/
We passed by the streets near Giant Supermarket (@Southern City).And there were so many Cendol signage indicating this is a street for Chendul lovers.
Chendul or Cendol is actually a sweet icy dessert which consist of green flour short noodles bits,coconut milk and palm sugar syrup."Treasures" like red beans, sweet corns,jelly, glutinuous rice can normally be found deep beneath the ice shavings.It is best eaten in a hot and humid weather in Singapore and Malaysia.There are cendol in Singapore and some are popular like the ones in Geylang Serai Market and Tekka Market but to me,so far none of them is comparable to Malaysia Cendol, I wonder why…Perhaps I am biased..I had been bought over by the Malaysians (YIKES?!)
Today is exceptionally hot.Does eating belangkas make one hot from within or perhaps the weather is really scorching hot. As my eyes were scanning thru the stalls, I saw one which is quite crowded.I wonder what are they selling. Asking my crew to make a pit stop, I went to take a look and WHOOPEE!Its Cendol stall!
The stall was manned by 2 men. They were quite friendly and was greatly amused by me taking their pics.
It was crowded and buzzing with hungry lunch crowd cos they also sell packed rice items like nasi lemak and many other variations which I did not care to look. My eyes were fixated at those colourful….
No not the umbrella shade…
but the colourful display of cendul list…my mind is already wriggling in glee anticipating the wet icy sweet dessert slithering down my dry throat. YUMMY!
Ok, unsure what to order, we decided to share cos we are not sure whether CENDOL + BELANGKAS(horse shoe crab previously) will be a lethal combination cos I can see some of my crew eyes are kinda heavy. And we ordered all in one cendul (everything in one bowl), the normal one and a UNIQUE cendol which I had never tried although I had travelled all the way to the northern Malaysia-Trengganu,Kedah,Kelantan and even to Thailand.This tapai (fermented tapioca) has not been eaten with Cendol.This will be a sudden surprise for us.Mmm…
Without hesitation, once our orders had been placed,it arrived in less than 5 minutes, we wolfed it down within minutes! Yikes!
Wanted to pay on the spot but the Mamat said, eat first,pay later.I am quite comfortable with that Malaysian popular phrase whenever I travel but being Singaporean, and being so systematic and all that, we are so used to pay on the spot the moment the hawker serves us the food…that the hand will automatically dig some money automatically…Oh well, gotta be like the locals…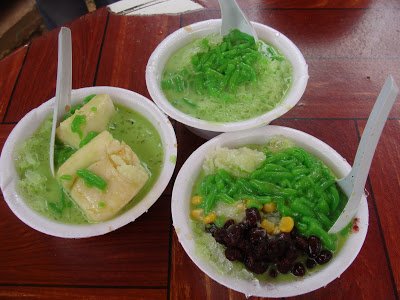 And so I tasted the normal ones(just the green like cendol noodles and ice shavings in coconut milk and palm sugar) RM$1.20
and then the all-in one (normal cendol plus loads of red beans,glutinuous rice,sweet corn..) RM$2.00
Look closely,do u see the glutinuous rice?




and tapai cendol (normal cendol with fermented tapioca).Rm$2.20
It was delicious! The green flour like noodles kinda MELT in the mouth,almost disappeared entirely into ur throat and the dessert is sweet and milky.I like the TAPAI cendol.The tapai was sourish,tangy sweet saltish and goes well with the thirst quenching cendol .It was YUMMY!
Opening hours:11am-6pm daily (except Friday which is closed)
Oh my…are we really driving all the way to Ipoh now? I realised that Cendol rejuvenate those tired muscles for a moment and soon after, we were like sleepy..either the coconut milk is lulling our senses to sleep or perhaps cendol and horse shoe crab is a lethal combination.My eyes are kinda droopy…
Anyway along the way, we spot some yummy food stalls….
Durians galore!!


BBQ/charcoaled grilled chicken…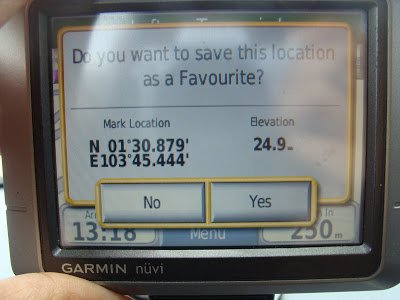 Hmm, will we stop or will we continue with the road trip?Check out this blog for further updates…
(Visited 2 times, 1 visits today)