Beautiful scenery (across is Singapore) and sea breeze can lull u to sleep….
Ok,where is my favourite SATAY stall?Here it is…
Mr Esa is a friendly man.He told us stories and how he was one of the first man to sell satay at Senibong when the kampung is still a mangrove swamp.And he has been selling satay for 28 years!! And there was a Singaporean businessman/women who wanted him so badly to teach his staff on how to cook his satay that his work permit, lodging, salary are all taken care of.But he refused to be bought over…
He said if you want ,just asked me and I will tell you the recipe….I am not a selfish person.To me Satay recipe is like a knowledge,spread it around…but then what I told you might taste different because it depends on the hand….(which is true-"air tangan" is powerful)He said even his wife who knew his recipe by hard are not able to make satay taste the way he does…Hmmm….
Come let's take a closer look at the satays…We had to wait about 20minutes thus we chat and laughed.Mr Esa further commented that the neighbouring seafood restaurant are all family owned and proudly showed us his sons who are the chefs.
As I watched him lovingly cooked the satays…my endless droolz have filled up dozens of buckets…
Overall verdict: What can I say…this is the best satay that I ever tasted.Even Kajang does not measure up.I was told that Satay batang pinang (beef) is the meat near the ribs/neck area …thus its quite soft.And as usual,the satay will melt in ur mouth….MAMAMIA!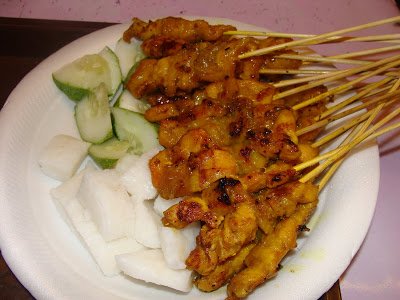 They do cater…..I was also told that they are closed on TUESDAY (which is today) but cos there is a family wedding on Sunday thus he has to replaced that off day with today.Alhamdulillah.Or else it will be a wasted trip if I cannot get to taste my favourite melt in the mouth satay…
REMEMBER: This satay stall only start at 6.30pm, not earlier than that.Closed on Tuesdays.Mutton satays are only available on Fridays.Do call him for further info.(below)
In my previous visit here, I failed to try their nasi lemak cos I do not know where it was.
But in actual fact,the signage was right in front of my face…heheh!
This nasi lemak has many raving reviews on it.And so I decided to give it a try….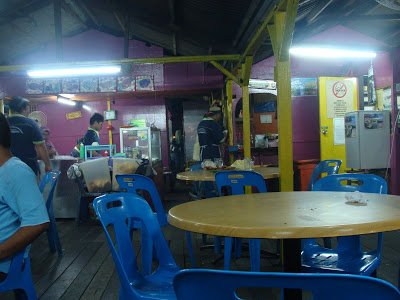 U have to wait about 1o-15minutes before the staff take ur orders especially on weekends.
Take note that: Senibong food stalls only open from 6pm onwards till 12am…
DIY washing hand corner…YIKES!If u dont mind the cleanliness factor, its ok to eat it here…Its like a floating restaurant kinda like a kelong.But the food….
We asked what is popular here.The staff said Nasi lemak with fried chicken or chicken rendang.We chose chicken rendang.
is indeed DELICIOUS! hi-5! It tasted like what authentic nasi lemak should be.Like homecooked kampung kind of nasi lemak …so shiok!!And look at the halba seeds…My mama told me that to make nasi lemak much yummier, add those halba seeds…in the rice…
The rendang is nice too,complement the nasi lemak even further.And the weird thing is they serve nasi lemak with indian pappadam crackers….and stir fried…long beans.The sambal is sweet.But the yummyness factor comes from the rice and chicken.POWER!
Coconut jelly is like a cold slimy sweet savoury jelly with strands of coconut flesh.I think they used the pulp and coconut juice to make it into a jelly.One of the MBs said that he has tasted better ones in KL (near some stadium) and the jelly is inside a real coconut fruit.Cool…
the green apple juice is not bad too…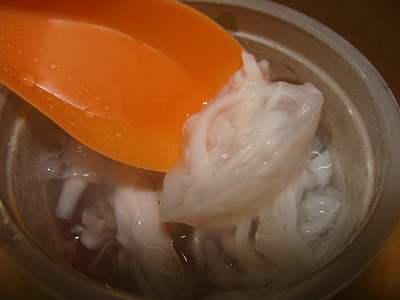 There's a mosque nearby-3 mins away so dont worry….
Previous post on Senibong:
http://www.putriberendam.com/food-network/satay-batang-pinang-at-senibong/
Let's head to SMART Pandan wholesale market which normally operates evening onwards till 2am daily.Its a huge place with many goodies from food to clothes,bags and they have tents that hold many pasar malam (cheap bazaar stuff)products….
What are gear box soup?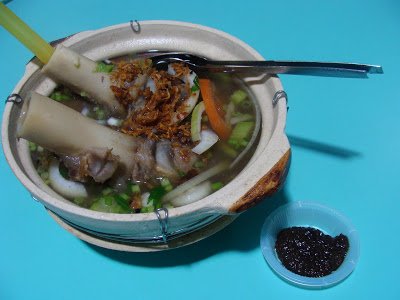 Its just the mutton legs soup…and this broth aint the thick spicy indian ones but healthy clear broth…and for that spicy-kick add the black chilli paste in moderation. SPICYly delicious!Dont fotget to use the straw to suck out the bone marrow goodness…
One of my favourite porridge stall below….
We ordered the fried Quail in spices(berempah) without any rice..its GOOD!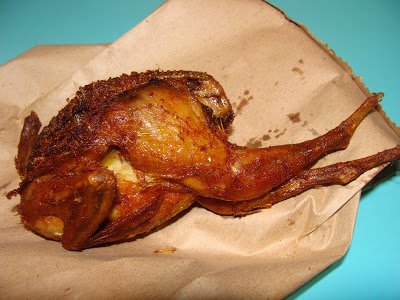 This kopitiam sells some goat's milk ice-cream…. Will there be any unwanted (bandut)smell?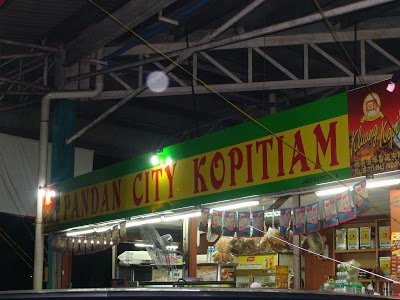 I find this advertisement kinda corny….
After this,we head back home….Aah..its good to be home…alhamdulillah…Time to knit some sweet dreams….from the beautiful memories of this journey…
(Visited 18 times, 1 visits today)