Alhamdulillah….There is a butcher cum restaurant shop which I had always visualised Singapore halal meat butchers should have (how about it Zac meat?)
Ok before I start,this is one of the many dilemmas that I faced when food blogging. I try to staty true to what I feel and taste but sometimes, I do not want that comments to be a setback but instead use it as a constructive criticism to improve,ok?
U can say ..who am I to criticize food,right? I am not a chef nor I am a food connoisseur.Im just like everyone,a customer with irregular mood swings,sometimes fussy kind of tastebuds.But the fact is that everyone is a CRITIC.Its innate.So many times, when we are not satisfied with the product/service,we say it out to our friends, our family…somehow these comments get spread out like wild fire just thru a word of mouth.Even if we are the silent type, we either voice it out in twitter/blogs or we silently avoid that shop at all cost…and so silently the shop will lose its customer and closed without knowing their mistakes and how to improved..
So reader, read this with an open mind and do give these HALAL eateries that are featured ur utmost support irregardless what I say…cos who knows they might improve and prove me wrong? My so-called "job" is to push their limits to higher standards so that they can soar to greater heights and succeed…
As I enter, I was greeted warmly that I was surprised by the chirpy greetings from the owner…and I thought that its gonna be a good service with friendly and positive vibes,insya-Allah…
Then we sat…

The butcher cum restaurant is nicely decorated.Simple.
Unsure what to order I asked the waitress to help me.I saw WAGYU steak.My heart leapt with joy.I asked the waitress to explain to me more about WAGYU since Ive heard about the cows being smoothered in sake/alcoholic beverages on its fur and made to drink them…something like that…but the waitress patiently explained that this is a HALAL butcher and the cows used are just like those pampered cows with good life and getting all those massages and good food but no alcohol/sake is used in their rearing to ensure its HALAL ness.
After a satisfactory reply, I proceed to order.We were quite full.And so the steaks that I chose are the smallest ones…
And then I saw ANGUS..angus beef refer to its breed….its top notch quality breed…and we order that too….
The waitress proceed with the order.She saw us bringing in our water bottles filled with plain water (yeah we bring our own water bottles everywhere)and when we did not want any drinks,she asked "How about iced water?" I was busy deep in thoughts and just nod my head….
And to my horror, we were billed for the water.I am not "Kiam-kana" (stingy) but please…at least,have the initiative to inform us that we will be charged…
Then as the waitress told the chef about my order and how I want it to be done-mediumwell,the boss shouted to the chef"Ensure that both sides are cooked exactly 2 minutes"…
I was like.. Hmm…why didnt the owner cooked the food himself…Is that an untrained chef or what?Ok, I should give everyone a chance… *muttering silently to myself
After that, I asked the waitress permission to take pictures of the meat display.She said No.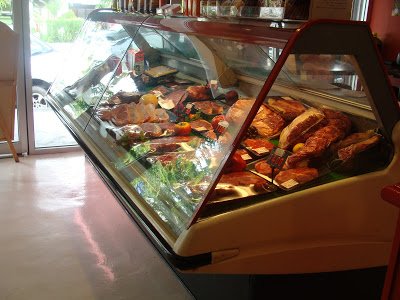 fyi-The shop also sells ribs, meat balls and many other types of meat e.g cold cuts and all that…
I didnt give up….I decided to approach the male boss.But he was busy with a customer.I stood near them for a good 5-10 minutes and no one not even the boss can sense that I am waiting to talk to him.At least,the staff should asked me what I want.
After that, my face kinda show its disappointment and I looked at the waitress helplessly.She showed me a blank look….
And then, as I sat down and forgot about it, the male boss goes out of sight.And the waitress knowingly that I wanted to talk to the boss (and to pass him my name card to explain what Im doing cos Im excited about this new butcher restaurant thingy)..did nothing…
As a restaurant ,it lack a certain communication between customers and staff and attentiveness to cater to customer needs.Irregardless of whether there is a service charge,there must always be an open communication and attentiveness (customer service) between us.
The only chirpy moments were the greetings and that stop there.Thruout our meal,there isnt anyone to check whether we need anything at all…there was a time, no one was even there…I wondered where everyone go….
I am seriously excited about this shop and wanted to share my excitement with the owner and the world.Cos the westerners have it in major countries,its time we have our own too…but I cannot seem to be able to talk to anyone about it here.The waitress often shrugged as I tried to show what Im trying to do….
fyi-We are the only dine-in customers at that moment…and the shop is not busy…Staff should be attentive to customer needs.And they saw us taking shots with all that flash and all that but they were not the least intrigued or asked us ,create some conversations…at least have that "I-am- interested" kind of attitude…. but instead we got the nonchalant kind of attitude…
As for the food..we paid a good price for it and expect it to be good.Furthermore,its supposed to be a quality cut. I can forgive all the lacking services if the food is good.But again, I was disappointed. Some parts of the meat are kinda chewy and I felt (although I have no idea how a wagyu should tasted like) that it can be greatly improved.
Wagyu steak- http://en.wikipedia.org/wiki/Wagyu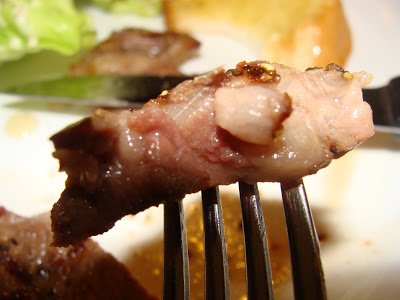 The succulent fats…
Angus beef-
http://en.wikipedia.org/wiki/Angus_cattle

Quite tasty with its charbroiled taste lingers as u take a second bite…

The wagyu tasted ok..not as expected, I felt that some steaks back home are much better and its not even premium steak/wagyu….I felt very disappointed with the Wagyu steak.
As for the Angus,it is much better tasting than Wagyu…Delicious.But again, it can be improved…I dont feel the 5 stars yummy factor in the meat cooked…neither is the service…
The salad is just the typical greenies and overwhelming taste of thousand island sauce on it..nothing special…
Perhaps our sloppy appearance with ruffled messy hairdo and clothings plus flips flops…did not do justice to our seriousness in taking our food blogging seriously and attract that attention that we crave.If that is so, I need a MAKEOVER,anyone care to help me with that? Hmm…
But since its a newbie thus it deserves a second chance….
Why dont u read about them (unbiasedly) here:
http://www.friedchillies.com/index.php/site/detail/las-vacas/
p.s: I realised that the nonchalant attitude is the same here in Singapore in some Malay eateries when I told them what I was doing.Some even told me "No needlah take photos, we just had our interviews with the major media reporters recently.."
But if I tell the Chinese eateries, they will treat you like a VIP (Dont worry, I have not been bought over, as usual I did not reveal myself until I finished the meal)
Ok,I admit, Im a small fry but then the internet is a powerful medium to gain more customers worldwide.And to me,when doing business and when someone is promoting u for FREE,grab it…dont asked questions or be negative about it/worse say remarks to prevent it from happening,"jangan tolak rezeki" (dont push an impending wealth away)-as my grandaddy used to say…
Hmm….
(Visited 6 times, 1 visits today)