As we reached our destination-Tune hotel (always book online because normally they are fully booked…), I saw a new entry…RASA ASIA foodcourt. We were kinda full and tired thus did not cast an eye inside….but it looked like it only have few stalls inside…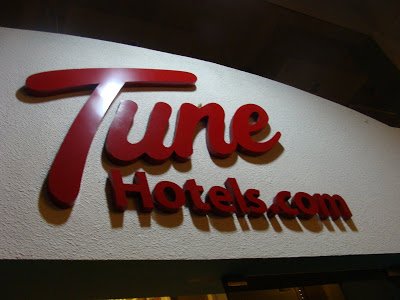 Aah….time for Zzzz…..
After a refreshing night sleep at Tune hotel,we head to Subway (at the hotel lobby) for a light snack for breakfast…. It opens as early as 8am.
Along the way..we saw these posters.So if u wanna feast on DURIANs,this is the location…
Durian buffets as cheap as RM$10…
We wanted to head out to IKEA so early morning but it was not open yet and so we decided to check out the area where the famous rabbit burger (opens only at night just opposite the Police station@ the food centre.But when we got there again at night, we were told to come back in 2010 because they ran out…)
But its' ok, I saw something that caught my interest.While others are still rekindling their night dreams in the car, I went out to check the market out.
Erm this is a chinese market because they sell pork in here…Normally markets in Malaysia are segregrated separately…from Pork and Halal meat.This market is solely chinese,cos the only malays I see are the ones selling flowers…But its an eye-opener!
What are these thin-like wafer crispy thingy?Interesting….
I wonder what are they eating? It looked yummy!!
This stall sells some freshly made chinese dough fritters.Ive never seen them make with a bottle before….I asked for permission and stay glued like Im watching some form of documentary….
..and this man will fry them immediately….once its rolled out….
Mmm…looked and smell yummy…
After that,we went back to IKEA…We reached there around 10am… and carpark is almost half full…
Updated :May 2010 reader asked on the authenticity of IKEA's food -whether it is Halal or not (thks!).Although I will always do my own research before consuming,this is the official response given by their management:
Dear Putri,
Thank you for your mail.We would like to confirm that all our fresh food suppliers have a certified halal certificate. We give you our assurance that IKEA is committed in ensuring that the religious interests of our customers are not compromised in anyway.
Thank you for your support
Best Regards,
Aruna
IKEA Damansara,
No 2, Jalan PJU 7/2,
Mutiara Damansara,
47800 Petaling Jaya,
Selangor D.E.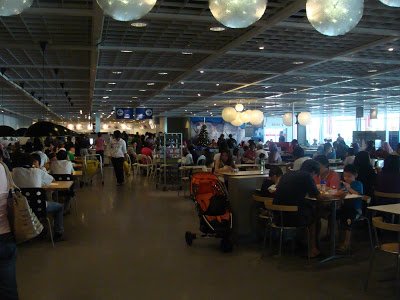 And look at what we ordered in our frenzy morning…
This is today's breakfast specials-$0.99 per plate.Who can top that?! SO cheap ?!! Even in school tuckshops aint that cheap….I saw many chow down on these fried kway teow.Not bad in taste although it look kinda pale.
Daim cakes tasted like there is a hard wafer in between with bums of lil nuts ..its like eating a biscuit within a cake?Get my drift? Not bad…
I love these cold salmon slices in the salad..it reminded me of Holland… *sigh.
Wanted to order their signature poached salmon but its only available after 11.30am just like the meatballs….
Mmm..do u see what I see? Its CRUNCH time!! One bite,it reminded me of teriyaki+hot sauce (I can be wrong) without the typical onions,garlic,ginger traditional marination taste…I think none.Tastewise-ok….Perhaps, my expectations have escalated sky high..due to the waiting months of chow down at IKEA…perhaps…
This ice-cream is like the soft ijs u can find in holland…milky flavoured ice-cream.Yum!
The hotdogs seems to be steamed or boiled.Not bad…with the added chopped onions and mustard…sauces..
The curry puffs are alright…smashed potates and hardboiled egg…
I like the dryness of this cider..sweet-smelling cider….love it!
Ok,the moment of truth is here *drums rolling…
The meatballs are definitely YUMMY!Awesomely good…Ive never tasted meatballs as tasty as these!! Seriously..I felt like they boiled the bones of the cow till it disintegrates or something and then add that fattyness savouryness in their piles of meatballs.Smackingly…DELICIOUS.It is as good eaten whole without the side sauces:brown sauce (tasted like steak brown sauce) and lingonberry sauce (bursting flavours of sourish sweet berries)
Hmm, Im sorry, IKEA win with all the thumbs and legs ups.But I prefer Fika's freshness in its lingonberry sauce.(But still its a good effort from FIKA-just a suggestion,why dont u buy those meatballs from Malaysia IKEA and sell them in ur cafe? Cos if that happens, i will be there all night savouring all those meatballs… *twinkling eyes )
The meatballs are only ready by 11.30am.We went on saturday and there are 2 queues forming 10mins prior to its designated time.It was congestedly popular….
Although it states on Tuesday only,we head there on Saturdays, and they are serving meatballs ..woo-hoo! Perhaps they meant weekdays only?Hmm…
Erm,sorry this is the kid's size….we actually lined up 20minutes to get a kid's plate?! hehe….cos we want to save some tummy space cos we still got more goodies line up….
Overall verdict: Definitely in love with the meatballs and cider….
Cruise down Bukit Bintang to…..
Berjaya Times square for prayers….no intention of recceing the food there…but alhamdulillah, we found something interesting!!
KRISPY KREME!!KRISPY KREME!!KRISPY KREME!!
Pardon my excitement.I failed to check out the famous Krispy Kremes when I was in the States last May thus,the confined feelings kinda outburst at the sight of it in Malaysia.Heard about its raving reviews from some fellow floggers….
The promise..are they able to win me over?Hmm…
I did asked whether its HALAL from the malay staff and he assured me….
Chocolate doughnut with caramel vanilla fillings that oozes out…
This is a very sweet doughtnut with a thick apple crumble on its top.Nice but very sweet.The doughnut texture is between Dunkin Donut (Malaysia) and Donut Empire(Singapore).Its not that heavy nor is it very light….in between.Even the liquid fillings are kinda stingy.Not as overflowing as Dunkin.I like a doughnut that if u pinched it, it will burst with loads of chocolate fillings…YUMMY!But where to find, so far Dunkin has been the one I refered to when Im having such sweet cravings.
But very sweet and kinda costly…than any donuts I ever eaten.Overall verdict: Not bad…But I think, maybe the donuts are much tastier in the States (but is it HALAL?) cos people tend to buy and bring home dozens….
Next stop..WENDY's burger!!YIPEE!! I know its a new phenomenon in Singapore..But I get to taste it in Malaysia.YIPEE!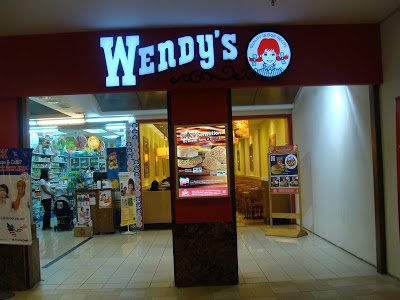 Waited about 10minutes for the meal. I read somewhere that their milkshake is to die for.And indeed it was so thick and gooey..that it can be in between custard and shake…in between.If only they have thicker straws to suck it all in….
I like the fries…and the burgers are freshly made upon order….
As u can see, Wendy burgers-They do not cut corners.And its squarish patties make it looked overwhelmingly yummy and much bigger than its bun .
I chosed 3 patties and its quite a mouthful.Not easy to get it into ur mouth.U can request for more patties, I heard up to 8?!! YIKES!! The patties are much thicker than any BKs or McDs and juicier.Tastewise,hmm…it tasted like what McDonalds used to be in its hey day when it first open its door to Halal consumers.Back in the 90s.(How can I remember that?Cos I was served with endless flow of free staff meal *chuckles thus I remember vividly how it used to taste but now, McD has gotten way below its standard…its patties are kinda slimmer too…Hmmm…)
If u asked me to compare with Carls Junior.I prefer Carls' junior…thus the difference in price too,right? *winks
http://www.putriberendam.com/carls-jr/carls-jr/
Total cost? Hmm….
There are many more HALAL certified restaurants here like Shabu-shabu,station kopitiam,Taiwan snacks….and lots more…
And the best deal is that if u feel heavy on the tummy, why dont u take their in-house roller coaster rides?!They have an
indoor amusement park.
So no fear about the rides closing down cos of slippery tracks due to rain.
And yeah, after all that heaviness and fullness in the body,take the roller coaster,for sure, u will feel very light after that…*lol …just kidding
Berjaya Times Square
1 Jalan Imbi, Kuala Lumpur,
55100, Malaysia
03-2117-3081
After that we head to P.Ramlee, Malaysia Legend's memorial…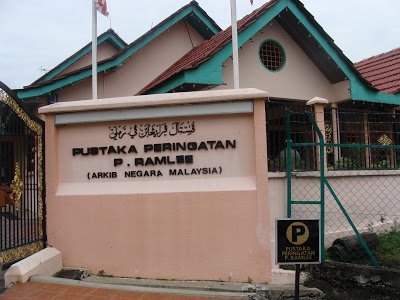 I always get teary eyed going thru his songs,music and movies and walk down P.Ramlee memory lane…
This is the only place (that I know) u can get P.Ramlee musical notes and chords for his songs -Senandung Warisan.Cost about RM$36,keychains about RM$5 each.
Below is P.Ramlee's car…as I circled and look inside its humble interior, I can imagine P.Ramlee seating in driving to its many movie locations….Hmm…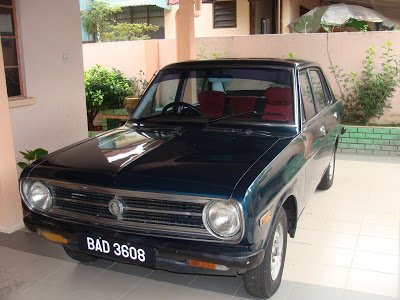 Anyway, alhamdulillah, I get to visit P.Ramlee house in Penang and this is my second visit at his memorial..who knows, I might get some inspirational music vibes and be the next music prodigy? Hmm… *imagining…
Ok where did we go next?
Hint-This is one of the place that I had always wanted Muslim butchers to have in Singapore….