This year, alhamdulillah I had the opportunities to travel other countries beside Malaysia.That explains why the food blogging on Malaysia is lessen as compared to previous years.And since the end of the year is nearing, the holidays are happening ,this is the best time to make up for lost time…food hopping in Malaysia thru road trips.
Come join me as I embark on a wholesome food discovery travel thruout Malaysia,insya-Allah.
One thing I love about travelling in Malaysia is that mosques are everywhere and so U can stared in awe of its magnificent architecture and pray.Thus u will gain that serenity and a peace of mind anywhere u travel.Alhamdulillah.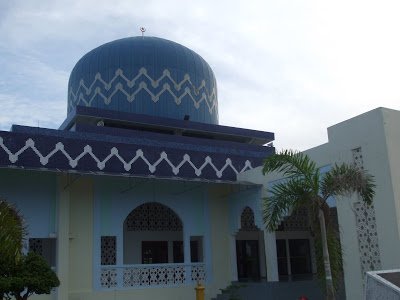 Where will I go this time? I had covered from Singapore to Malaysia till Thailand last year (previous posts).This time, I want to uncover lil towns that I had no opportunity of getting to know in previous attempts …Let's get upclose and personal with IPOH.
But one thing about travelling with me. I am not a detailed planner type of traveller.I love to be free and easy as and when I want to stop, I will stop as and when I want to change plans, I will change it thus its not easy to travel with me.Only the closest bunch of families and friends understood me well enough are allowed to join me.And I am a no frills traveller.Shopping is normally left out of the agenda.What I seek is cheap thrills of new discoveries, nature e.g springs,waterfalls, animal trek,mountains…and of course markets ,bazaars,fresh produce,farms and food eateries.Anything unique like orang asli or aborigines, villages, anything that I had not seen before, that will be chirpy surprises along the way which insya-Allah will be embraced with my loving arms.This is me.
That is why often if u read my travels, u wonder why didnt Putri go to that tourist attractions?why didnt she go to Universal studios, disneylands, 101tower..and all that? I like to go to places where its not tourisy.I like to go where the locals go.I like to feel,breathe and eat like the locals do.
Anyway, this time, we head out slowly but surely.Dont forget the sunnah musafir prayers.
Travel tip/trick: When driving ensure that u have adequate rest before hand.And have lots of fluid closeby to ensure that u wont be dehydrated.Always have a mint or sweet or gum to accompany you.Or get a crazy partner that talks endlessly or get your partner to play the harmonica to keep you awake or u can play it urself (get a stand/rack) cos blowing thru harmonica ensure that the oxygen supply travels to the brains (really? I think so..hehe!).Caffeine does not ensure those eyes will stay awake.
As we were cruising along…we saw these makeshift stall selling what?! We stopped for a moment to check it out.YIPEE!It's kelapa bakar!! I had been longing to taste this delicious medicinal attributes of this drink eversince it was shown in a Malaysian discovery program.
Look at how black the coconuts were.I wonder how will it taste like?

They scooped the flesh for us and asked whether we want it boiling hot or add some ice to it.

Look at the colour..its like caramelised.Tastewise, it was different from the normaly thirst quenching coconut juice.Its DIFFERENT.I do not know how to explain it.Sweet and perhaps like drinking tea…U gotta try it.And it has many medicinal health benefits:
Alhamdulillah, one of my to-do list is completed.What a refreshing discovery along this stretch of road in JB.Continue with my journey…
Hey!I found a fruit haven….
Where did Putri get these joyous fresh fruits from?To be continued…
(Visited 9 times, 1 visits today)