I had the pleasure of hosting my high school reunion this year,Alhamdulilah.There were many places to host such events/gatherings (e.g Badoque,Asian Bistro, Bottle Tree, New Hawa..).But after much consideration,Sofra Turkish Restaurant was chosen ..
The reason I have this gathering is because I miss those ZANY crazy high school years.Those were one of the best moments in my life and I believe most would agree. Those were the years where all the changing and raging hormones and pimples breakouts are the most common. Those were the years that we learnt to be more independent and in touch with our inner voice and selfless disciplines and coping with peer pressures.
If u wanna know what are the recommended places for gatherings/reunions/events, head on to my page: www.tinyurl.com/putrifacebook
Ok, at 8pm, the stipulated time, few had arrived early.The restaurant was 3 quarter full. I had already anticipated it cos its a Friday night and its in December..festivities season.Lots of companies are having their Xmas gatherings during this period.
It was quite a heart pounding moment because it felt like a blind date.I had not met 90% of the old schoolmates for more than a decade.So I wonder whether I can still recognise them.
I reached early to get acquainted with the staff, owner and the venue.I had requested the seating arrangements to be nearest to the windows.At first they wanted to put us near the Xmas tree near the door (yikes!Cos we are a big bunch and one long table need much space,that is the only largest space available)
But,I prefer the window sides at one corner, in case that we became too noisy chirping our happyness of meeting old friends thus might be annoyance to others.Thus, as suggested by the staff, I get one long and half table (2 rows).
While waiting for the rest to arrive, I had the chance to redeem the first virgin chocolate pudding from the wholesome display of desserts in the restaurant.I wanted to taste it first and also to avoid being under many watchful eyes or perhaps Im just being stingy, I wanna eat my dessert ALONE!(hee!)
I've heard a lot about this dessert.Hmm, for amonth now, I had been salivating at its online menu. Now is the chance to prove its worth.Is it worth it? I wonder…but I fear those waiting moments might have escalate my expectations a tad higher.
Ok…Im gonna take a spoonful, watch me and salivate…here it goes…I scoop one spoonful of dark brown chocolate jello-like custard pudding.beneath it there are somewhat nuts of choclate bits, I did not notice much.It was alright.Not so sweet.It was a semi pudding.It became a bit chewy like later on (as I tasted someone else's chocolate pudding again?!)
Verdict: Not bad. There are some white foamy thingy cream,dessicated coconut and some pistachio bits.As u head lower and lower into the chocolate pudding,it became thicker and chewy.hmm..interesting.
Soon,the table was filled with familiar faces from all over.Some came with families.Beautiful exchanges of greetings and love surrounds.It was feel good atmosphere.Hugs and handshakes are exchanged.U can see almost immediately the latest range of handphones ringing and tweeting and texting exchanging contact info.

It was smackingly yummy to meet my old friends.Smiles,questions arised and answered.Lots of eyes contact and body languages,loads of conversations.Most are professional working people.They took the time to meet up in this spur-of-the moment gathering (It took me about 1-2month to gather them up thru facebook).Alhamdulillah, thank you y'all for this opportunity and for supporting this event with ur graceful presence.As for those who cannot make it, insya-Allah we will meet again,someday.

Im sorry if y'all cannot get enough of me.Normally,if Im the host,u can hardly catch me breathe.I will zoom in and about. I keep moving up and down in and out and if possible I wanted to enter the kitchen too (luckily the owner stop me hehe!)

Tip: If you want some staff to take care of your group personally, inform the management and the staff.For me, I had no qualms going to and fro the counter telling them what my group needs and what orders have not arrived.Cos it felt like family.Furthermore,its on Friday night, thus I can understand the chaotic environement and customer demands especially when the restaurant is almost full.




Ok after taking quite a long time to settle down cos all of us are excited…Suddden pang of hunger brought us back to reality.Its time for CHOW DOWN! And so what did we order?

U can check out the menu here: http://www.sofra.com.sg/menu.htm
Hummus was alright..Im not sure whether this is Turkish bread or sesame bread (above)? Hmm…


I think this is Doner Kebap Rice…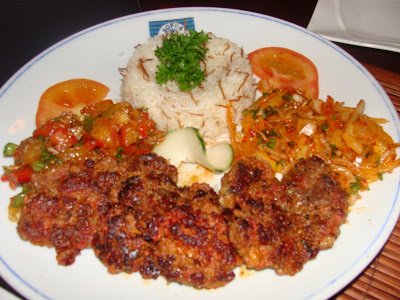 Egg plant salad-moist grilled eggplant..not bad.I was expecting Baba Ghanoush.

Shish Kebap-chicken
This is Chef Plate- a bit of everything on a plate.If u are unsure what to order and u love meat, then this is the answer.

I think this is Sofra Yaprak Tavuk-Chicken meat stuffed with veggies and mushroom.
I think this is Chicken Kebab…


Verdict:Ok.The food is ok. Im not gonna touch on others, but only my food and those that I had the opportunity to taste.Actually I tasted al ot to such extend that I did not touch my own food till half an hour later or is it an hour? Overall comment on my part -the rice and grilled meats are dry.
Hmm….The Eggpplant kebap.
I had tasted this about 9-10 years ago when it first open its doors.It was quite nice back then.
This time, it was thoroughly marinated with spices and all that(pros) but its kinda saltish.In fact my food and drink (the yoghurt drink) are both saltish.Perhaps when eaten with the bread,or rice,it might ward off some saltishness.The rice is a bit dry almost uncooked.And so are the eggplants…a bit raw..although partial grilled. Hmm…
Musakka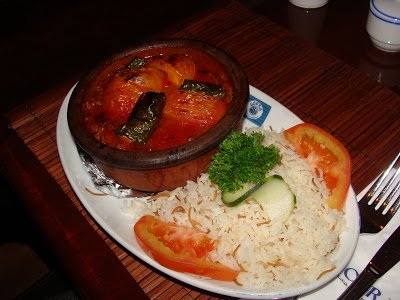 Sultan Kebab
I like the Musakka and Sultan Kebab,both are either beef or mixed with lamb .The meat are quite moisty and juicy and it complements well with the oven baked melted cheese.All food are best eaten immediately, cos once its cold, it loses its yummy factor.
Confession: In my busiest moment…Erm, I forgot to take the Pide pic..(YIKES?!Im so sorry) Pide is somewhat like a pizza which uses Pita bread that are split open to hold a filling.
Anyway, I did take a bite from it..Verdict: I've just stuffed myself silly with Turkish pizza in Rotterdam,(previously in July-Aug) thus that enriching spices experience kinda make this pide tasted average to me.And their servings are quite huge.so before u order any appetizer ensure that u are really HUNGRY…

So what do u think,lil princess? Are u enjoying ur time here? Ok,omit the part where they turn off the air-con nearing closing time (cos we are the only ones left), cos perhaps the airconditioned is centralised. But overall, u had fun, didnt u?
Alhamdulillah,the event was a success.Thus I thank u all from the bottom of my heart for taking the time from ur busy schedule to be meet,eat and burp together.It was fun! And looking at old photos and laughing at old school stories. And how we changed tremendously over the years….Wow! Thank you…insya-Allah…Till next time…
Last but not least, thank you to the hardworking people of Sofra Turkish Restaurant: Mr Sulayman,Chefs and Dal and other staff for a wonderful evening…Thank you for working hand in hand with me for such an event.
Insya-Allah this is one place that one can come often cos it felt like family.The environment and ambience is nice and cosy too.


Sofra – Turkish Cafe & Restaurant
100 Beach Road #02-42/43/44

Shaw Tower

Shaw Leisure Gallery

Singapore 189702
Tel: (65) 6291 1433

Fax: (65) 6291 1983
For Reservation:

Tel (65) 6291 1433
(Visited 4 times, 1 visits today)