This time Im involved in a homestay package.Feeling curious and wanting to know what it is all about kept me having the jitters whenever I travel.Cos its the excitement of not knowing what is gonna happen is quite thrilling but u really need to open that mind wide enough to accomodate anything that might happen.
The last time I went on a tour with a group was ages ago…in Mecca/Medina and in overseas school excursions.I think back..erm,it was perhaps a decade ago…
As time goes, I prefer going on my own in groups or individual.Cos own travelling gives u some sort of satisfaction.U got to do some research and ask around and compare prices and do lots of planning,read maps and read blogs, travel books and learn new language if you have to.But in group tour, u just follow along, its a no hassle kinda tour.
Anyway, thanks to TOURISM MALAYSIA initiative, I had the privilege to experience Korban and Eid celebrations in a kampung setup.
I grew up in a kampung environment and thruout my youth, I had been going to and fro to Malaysia to visit distant families and relatives in Batu Pahat,occasional Desaru and Pontian (dont forget to try the indian cendul dessert stall@the bus interchange,ok?), Johor,Malaysia.
And so I had been to the REAL kampung where the toilets are made of wooden sheds,tiny yet secluded almost few hundred metres away from the main house.And if you need to do major "business" at night, u gotta wake someone up to accompany you with a torchlight (2 will be good cos the person gotta wait a long time?!)When young that is the most frightening moment cos it was dark and eerie (no street lights).And as u were enjoying ur solitude in the toilet, the mosquitoes were enjoying themselves feeding on u(hehe!)So while enjoying the process of detoxification of toxins, u are also busy smacking ur bums silly from these pesky friends hee!
Anyway, I had always wanted to experience Aidil Adha in kampung.Cos I want to see how they actually promote that community bonding and co-operate in handling the process of slaughtering the animals,the process of giving it away to the poor and also the community gathering of feasting and cooking.
Alhamdulillah, I get to do it this year.Ok this event is promoted and initiate by the TOURISM MALAYSIA(thks!).They give the privilege of handling this program to 6 local agencies:Babus Salam 62974600,De Hayat 67484318,Maktour 62981268,MZ 63910933,Ruby Rashid 67487674,Tm Fouzy 62948044 for ONLY (3D2N $165 (a)$125 child:2-12yrs) Qurban Package-RM$400(1/7 cow) and RM$650 (goat)-excerpt from Putri's facebook (for latest updates)
But if u wanna venture there on ur own,call them directly
:Homestay Kg Temenin Baru, 611, Kampung Temenin Baru, 81900, Kota Tinggi, Johor. Chairman (in charge) Mr Zainoh Musa Tel & Faks: +607 883 6682.Handphone:012-7530657 Or email : zainoh57@yahoo.com.myMr Suparman (secretary) tel:078838119 and Mdm Hjh Rahmah tel: 013-7728360
And truthfully,I had never watched a cow/goat being slaughtered though chicken slaughtering is a norm to me.Most of my friends said that if u watch it, u will cry or u will sympathisize that u might not eat for a week or more.Hmm…
Ok, meeting point is at Eunos MRT at 8am.I was there around 7.30am.Hmm,what do Eunos offer for breakfast..What,Roti john so early morning?!!Erm, I think I settle for typical prata or kacang pool…
Eunos Crescent Block 4A Market And Food Centre, 4A Eunos Crescent (S)402004
View Larger Map
There was a long queue at this stall.The egg prata was ok.But I like the chewy meat tendon in the curry.

The kacang pool is ok too.

Okay this blue bus is right on time.It was an 3.5 star bus.Not bad.Clean.
After passing the immigration from both sides, we stop at Gelang Patah Rest area to eat some breakfast.(Not me, I went to buy chewing gum and Ribena drink hee!)

I took a look at the prayer area.It was clean.

Then we head to Kota Tinggi.It is about 1.5-2hours bus journey.
Beautiful mosque…
Town centre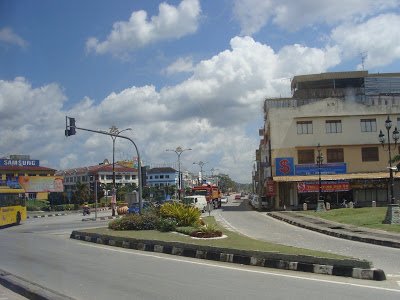 Beautiful kampung houses along the way….
Hey, are these cows for Korban?
Lots of plantations…these are palm plantations
Rubber tree plantations….

Look at the scenery..Im in awe..SubhanAllah. Look at the mountains and the clouds…Beautiful!

Today is Raya Eve and they are selling lemang at the roadsides.Even on Raya haji,there are many stalls selling them.Lemang is actually glutinuous rice cooked in bamboo with coconut milk and salt.They will be charcoal grilled for 3-5hours.The longer it is cooked, the longer it can last.(thanks Bro Zul@Kg Temenin for the explanation!)

Ok,we are reaching …

Thruout the journey,the Malaysian tour guide gives us some tips on delicious cuisine of Kota Tinggi.And so I took out my pocket notebook ti list down the names of the stall and their delicacy.One intriguing one was HORSE SHOE CRAB aka Belangkas in Malay. I have seen that odd shape animal washed down in our local beaches sometimes but to eat it? YIKES?!Really?Can be eaten?
It was said this famous stall situated right beside the bridge at Jalan Tun Sri Lanang is Crown Prince of johors' favourite haunt for Belangkas cooked in Asam pedas..INTERESTING right???
Besides that there are also Gonggong and mussels. Contact Pak Hamid at +6019-7061680.Sunday is closed.Opens daily from 10am till 2pm(best time is 11am) ..I heard by 12.30pm, dishes will be almost sold out (WHAT?!?!) hmm….
Check this out!
GPS co-ords :http://wikimapia.org/7145779/Belangkas-Mahkota-Restaurant
Detail info on kota tinggi and Belangkas..http://www.linamasrina.com/2008/03/johor-and-pahang-road-trip.html
In the news: http://202.190.126.84/utusan/info.asp?y=2008&dt=0412&pub=Utusan_Malaysia&sec=Johor&pg=wj_04.htm
And more makan trips there:(if these are in malay,use google translate,automatically,it will convert to English(or other language) for u…
1)http://harizamrry.wordpress.com/2009/08/29/keenakan-belangkas/
2)http://www.linamasrina.com/2009/04/belangkas-mahkota-kota-tinggi.html
Come,lets watch the video!
Ok back to the trip..
So how did the kampung (village) welcome Putri and her friends?
Do visit this blog often for more updates….
(Visited 23 times, 1 visits today)