YIPEE!!!!
Alhamdulillah.I get one of the most "chic" place (to me).I think mine is one of the best (as I realised later on when I did some house visits)
When I met the young good looking small foster family, I was ecstatic cos we are almost similar (no I dont mean appearance).We are not that fussy type.Anything goes..I felt so welcome that I declare myself as the fifth member of the family.
They fetch me with a small kancil car but that is sufficient.As long as it moves..to me, its good enough.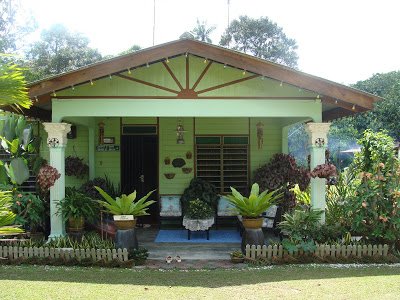 Living room consist of 2 parts.They even have karaoke sets.Sis Zai wanted me to sing, erm…I fear it will rain immediately after I sing my heart out…hehe!

The house is cute to me.Its not that big but cosy.I felt so at home immediately when I reached my destination.This is one of the few houses that are a bit further than the rest because theirs is Kampung Temenin BARU (new) and mine is Kampung Temenin LAMA (old) thus our meeting point which is the SURAU is kinda far for us unless they drove me or we ride the motorbikes (woo-hoo!)
The kitchen is beautifully filled with lots of stuff but they are arranged neatly.The family is very clean and neat people.Alhamdulillah.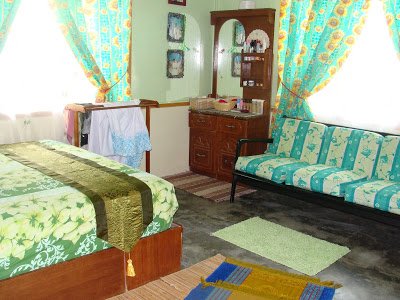 After we reached,once they showed me my bedroom, immediately.I felt secured.Such a big bedroom just for ME?!Alhamdulillah.It is so cosy…and tempting for me to sleep on the spot but..


I jumped up and go shamelessly snooping around.The foster family wanted me to rest or lie my head cos we had a tiring journey but I felt so energetic that I cannot stay still.I need to let out the energy and snap some photos!!
Luckily for me,the family is understanding,in fact I snap almost everything and anything.Sometimes while doing work, they had to stop for awhile cos I disturb them (hehe!!) There was a time, the imam of the surau ask me whether Im tired cos I was seen zooming here and there,flashing here and there.I dunno where I get the energy but I just want to capture everything on camera and videp(yeah I brought that too!).Im so excited to be here and I want to share it with you,the world,insya-Allah.
Is the yellow flower(below) pretty?
But it sure smells NASTY….i grew up admist these flowers in my childhood.It is called bunga tahi ayam (chicken shit flower) cos it smells like chicken poo.Seriously…
These flowers are beautiful,blooming all year round but look at the SPIKES!YIKES!
Mangosteen tree(below)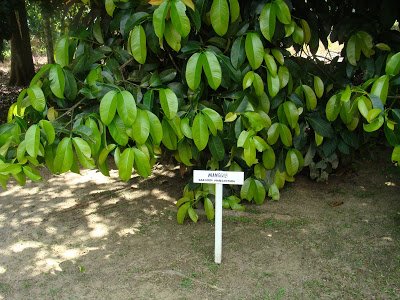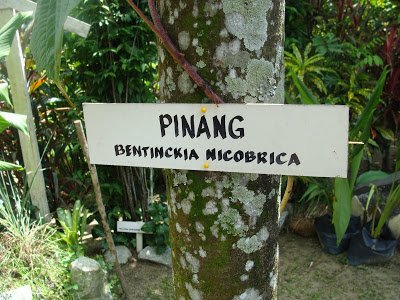 Pinang (remember opeh leaves?) is also used for creative handicrafts such as flower making.This village is well-known for its paper weaving.They weave the newspaper into baskets, lamps anything you want.It looked almost like rattan.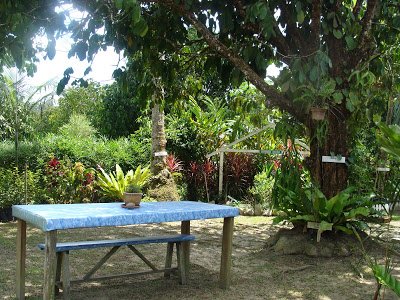 Benches and tables in the garden /open are common sight in kampong especially near fruit trees.Cos u can enjoy it under the shade in nature.SANTAI (relax)..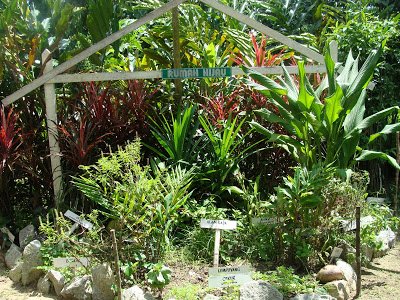 Whatever herbal plants u can think of, they have it insya-Allah-e.g tongkat Ali, buah rahim (for female prevention of cancer),mas cotek, pegaga,cekur,ulam raja,lempoyang,lunyit (turmeric)…and lots more…I can spend endless time just gazing at the plants here…
But this is just the beginning, they even have a fruit plantation.This village has many duku trees,durian…
travel tip/trick:Do come during July-September cos that is the FRUIT Season when visiting Malaysia and you will get to taste their wonderful array of delicious sweet fruits!!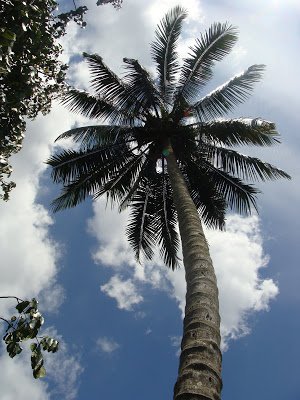 Have u heard of kelapa bandung drink concoction?Sounds interesting right? I think it is a mixture of fresh coconut juice +red syrup and milk with ice (cos they had no time to do it for me, cos we actually forgot about it hee!)But then look at the coconut tree, who is gonna do the climbing? Is it ME? Yikes!!
These papayas are not the same type of papayas (paw-paw) fruits u found in the market.Some are round and some are oval .Though green in colour,the flesh are sweeeeet!

Look at those sexy lady fingers…Hmm,it reminded me of someone… with slinky slender fingers.hmm…

Their own landscape design….such creativity, not copied from any magazines…
Oh my, I heard the clanking of the
batu lesung
(mortar and pestle)and the chopping and cutting and all that, I can hear the sincerity in each beat.
The pounding of the anchovies for the delicious sambal
petai
(Stinky beans) took a long time.I had recce every corner of the house and the backyard, and Sis Zai is still pounding.My heart goest out to her, but my tummy is happy kinda rejoicing anticipating the delicious flavour.
Sis Zai was happy that Im not fussy about food.Everything she asked me such as chincalok,sardines,sambal,petai,jering or whatever herbs and greeneries that they eat, I will eat too!I am willing to try out anything that is HALAL.In fact, I am excited!!And if u ever wonder why kampong food tasted so good, its because they are cooked with their own plants,vegetables and herbs grown at their backyard.The seeds are sown with TLC and then it bear fruits and then it was further cooked with TLC(wow double dosage!) and that is why it tasted so GOOD!!
Ayam kicap(chicken in soya sauce).The chicken is fried first and then cooked in sweet soya sauce.
This is one of the best sambal petai ever!!Sis Zai always cook using fresh ingredients and fresh chillies (no dry chillies, please).It was delicious but the petai (which is grown by Bro Zul's father) is not that stinky.But when u urinate,it has a strong pungent smell.Take note!
Come,lets take a look what is Bro Zul doing at the shed?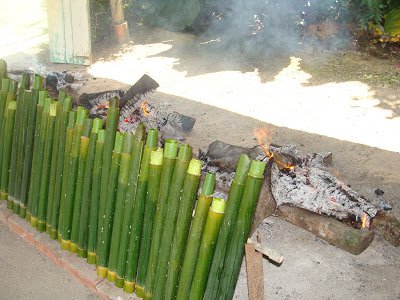 Hey!He is charcoaled-cooking the lemang (glutinuous rice+coconut milk and salt).It felt like sauna here…I cannot stand too long near here, I felt like Im the one getting roasted…And the glaring sun is not helping even though its in the shady shed.
Ketupat -is traditional malay rice cakes sort of like dumplings which are then boiled in hot water for hours.The longer u cook it the longer days it can last just like lemang.
I watched Bro Zul skillfully insert the uncooked rice grains into the ketupat leaves.Not many malays know how to weave the ketupat.There are many types of ketupat shapes and methods.I can only do one variety-Ketupat satay.
How to weave the ketupat?

The ketupat are ready to be boiled…
Savoury lemang with rendang WOW!…remember the roadside stall in the previous post?
http://www.putriberendam.com/singapore/east/qurban-kampong-temenin-kota-tinggi-part-1/
These are the BEST! Cos its homemade for families and friends.Thus it was cooked with lots of love by Bro Zul.If you want to buy,it cost only RM$1 per piece.Unlike Geylang,it cost a whopping SGD$5=$2.40X5 (conversion) =RM$$?? (do the calculations urself,hee!)
I get to try it immediately after it was cooked.Fresh!And the taste is so heavenly….And Bro Zul explain to me on how to detect authentic lemang.U gotta look at the bamboo stem.If it is dirty with streaks of oil on it, BUY IT!If it is clean, it means that the lemang has been steamed first and then charcoaled grilled.And its not that authentic and sometimes, the lemang sold outside is using diluted coconut thus its not that tasty…

Delicious kampong rendang….Mamamia!

Beautiful tour officers representing different tour agency.They are so friendly that u felt like family.


The pot containing red liquid is sweet chilli sauce for barbecue tonight!YIPEE! Alhamdulillah,I get one of the best families that is different from the rest and create their own itinerary for me.And the best part was, I am a FAN of barbecue!!If u tell me u are having a bbq,I will be there in a jiffy with an empty tummy.hehe!


So how is kampong barbecue like? Are u feeling hungry? Ive never been to a kampong barbecue.I dont even know kampong people do barbecue aside from the typical roadside roasted chicken sold. http://www.putriberendam.com/bbq-chicken/roasted-chicken-rm15/
Hungry?Do read the next post…U wont be disappointed,do get those drooling buckets READY!!!
(Visited 38 times, 1 visits today)