Kampung Temenin ,Kota Tinggi, Johor Bahru.It is only 10 mins drive away from the popular waterfalls.http://www.putriberendam.com/ayam-golek/natural-spa-retreat-part-2/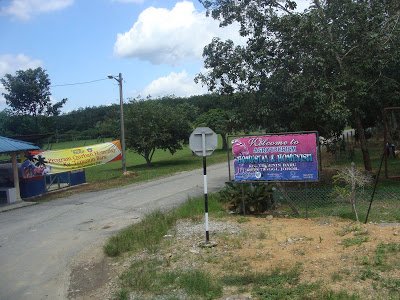 This is a big area of rubber plantation for research purposes.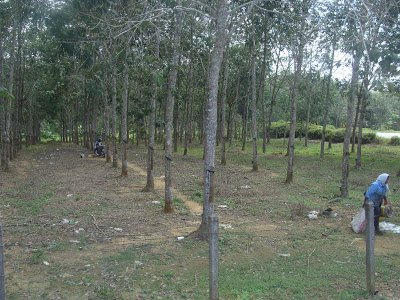 We reached the Surau (a prayer area similar to mosque) .From the bus, I saw a gleaming colourful array of people waiting to welcome us.I was happy by the pleasant surprise.
I can hear the beautiful melody of the
kompang
-musical instrument similar to drums made of goat skin.(My mother used to be the leader for this type of music in her hey days in the village and perform in many events.Too bad, I did not learn her magical music touch and knowledge.Hmm..)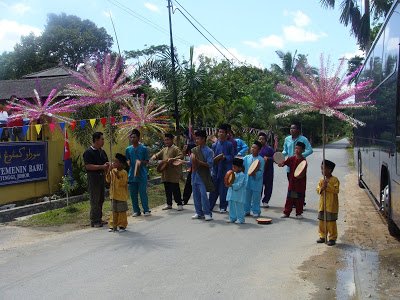 Felt like a VIP, with all that fuss around us.Cos normally u can only watched kompang during weddings when the bride and groom has reached the scene.And occasionally "pencak silat" will be performed. (as shown by the courageous boys below)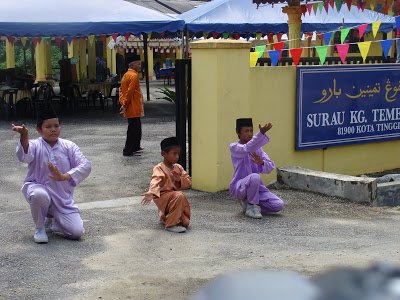 It was blaring hot and the village people were standing there to welcome us while we stand in the shade.(felt kinda guilty).I am amazed at the rich cultural performances that they perform for us.Bravo!
These are the hardworking leaders and committee members responsible for this beautiful trip and program.The whole village had been working hard for weeks to accomodate to our requests.(Erm, somehow I feel like Singaporeans are very fortunate and very particular in terms of lodging.They try to strive the best in everything.Cleanliness in toilets are utmost importance.Thank you tour guides for informing them our whimps and wants!)


After the speeches and intro,we were presented with delicious refreshments,all kampung made.YIPEE!
Have u tried eating boiled tapioca with sambal tumis ikan bilis (anchovies fried in chilli paste)YUMMY!!!
The green colour is kueh dadar (inside it is filled with sweet dessicated coconut),the brown cakes are like cupcakes eaten with white dessicated coconut.And what better way to enjoy the light snack with kampung kopi (coffee) or rose syrup water.
Look!We got a goodies bag!YIPEE!!


Actually my expectations is very low.I even expect that they do not have ice.Cos I had been visiting many kampongs recently, and often I was served with syrup drink without ice,often it is warm.
But nevertheless, its good to expect less then u will be surprised by their beautiful gestures and be thankful for it.Alhamdulillah.
After that,we will be "given out" to our foster families.It is like a lucky draw box.No one knew where their future lies.What house are they gonna live in and whom are they gonna spend the nights with (Dont worry, families wont be split and u will get ur own private rooms).Since I came alone, I was told at first that I will be spending my nights with the tour officers but last minute, they let me go alone.Lil fear do creep in but hey, Im prepared for it,insya-Allah.
So who did Putri get for her foster family?Is she gonna be treated like a pampered Princess or will she be the Cinderella? What adventures await her?
Do find out by visiting this blog often for updates!

(Visited 5 times, 1 visits today)