Today is the final day here.The jitters start again but lesser than previous.Its like that, I get jittery whenever I travel.This time,there is no TGIWw but there is teary eyes goodbyes…
Woke up early,had only 2-3hours of sleep.Cos I was reading the novel and my eyes cannot close till I finish it.


I had forgotten to include the Raya snacks in previous post.
FYI,Kak Zai is famous for her mini popiahs and as I tasted it..it was CRUNCHILY YUMMY!The skin is thin and the fresh fillings are a delight in every bite!Some wanted to order and bring back home but was disappointed cos they are SOLD OUT!!If u want to order need to inform early.Hari Raya Aidilfitri is a busy time for her. So if u want to order,call and ask for Kak Zai…mini popiah lady:Homestay Kg Temenin Baru, 611, Kampung Temenin Baru, 81900, Kota Tinggi, Johor. Tel & Faks: +607 883 6682. Or email : zainohmusa@yahoo.com
Then at 10am, instead of participating in the weaving program, I followed my family around town and some last sightseeing.They wanted to bring me to Mini Kelantan but Im not into shopping.Sorry…so they just show me from the car.The Mini Kelantan is full of clothes and cloths.(Anyway,later on the bus home will stop there for 2 hours)
U can buy bus tickets to KL or any other places in Malaysia…here…
Blue taxis will take u to Kampung Temenin….

Travel tip/trick: Bargain the price first before entering.Some taxis ask u to pay full cab price (because its per head fare) and some will accept customers along the way to your destiantion, so take note.Ask before entering.
We went into one shop full of wedding accessories(below).WOW!Such creativity.I was told that both Bro Zul and Kak Zai are good in these wedding decorations thus they are always popular when weddings and often young couples will ask for their advices on these matters.

I like this brand of rice SUKAHATI..very happy

then we head to the famous Royal Mausoleum/cemetery of Sultan Mahmud mangkat dijulang.Remember the legend about jackfruit and how the pregnant woman (Dang Anum) was killed because of it? Read it here: http://en.wikipedia.org/wiki/Makam_Sultan_Mahmud_Mangkat_Dijulang
If you want to watch the movie (in malay)this is it…(15 parts)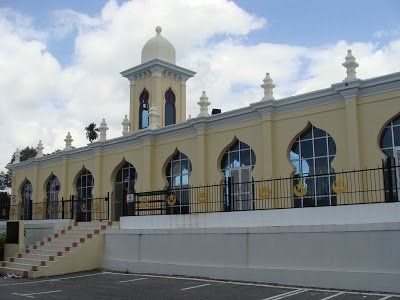 Open daily from 8am-6pm.Anyone who wishes to visit outside the visiting hours, please consult the officer in charge,it can be arranged.
No shoes…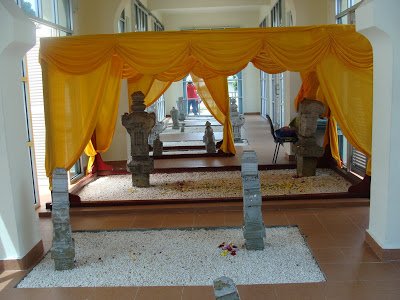 Belimbing tree (star fruit)…
Heading to next destination,w e saw many weddings.I was yearning to go to one kampung wedding because Sis Zai mistakenly thought today is Sunday cos she received many invitation and informed me.Thus I salivate at the idea to watch beatutiful couples walk down the aisle.But it wasnt meant to be, the weddings are tomorrow, on Sunday.But anyway,along the way,we saw many weddings…. *sigh
There are more Makam (Mausoleum along this stretch of road)….
They we head to museum Kota Tinggi.This is a MUST SEE place.It is filled with antiques and malay culture from cookery to costumes to old gold coins/syilings…Wow! I cannot snap pictures inside..sorry…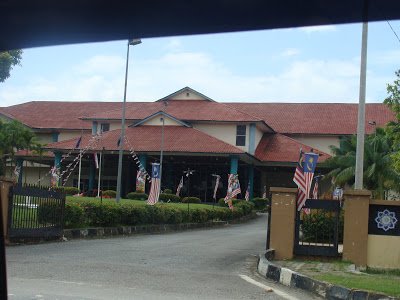 These are 16 types of batu nisan (tomb stones) from Acheh.From afar they looked like chess pieces.
These items are for pounding rice grains.
Our lunch was in a hurry cos the places that they want to bring me are closed.Thus we settled for Baser chicken rice.
When we first come to Kg Temenin,the Malaysian tour guide has told us that the hot favourite food here is BASER chicken rice and he likes the black pepper version.(and while he was telling us about it, my heart kinda whisper if only someone brought me there to taste it and alhamdulillah that hidden wish came true.When u travel, supplications often come true,so be careful of what u wished for) Anyway I asked for black pepper chicken but they dont served it but they do put it in the menu (What?!?!)
fyi-They have about 4 branches in this area and 1 in KL.The branch that I ate in is the original starting branch.
The chicken are fried…not bad…The sambal is nice too.


Anyway,the chicken rice is not bad.I like the soup. Below is chap chye vegetables.
We saw some monkeys looking for food…on our way back…

At 1.30pm,we head to the Surau area for the goodbye ceremony…. but I saw some crowd in this lil shop.What are they buying, I wonder…

Oh Malay kuehs and cakes and cookies…..YUM!

Then after reciting some supplications and hear some speeches by the committee,we have certificate presentation and given a basket souvenir each.Felt like Im taking my graduation scroll or something.
Foster family gave me extra package on stage.Which I never anticipate.Food and fruits?!YIPEE!!
Group photos-Say sambal belacan!!
Hugs and kisses and teary eyes goodbyes..Im gonna miss you all!! *sniff sniff
Goodbye and insya-Allah we will stay in touch..thank you for all your kindness and warmth welcomes.I love this place and the people!!
After the teary eyed goodbyes,we stop by mini kelantan for 2 hours…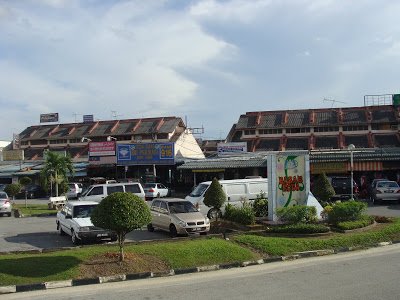 Like I said before this place is famous for textile shops-clothes,cloths…and all that which I am not that interested.I did walkaround but I am more interested at what food stalls they have.The heat is getting to me, I need a dessert shop!!
Stop by this stall for some dessert or snacks.They said the fried noodles here are nice.Hmm..Too bad, Im still full…
The chendul is not that good-said by 2 aunties.
But my ice-kacang desert is not bad..
Yellow fire hydrant like the Americans…
Erm, do u need to use the toilet? (toilet at surau area)
Whenever u travel,dont forget to look up at the beautiful skies…
After the mini kelantan and Asar prayer at a nearby surau,we head to famous Sarawak lapis cake shop.I know Sarawak lapis cake is popular with Singaporeans.And to get the authentic ones in Sarawak is too far .So come down to this shop in Johor…

View Larger Map
The Sarawak cake come in many sizes from RM20 to RM40.It is mostly stored in freezer (below)
travel tip/trick:When storing kek lapis sarawak in freezer-please keep them in air-tight container light tupperware before storing them in freezer.So that it can last longer.Tips learnt from the Malaysia tour guide.(thks!)
The shop is located just opposite this building.
I came down eat some samples.But Im not so into Sarawak kek lapis.Perhaps the tongue has ran home,Singapore or Ive got no mood.I cannot taste any different.To me it tasted like sponge cake.So I eat more samples cos I am ready to buy back some.But batik cake, I am interested cos I tasted ones homemade in Desaru kampung,eversince it got stuck in my mind.But while waiting for the aunties and uncles buying them, I lost interest.
I went to the crackers section,bought some tempeh crackers and sat in the bus munching my snack.It was good.Thinly sliced and crispy!RM$5.
Ok,while continuing with our easy breezy journey,the Malaysian Tour guide has impart us some traditional herbal remedies in the previous journey to Kg Temenin and he actually do the effort of typing it out and photocopying the ingredients for all of us.He said-"Jangan lokek dengan ilmu"(Dont be stingy with knowledge)and ask us to spread it out to others.These ancient knowledge is normally passed down from generation to generation but in modern society,often we just head to the nearest spa for that healing and relaxation process whereas we can do it at home and save that hefty sum of money for something else (travelling perhaps?)
Ok,here it is…
1)For bad body odour-ingredients are (Limau perut/nipis)lime/calamansi and Kapur sireh(lime stone paste where u can buy at Geylang Serai market for $2 a bottle@ flower shop).Rub both ingredients onto the body especially the armpit area.
2)Teh Sireh (betel leaves tea drink)Can also be bought at the same flower shop in Geylang serai market $1.Betel leaves have a lot of benefits.Often it can be used to wash ur body or drink it to prevent odour and itchiness (especially in private areas) due to allergy or…and there are many more benefits,mainly for cleansing in the internal organs, blood….If these websites are in Malay, u can use google translate to translate them to English.
Ok get betel leaves (daun sirih),Cinnamon sticks (kayu manis),Garlic (bawang putih),Cloves (Cengkih),Cardamon (Buah Pelaga),Flower Mace (Bunga Lawang).
Get all the ingredients together (He did not mention how much, i think it depends on individual preference)and boil them up and drink.
3)Demah Pasir (this one is for seating on it or pressing the roasted/burnt sand against the body parts that are lethargic or painful for that "perjalanan darah"(easy flow of blood thruout).It can be done regularly while you are watching tv..
Ingredients:Noni leaves (aka as Daun Mengkudu can be found on our streets and in Tekka /Geylang market),Halba ,Nigella Sativa (aka as Jintan hitam can be bought at Mustafa Centre,level 2 near spices sections),Certain type of ginger Halia bara or halia tua),Garlic (Bawang Putih),Sand(aka Pasir can be found at the beach,construction site, playground..) Dont worry, some shops in Geylang Serai have the names displayed..or u can ask around in Geylang Serai, they will be delighted to help you.
Get the ingredients together and charred them in a wok.And then placed it in a cloth or somesort and use it to press against ur body.
4)Remedy for sore throat,cough and phlegm.
Coconut juice, slices of fresh turmeric (kunyit) and rock sugar.He never state what to do with it, I think boil them together.
5)Diabetes
Get Indian bay leaves (daun Salam) and garlic (bawang putih).Boil them till the amount of water became half.
Note:These are traditional Malay herbal ,natural remedies that are passed down from generatios thru word of mouth.So practise it at ur own risk.Do consult ur doctor first if you have doubts.The rest..just tawakal.I believe there are more herbal remedies that are still unknown to us.allahu alam.
Heading home,pray maghrib at Gelang Patah R & R surau.Immigration was a breeze thru second link.Before I knew it, we were in Singapore.Mmm….home sweet home…
(Visited 58 times, 1 visits today)