If mosquitoes are preventing you from homestays,then take note….

Travel tip/trick: I was intrigued when I saw a mosquito bracelet(about $2+) in Sheng Shiong Market (tekka mall/the verge branch)and so I decided to give it a try and see whether it actually works.The bracelet (above) emits a certain type of smell like a tangy camphor oil smell (like axe/gelliga oil but more fragrant)
I did bring OFF mosquito repellent for body use just in case,the mosquitoes decided to attack me in groups(YIKES!)But Im not sure how effective it is cos this Kampong do not have much mosquitoes.So do bring preventive mosquitoes measures such as repellent or bracelet or whatever especially kids, they are prone to insect bites.Take note.
After my trip, I counted the bites I received is about 2 bites at the ankle.That's it.But seriously,if u fear mosquitoes anywhere in the world, best is to boil PATAWALI (Tinospora crispa). roots (can be bought at Geylang market for $2-$10).Boil the roots and drink the VERY BITTER tea.(even worse than ubat periuk!)But its good for health.If u drink it daily,u cannot notice the bitter taste anymore.(thanks, Mom for making me drink all that stuff!!Love ya!) If u wonder how it looks like:http://melur.com/myherba.asp?plant_id=47
Today is Eid Al Adha.One major festival in a muslim calendar.For those unsure what Is Eid Al Adha :http://en.wikipedia.org/wiki/Eid_ul-Adha
Woke up as early as Subuh.The prayer timings are not far out from Singapore timing.
Travel tip/trick: The tour guide told us that the distance between this kampong at Kota Tinggi and Singapore do not allow us to pray jamak qasar takdim/takhir.So take note.Pray normally.No "discounts".
Was woken up by the crows of the cocks.Felt calm and peaceful.The cool dawn and mist is making me feel relaxed and rejuvenated.
After showering (the toilets are inside the house thus I am not scared to go to the toilet on my own) and I can see lots of care are taken to ensure that I am pleased with the toilet.Very clean.And I actually like the concept of their flushing system-NO flushing.hehe!
Just use any amount of water to remove the smell and colour whatever.Because in Singapore, our systematic flushing system actually uses loads of water.And we cannot control it.(but there is one way u can save water,I tried this in my teens,it work! http://teamsuperforest.org/superforest/?p=11264)
But this kampung one, the bowl is quite deep and thus little water is used to actually manual flush it.Save water! I felt so comfy that I let go whatever I need to let go.Normally, I will only do major business when I come back home,its typical.No mood to defecate in kampong but this toilet,Im quite comfy or perhaps the chillies that(bbq yesterday night) I ate are aiding me for that easy bowel movement.-Sorry if u find this a bit gross, I have to share…(hehe!)
Had a light breakfast.

Getting ready for the big cookout.No,the oar looking thing is not for boats but for cooking.
Homemade curry puffs freshly fried.Crispy with loads of spicy potatoes inside.
Lemang/Ketupat with rendang and lemak/lodeh (coconut vegetable stew)

Wore my badge and off we went …..

Cruising down in the lil red car….Beautiful sceneries..
The rivers are use for cleaning or washing clothes…I thought I get to bathe in the river like Princess,the villagers laugh at me.hehee!
The surau (prayer area)…
The mats are placed for the Eid prayer…
Im lucky,there is one spot waiting for me upfront in the female prayer room,just nice….alhamdulillah
Did some takbirs while waiting for others for the 8.30am congregrational prayers.Locals and Singaporeans join in together.It was a bonding spiritual time for all of us. All were dressed in their colourful traditional clothings,some with the kain sampin.BEAUTIFUL! I am in my blue baju kurung.(malay traditional costume)

After prayer and shaking and kissing hands with the same sex,we head out to the eating area where a lavish spread of Hari Raya food is waiting for us.Its like potluck,everyone contribute their cooking here so that we can taste their food from different households.SMACKINGLY DELICIOUS!!

After eating, we said our early goodbyes cos Bro Zul need to change his beautiful Hari Raya clothings to "slaughtering attire" ,knives,axe…and boots.Below is the leather cover for the axe and knife.
Then we come back to witness the korban rites with Bro Zul heading the first operation.
Let's get a better understanding what Korban is during Eid Al-Adha.And why do muslims all over the world do it.What happens to the meat that is being distributed?They were given to the poor (local/overseas).This year most Singaporeans do it in Indonesia due to a recent calamity that happens there.
Bismillah.
History of Korban
Korban Rites happens on the day of Eid Al Adha / Aidil Adha (also known as Eid el-Kbir in some languages). It is three days long and starts on 10th Zulhijjah (ذو الحجة), the 12th month of the Islamic Hijri Calendar. Eid Al Adha marks the end of the hajj pilgrimage period, thus it is also called Hari Raya Haji (festival of the pilgrimage) in Malay language.
The history of Korban ritual returns back to the time of prophet Ibrahim (peace be upon him – pbuh). It is to commemorate the willingness of prophet Ibrahim (pbuh) to sacrifice his son, prophet Ismail (pbuh) in obedience to Almighty Allah. The practice of Korban was made an injunction in the 2nd year after the Muslims' migration to Medina. Hence Eid Al Adha is also called the Festival of Sacrifice.
Animal for Korban
The animals to be slaughtered are goats, cows and camels. A Muslim can offer either a goat or sheep, or one seventh of a cow, buffalo or camel as korban animal, where seven people can agree to offer a cow, buffalo or camel at a time. Impaired animals cannot be slaughtered for korban religious rite, including animals that are blind or crippled.
Intention of Korban
There 3 types of intent to slaughter the animal on the Eid Al Adha day:
1. Korban
Korban is widely the main intent for slaughtering animal on the Eid Al-Adha day. If a person has intention to do korban, it is wajib (obligatory) to distribute a portion of the uncooked meat to the poor and needy. It is sunnah (recommended) for the person doing the korban to partake a little of the korban meat.
2. Nazar
Nazar (also written as nadhr) is making a vow in the name of Allah. As an illustration, a person may make a vow of this type "O Allah, if you alleviate such and such a person from their sickness, I promise to sacrifice one sheep/goat etc", then the person who make a vow is obliged to fulfil the sacrifice if the person is healed. In this case it is wajib to give away all the uncooked meat.
3. Aqiqah
Aqiqah is defined as the animal that is slaughtered on the occasion when the hair of a new born is shaved. It is sunnah to give away all the meat after it has been cooked. Moreover, the meat must be cut at the joints.
(taken from http://www.korbansingapore.com/KorbanIslam.aspx .For more info and FAQ,please refer to the website or download this brochure: http://www.korbansingapore.com/en/Common/Media/on/KorbanFaq.pdf .Thanks!)
Ok hopefully, you get the basic understanding what is Korban in Islam.And let's proceed to my itinerary.
Important NOTE:WARNING!!If you are easily weaken by the sight of blood,do not attempt to continue reading this blog post.Reading this is at your own risk.The photos (below) taken will be quite bloody and gross for some, so ensure that a plastic bag/container is on hand and ensure no kids are around when u watch the following photos.(Im procrastinating on whether I should add the video of slaughtering too,hmm..)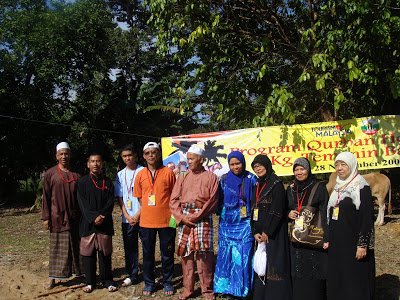 Everyone including kids are awaiting for the rituals…
Getting ready for the korban rites…the first cow is chosen..it is said the best cos is light colour and then the darker cow…allahualam..
The first family doing their aqiqah…
Pits are dug out for cleaning purposes to cover up those bones and parts that cannot be eaten or used.
This is the first time Im watching the slaughtering of the cows.It wasnt that bad.Cos I knew the intention is because of God,thus the heart is at ease.I watched closely,the cow was quite submissive though beginning it look like it wants to run away.The total numbers is 3 cows and 7 goats to be slaughtered today.As I watched the workload for doing the first cow, its no wonder, they can finish up the work in a jiffy cos everyone contribute.(Me contribute my photos and tummy only hee! *guilty smile)
After the cow was slaughtered,the cow made noise as if it was sleeping and then it closes its eyes.Seriously,I expect the cow to jump up and down or something.
The Imam doing the slaughtering….
I was watching closely.In fact,I was one of the closest just like the slaughtering crew.The cow wasnt in pain,it was swift.Alhamdulillah.Oh by the way, the local Ustaz said that if the blood of the slaughtered animal splattered on u,its ok, cos that body part will not be harmded by the hellfire,insya-Allah. He actually encouraged us to get closer.Erm,most of us stay away.I didnt know about this fact,or I might come even closer especially during the cutting and cleaning of the cow.(but I think I am too close cos Im a bit of hindrance to their work, hee!I am amongst 2 other women stuck amongst the many male crew here)I guess this is one of the many privileges for the voluntary "media" crew.
Even the colour of blood do not struck fear in me (alhamdulillah).Im actually scared of watching blood oozes out.And the colour is like the water colour pinkish dark red.Not like those vibrant red colour u watched in the movies.
The whole procedure is systematic,its as though everyone knew their position (like playing soccer-midfield,striker,defender..)It was impromptu but everyone did their job well.
After slaughtering,the first step is to skin it.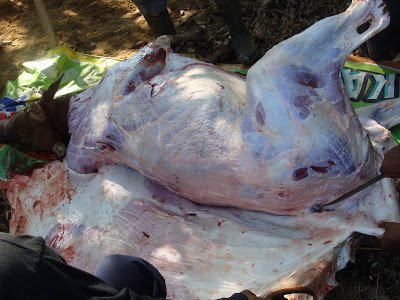 the balloon looking thing is the stomach of the cow.They dont burst it for fear it will be messy.They do it elsewhere.
The stomach upclose….
This man is washing the stomach skin (babat) at the nearby river.
Singaporeans….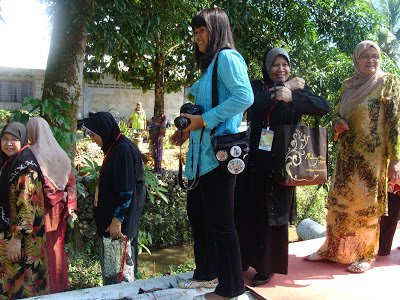 Hanging the meat up for easier cutting…
The meat are then spread across the table for weighing and distribution…
This Singaporean lady volunteer to cook dalcha with the korban meat.

The bones are used up for the evening servings of soup eaten with bread.


Smile….


Most are done by men,the cutting up,the distribution and all that.Cooking are done by men and women.

Alhamdulillah,every part of the meat is being used and cooked to be eaten.Nothing is being wasted.The actual distribution is to be held later in the afternoon after Friday prayers.

Rice cakes (nasi himpit) and below is the pot that is slowly cooked using charcoal,that is one of the secret that makes food delicious,the aroma of the charcoal burnt adds that OOMPPH in their cooking.I LOVE IT!
Some use LPG gas to cook…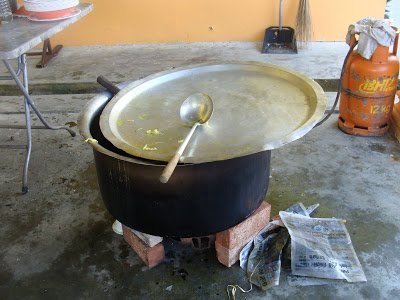 Peeling the onions and potatoes and cutting and chopping of vegetables,herbs and spices are done in this room..
Photo taking /speeches area
Eating area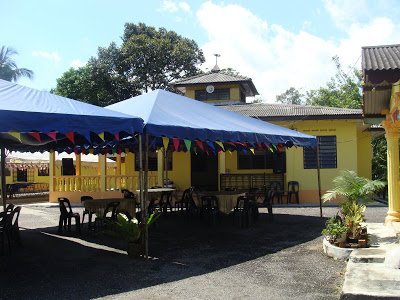 Cool watermelon juice.Thirst quenching drink!Ahh..just what I need now… *gulps
Surau main prayer hall.The Imam assist me in this (thanks!) He tell me to rest many times cos I was moving around snapping anything that is intriguing.No need to ask permission, Im FREE!!YIPEE!!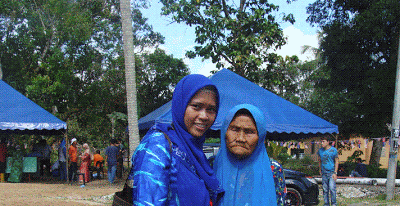 I met this granny,she was here too early at 10am.The villagers were supposed to collect the meat at 3pm.The first cow slaughtered was supposed to be for Aqiqah and used for the villagers cooking.Anyway, I was chewing gum and granny was chewing betel leaves (I can see the redness of her teeth) and I felt that we are doing similar actions depicting our generation gap.If u wonder why she looked cross,she wasnt mad but perhaps the hot sun was shining on our faces when we were taking the photo. 🙂 (she was ecstatic when asked to take picture with me)
Let's get a closer look at the Korban cow meat cooked in curries…YUMMY!
The second part of the korban, I wasnt present.But nearing the finishing time, my pretty foster Sis, brought me back to the Surau on a scooter.WOO-HOO!I wanted to learn how to ride the motorbike (although I had some experience pilloning my uncle when I was a teen practising at the voiddeck) but time sure flow by so fast when u are having a great time.So…perhaps next time?
What are you kids doing? The villagers normally dont have computer games to play with and so their creative minds create fun games like catching fishes or throwing stones in the lil river..
Eating together on a round table…enjoying each other companionship…
This is what I had..it was delicious…AYAM MASAK MERAH (chicken chilli tomato stew) and satay gravy(peanutty sauce)+lodeh+nasi himpit(rice cakes)

Alhamdulillah, Im full….what's next?
Ok, Im heading "home" to clean up and get ready for friday prayers.Im gonna follow Bro Zul.Normally Friday prayers are not obligatory for females but we can go.In Singapore,only certain mosques have female section for Friday prayers because the mosques are normally packed to the brim with men.And so Im taking this opportunity since Im also considered musafir,the benefits and merits are endless.And hopefully my supplications can come true,insya-Allah amin.
(Visited 50 times, 1 visits today)