Walking through Prinsep street and towards Bencoolen….I spotted the new branch of Hajah Maimunah, a popular nasi padang name with the locals@arab street.
At 11am,the food are ready..Look at those array of dishes!! WOW!
You can choose to eat in the airconditioned dining area or outside with the fountain accmpanying you….
Look at the interior deco..so much different than the ones at Arab street and Geylang branches…
What drink is that?
Let's get closer look.Oh its a Malt beverage made of honey,hops,probiotics and malt.One taste it felt like Im tasting dirty laundry water cos of the smell.This reminds me of the air nipah@trengganu during my 2008 road trips.Hmm…I dont really fancy it.. http://www.kvas.sg/
Total cost is about $8+ (excluding the $2 malt drink)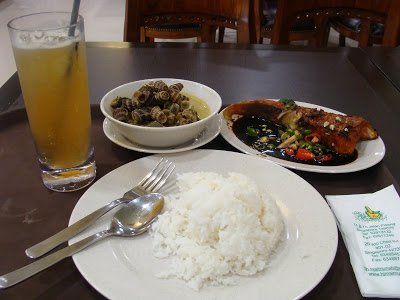 Grilled sting rays with chilli slices and sweet soya sauce.Gotta squeeze some lime juice all over before consuming…
Are u game for some snails?Moroccans should try these since Ive tried theirs… http://www.putriberendam.com/international/africa/marrakech-djemaa-el-fnaa-night-part-5/
U gotta suck the flesh out thru the bigger openings….this is what it looks like (below).Do note that u need to remove a tiny piece that is attached to the body sort of plastic look like"eyes"..or it might cause a problem and get stuck in the cavity of ur mouth..
Over all verdict: Ok,not bad….I like the ambience,kinda classy…