I was looking for another bakery with Halal Tiramisu but found this instead.I find the name familiar…perhaps from the newspaper.But then as I enter, it was a half bakery half mini office cum baking course centre.hmm…very entrepreneurial..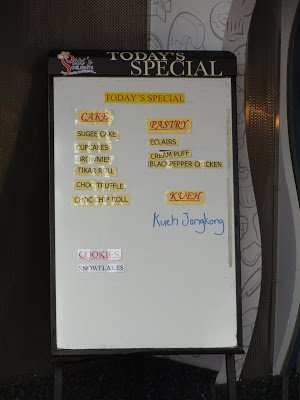 Ok, remember the sweet lady judge at the Chef contest in Suria and the latest cooking show I think its called "Vanilla"…I think this is her shop.She started from scratch…..from home.Now she has a shop of her own and became celebrity chef and judge.Wow!
Unsure what to order,fresh batch of bread came up….The staff suggest to us to try the otah and rendang buns.Mmm…something different.
Bought one each and the kuih jongkong is so CUTE! So small, that Im buying for the sake of its cuteness….
Ok let me bite this soft fluffy buns….
Look at the dense filling of rendang floss.YUMMY!a lil spicy..but shiok!
Kuih Jongkong-traditional Malay kueh made of rice flour+Starch flour(Tepung kanji) +coconut milk +salt+water .The palm sugar syrup is separated.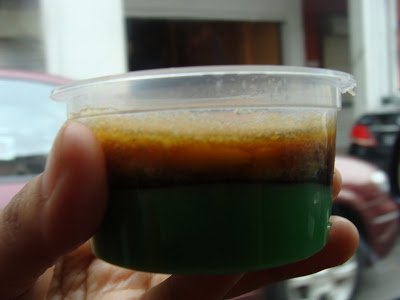 Tastewise-Savoury yet creamy and sweet…I'm kinda like it….
Ah…dendeng bun….
I cannot wait to taste it!!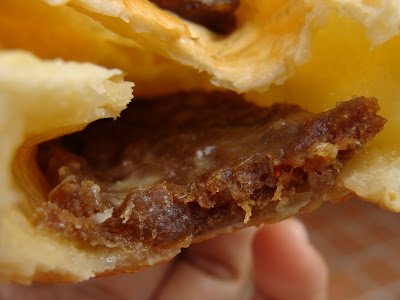 The dendeng is quite thick and sweet just like the typical dendeng we found in bazaars but exclude the smoky flavour bbq.If only its crispily cooked thoroughly,it would be one of my favourite.
Overall verdict: I like the rendang floss buns. which I believe can beat other local floss buns. Perhaps, I might come and try out their other breads…
Hey, u can also enrol in their baking courses….check it out!
(Visited 4 times, 1 visits today)