The first time, I heard about this Briyani was when I was with the MANJA magazine crew in February early this year.We wanted to try it but it was closed.At that moment it was in the temporary market.And I was told they only open on certain days and normally it will run out within hours of its opening time. Wow!Sounds DELICIOUS isnt it?
But anyway,that info was neatly tucked at the back of my head till I was invited to a feast recently.Feasting due to a certain lady going on a haj pilgrimage.Alhamdulillah.I accept it with open heart and tummy not knowing that they cater from Biryani express.As soon as I found out, I volunteered to be one of the helping crew in loading and unloading the food to and from the refurbished Geylang Serai Market to their home.
We reached at 9.30am and loiter around because I was told that..right on the dot at 10am, there will be a long queue.And true enough,a queue was formed at 9.50am.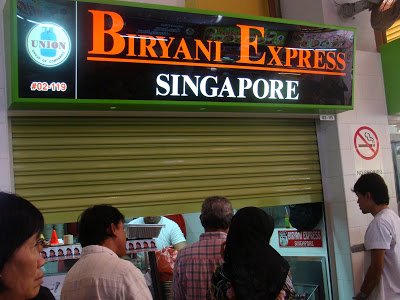 Luckily for us,we had ordered ahead thus we just grab and go even before the shutters were up. My heart is with those people lining up cos it sure seems busy and frantically crazy in this Sunday morning.
For about 30 people,the total price is about $165.If u think it is quite costly for a briyani ..wait till u see the big CHUNKS of MEAT!! YIPEE!!Im in meat heaven!! And they refused to attend to our request asking for the meat to be cut up into smaller chunks saying that normal customer eating in have those big chunks of meat per serving.WOO-HOO!! *too excited
Anyway,I wanted them to order 20 mutton instead of 20 chicken but my suggestions fell on deaf ears cos of the busy-ness of this market.Perhaps, I was too soft.Anyway, I was right ,the MUTTON was a complete sold out later on in the feast.

These are the food packages catered for the feast.
Smell that whiff of fragrant Basmati rice..MMMmmm…..delicious!
The chickens are cut into quarters.Its HUGE! And the curry is dark brown colour.Quite good!
Peek-a boo…


Dont u just droolz at those chunks of mutton seating quietly in the thick dark brown gravy…Wait..I will attack!

Dalcha consists of eggplants, potatoes and other vegetables.
Achar (above) is homemade because they anticipate that the acar given is the indian ones (those bottled ones found in Mustafa Centre) which is true.We were given 4-5 bottles. I prefer the above homemade acar…
Dig in!! No need to look left or right, just look at what is right in front of my eyes..BRIYANI and MEAT! Once u savour them, u wont notice anyone anymore.U are in ur own Briyani world.I LOVE the BIG CHUNKS of mutton meat.IT is DELICIOUS!! Tastewise is like those charcoaled cooked briyani at weddings.

I take the best of both worlds-chicken and mutton meat in one plate..hehe!!

Overall verdict: I prefer mutton to chicken when I order Briyani normally.But for this, both are quite good but mutton meat seems to carve an extra niche in my tummy.Love it!Jazakallahu Khair.Anyone having feast?Feel free to invite me.. *thick skinned
Price:$5.50 (chicken)/$6.50(mutton)
Within seconds,the mutton is GONE?!Hmm..
Biryani Express.
1 Geylang Serai
#02-119
Geylang Serai Market
and Food Centre
S402001.
p.s: I was told that they send their briyani rice to Africa and it does not get bad (basi),Hmm..I cannot confirm that cos I wanted to meet them personally but after busy dealings beneath the shutters, I cannot even utter a single word…*due to busy-ness..perhaps some other time,insya-Allah…
(Visited 200 times, 1 visits today)