In the vicinity of Little India, I decided to try the stalls in Banquet at the verge.Perhaps the new breath of fresh air has revived the formerly known as Tekka Mall.And with more HALAL stalls offered by banquet, perhaps that will attract more consumers and shoppers.
I like the roasted chicken rice here.I do not see any steamed chicken hanging(?!?)As I scroll thru their menu, they definitely not selling white chicken (steamed chicken) which is weird because as a norm, almost all chicken rice stalls that I had been to served steamed and roasted chicken together.
As I tasted the roasted chicken rice, I began to understand.Perhaps its their specialty…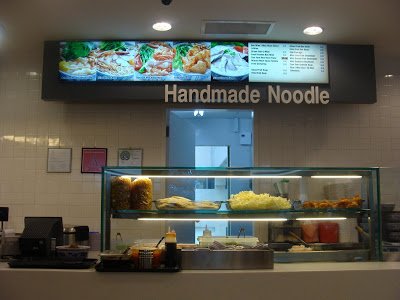 The Ban Mian noodles broth is yummy cos the staff actually cooked it individually only when order but the noodles are under-cooked.The meat are generous and anchovies are crunchy but the noodles..hmm…
Roti john from the indian stall is disappointing.Its not crispy and the sauces are overpowering.I cannot even taste the mutton bits.And the teh masala is erm…no comments.

Overall verdict-ok…Perhaps, I should try the stalls on the other side ….they have 2 sides…
But then again, there are many cheap delicious food in little india..hmm..
Note:That the dessert stall and char kway teow/carrot cake do not have their HALAL cert displayed yet…
BANQUET food court
The Verge (formerly known as Tekka Mall)
2 Serangoon Road S(218227)
Nearest MRT-Little India
Now heading to Sheng Shiong Supermarket…Eh, the things here are more expensive than NTUC supermarket, how come? Hmm….
FYI-the City Square Mall @Farrer Park MRT also have Banquet foodcourts with more choices but they have not received their HALAL certs yet.
(Visited 5 times, 1 visits today)