I dont remember where I heard about duck rice in this Temasek Polytechnic.But I know it was ages ago.The last time I was here, I was chased out by the librarian because my friends and I were from SP and we decided to check out TP for the fun of it,cos its new and cool looking. And I was quietly studying the library when one of my friends decided to ask the librarian something and she asked us,are u a TP students?And we being naive and honest batch of teenagers answered no,looked at her starry eyed,jaws wide open when she replied that we are not allowed to be there and our queries wont be entertained.Such rude awakening.I felt so unwelcomed.We did not leave immediately, we walked around and meet some old school friends and chat awhile (but we did keep looking over our shoulders just incase the matron librarian is back with a broom on our heels.hehe!)
Anyway,that thought suddenly came back again.Now more than a decade later,will the same incident occur again or will it welcome me with open arms.I know there are tight security in campus in and around local schools.
But nevertheless, for the sake of HALAL food, and to my lovely fans, I wear my courage gear and sped off in my orangey car.
Im not sure where is the place,seriously.I entered thru the gates and then I ask the security guard whether he has heard about the Halal duck rice.He said no cos he seldom eat here.Hmm…
I was expecting him to ask for my student pass or some form of identification but none came.Either I look very young or perhaps the canteen is open to public,nah…i take the former as a compliment.
Anyway, remembering a friend's description-"its on a hilly slope" and that "the canteen has high glass panels windows".As I looked around, all 7 canteens have the same characteristics.Then suddenly, i remembered a small note in my feeble mind! He told me that it was air-conditioned! Haiyer..Where is Tony Buzan book when I need it?..*memory is going downhill.
Alhamdulillah, I found it….
This air-con canteen look somewhat like a Banquet foodcourt.Is it s subsidiary? Hmm…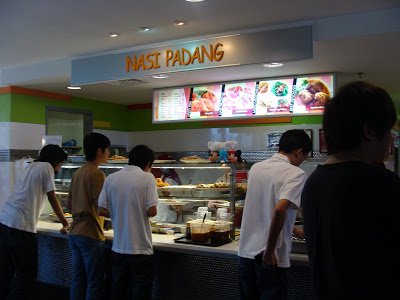 Look at the emerging crowds and flipflops (I used to be the only gal who wear flipflops to school in my class) Who says flipflops are not trendy? Look above…
I saw the queues are mostly for the Yong tahu stall beside the chicken rice.Either, they are on healthy food diet (u know teenagers,always trying to look good in front of their peers) or the food/broth must be very good!Erm, next time insya-Allah.This bowl of noodles are so generous that I felt full just by smiling at it.
Oh,I forget to mention that, the stalls , I think about 4-5 stalls have halal certs.There are many wide choices of food,mainly chinese food.WOO-HOO!

Anyway, as I queue up for the chicken/duck rice,I realised most students love their chicken rice.Im the only one asking for duck rice.And when its my turn, I understand why, they said the duck had flown the coop.They did not sell duck rice anymore cos its not popular. (Why?!!) Anyway, I ordered Oyster chicken noodle cos it sounds nice.


When I saw how they served me and placed the meal on the tray, I know I had hit the jackpot.Look at the dark misty colour of the gravy.Yummy looking isnt it?
As I scoop a spoonful of noodles and gravy, Im in oystergravy heaven…It was delicious!Everything was good.The chicken meat was juicy.The noodles are good and the mushrooms were big and squishyly good!Love it! 4.5 out of hi-fives! Now, I dont need to go to Far East Plaza level 5 for Cahaya noodles anymore, I had found the best oyster sauce chicken noodles and its affordable!$3 only.
Hmm, now I need to laze around by the poolside…

p.s: If u are lost, just ask the students where is the airconditioned canteen?
Chicken/Duck Rice Stall No.2
Temasek Polytechnic
21 Tampines Avenue 1
(Visited 12 times, 1 visits today)