The last time I ate here was close to midnight.It was normally packed with customers.I had some food which is quite good,homecooked taste and I dunno how to describe it, but I feel like its Malaysian food.It felt like it was cooked in the streets in Malaysia…perhaps, the chefs are from Malaysia (Like how I used to feel about Sheikh Najib @ Rowell Road Lt india)It's a compliment by the way.
This time, I came for breakfast at 8am.Too early, I guess…some of the nasi padang food are not out yet.Ordered some lontong,nasi lemak prepacked and nasi padang.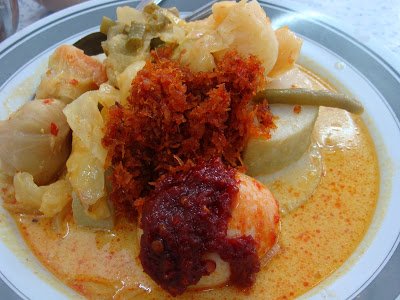 The lontong was alright but the serunding (fried dessicated coconut) was the best I ever tasted!!
The nasi padang servings was overwhelming (look at the pic,u cannot even see the rice).Perhaps, she caught sight of me taking pics or perhaps, its their own generosity.The nasi padang food was extraordinary.The mussels were kinda grilled or something, u can see its charred parts and the black squid (sotong masak hitam) was superdelicious! The ayam goreng (fried chicken in spices) was another favourite.It felt so homecooked…MAMAMIA!
Drinks are good too!Prices are a bit expensive on some such as the chicken wings about $1.50.But because its good…perhaps its pardonable.

Erm, Ive been eyeing these "childhood" biscuits for very long time. Wanted to buy it but too full to the brim, perhaps next time,insya-Allah. I like the gingerly biscuit (the oval one)
Overall 4.45 out of hi-5s.
Mas Ayu Restaurant (24 hours open)
55 Upper East Coast Road
tel:64492844
http://mas-ayurestaurant.blogspot.com/
(Visited 3 times, 1 visits today)