Still jetlagged but I was surprised by this birthday cake as I reached the airport.Kinda drowsy ,sleepy and tired.But the cake give me an abrupt jolt and waken me up.Suddenly my eyes open bright twinkling at the sight of this thick chocolate ice-cream cake.U can also order online…Cool!
http://www.swensens.com.sg/order.html
And after years of eating at Swensens Restaurant,I just realised that Swensens is from San Francisco (reading from the package).Now, STOP zooming into this picture,trying to count the candles.The only hint I can give u is that woman's age stop at 23.(hee!)
As I open the package, there are lots of dry ice to keep the cake cool.I was told that the dry ice can keep the cake from melting for about an hour plus.
There is one problem.I don't have a refrigerator.So erm…can we finish all these within few hours?Before it melts? I think, it shouldn't be a problem as I look at the hungry audience looking at me…hehe!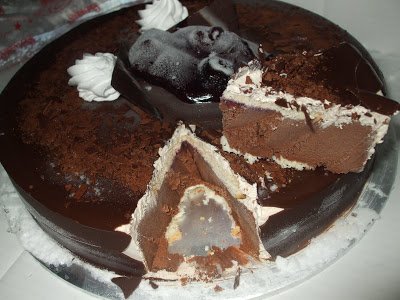 Ok,the cake is hard (what do u expect?Its an ice-cream cake?!!)…the white colour as u can see is the little bit of cake there is.That is the only flour u can taste.The rest is cold hard chocolate ice-cream.And the top layer is made of real hard chocolate.
No one wants to tell me the cost but as I persuade on and on, someone get swayed and reveal the price $42.80 for 1kg of ice-cream ?!?! (Hmm..once a year its ok, but if u have several birthdays or events in a year..ermm..u got to watch out for that piggy bank)
Alhamdulillah, after getting about 10 spoons for all of us, we dig in! Boy,it was cold! We had a fun laughing time eating an ice-cold cake.For a moment, I had forgotten that I was jetlagged.It kinda take away the weariness.
Overall verdict : I am an ice-cream lover.I am touched by the kindness and sweet surprise given by friends and family.But I got to do what I got to do…to be honest. This is my 2nd time eating an ice-cream cake and both are from Swensens. I had not tried from any other brand(perhaps I should.Wait, is there any other?) And cos I just touched down, and my palate has been pampered by the most amazing ice-creams of the world. I felt a bit dampered(sorry..)The chocolate ice-cream tasted average to me.Nothing special…
And I felt something is missing from this ice-cream cake.Hmm…perhaps, there should be some sort of layered between custard/mousse, flour/cake and ice-cream or something, cos its 90% ice-cream, I felt that I rather spend that money buying different types of ice-cream and indulge myself crazy.For that amount of money, I prefer spending on Secret Recipe cakes… (but thank you for the company and the beautiful surprise,guys! You rock my world!)Cake- 3 out of 5 stars.The company that I have-Priceless…
And if you want to check out their mooncakes.They got some interesting flavours…

(Visited 3 times, 1 visits today)